Each year, hot dogs and peanuts – classic staples of Americana – take center stage at festive celebrations such as family gatherings, holidays and even "Opening Day" baseball games.
On the open road, the Oscar Mayer Wienermobile and Planters NUTmobile – iconic experiential marketing vehicles – visit communities large and small to promote the virtues of hot dogs and peanuts.
Penske technicians play a vital role in the success of both fleets, making sure the Wienermobile and NUTmobile vehicles are in optimal condition.
"These vehicles are on the road 100 percent of the time traveling across the country, so Penske is a key piece of the puzzle in conducting ourselves across the country," said Molle Klein, NUTmobile manager.
The technicians rely on their expertise, honed through maintaining thousands of trucks, tractors and refrigerated vehicles each year, to service the needs of the Wienermobile and NUTmobile.
Wish You Were An Oscar Mayer Wiener?
The Wienermobile was invented by Oscar Mayer's nephew Carl Mayer in 1936 with the intention of promoting the Oscar Mayer brand in a new way.
"This was during the meatpacking times when the meat industry was a little bit mysterious. Oscar Mayer opened his doors to the plant, saying, 'We are proud to show you how we make our hot dogs. This is how we make them. We are proud of it'," said Angela Bumstead, Wienermobile senior assistant manager.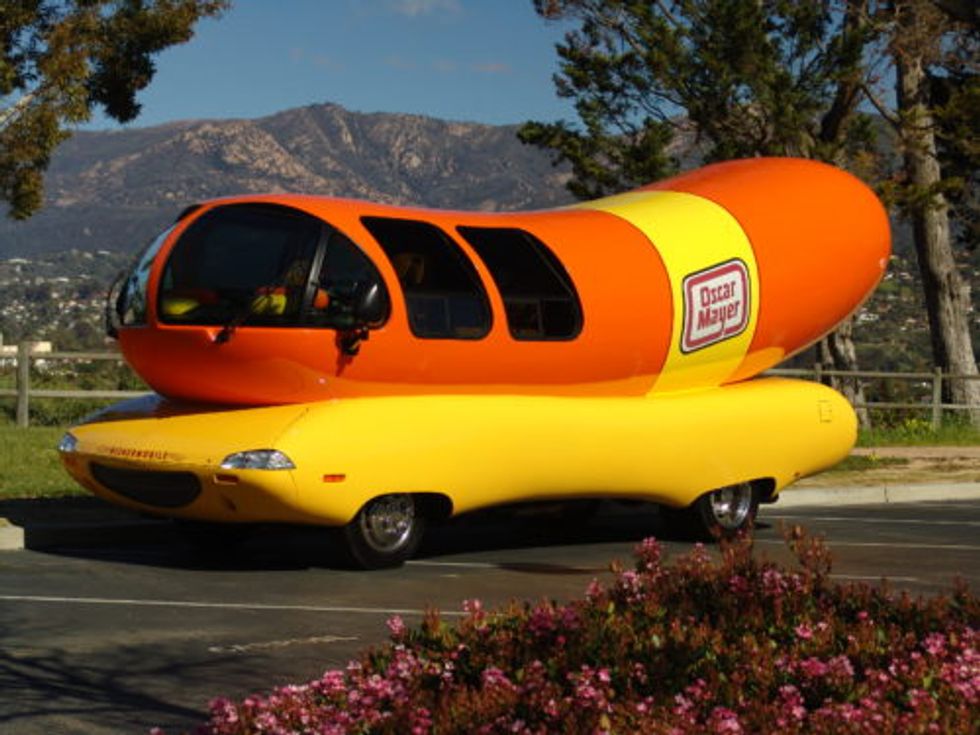 Six Wienermobile vehicles visit all 48 states each year and are piloted by two "Hotdoggers" – the official spokespeople for the brand, who are on a "coast-to-coast wiener roast spreading the word about the new and improved Oscar Mayer hot dogs," Bumstead said.
"They are our boots on the ground. They are the ones spreading miles of smiles, talking to thousands of consumers each week," she said. "They are the face of our brand."
Each unit has a hot dog-shaped dashboard, seating for six inside on ketchup- and mustard-colored seats. The hotdog and bun feature custom-made fiberglass built on a cab forward W4 series chassis and V-8, 6.0-liter engine.
"They are all very unique. They are 14,000-ton vehicles, 27 feet long (60 hot dogs long), 8.5 feet wide (18 hot dogs wide) and 11 feet tall (or 24 hot dogs) tall," Bumstead said. "They run on high-octane mustard."
There are some special features not found in regular commercial units.
"We have blue sky ceiling art – because it is never a rainy day in the Wienermobile – and mustard-spattered carpeting. My favorite feature is the official Wiener jingle horn. In addition to a normal truck horn, there is a customized one that sings a few lines of the Oscar Mayer jingle that we love," Bumstead said.
"You can't not smile when you see the Wienermobile," Bumstead said. "It is an irreplaceable asset to the Oscar Mayer brand."
Mr. Peanut's Traveling NUTmobile Tour
A year before the Wienermobile was born, the Peanut Mobile was created for use by Planters' salesmen. In 2011, the first NUTmobile was created, with two additional units coming on board in 2013.
"We have three custom-made NUTmobile vehicles each piloted by three Peanutters- the official spokespeople of the brand," Klein said. "Our NUTmobile vehicles feature an evolution of Mr. Peanut through the years on the ceiling, along with six bucket seats that are all decked out in Planters blue and yellow."
The newer vehicles on the road today are 11.5 feet high, 26 feet long and 8.5 feet wide – or in peanut terms: 180 peanuts high, 415 peanuts long, 140 peanuts wide and 3 million peanuts in weight, Klein said.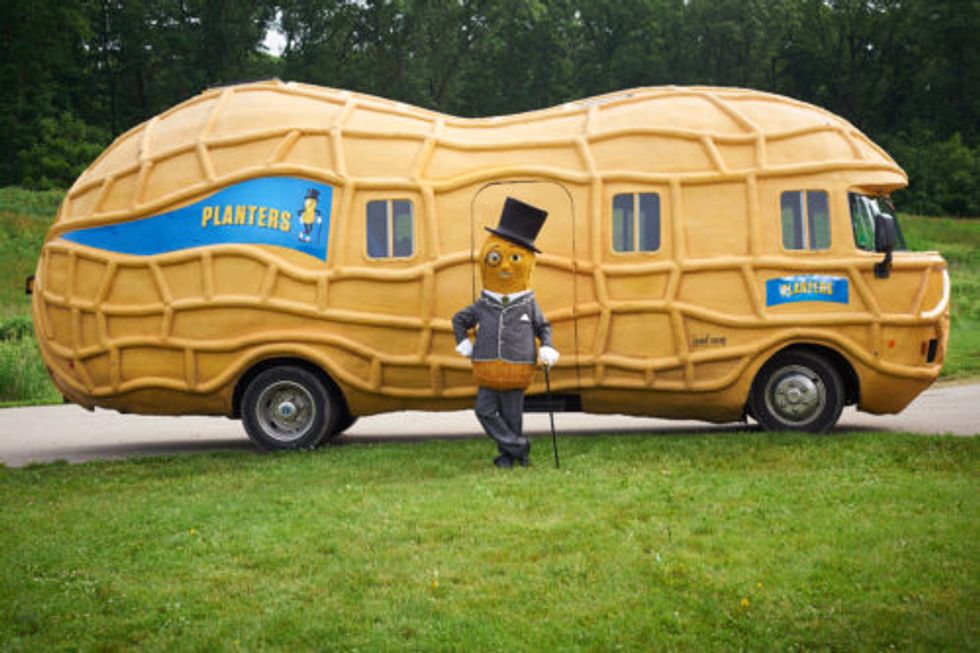 The units appear at parades, fairs, sporting events, festivals and retail events.
"We are on an east-to-west nut crackin' fest to delight nut fans nationwide with our beloved Mr. Peanut and his NUTmobile," she said.
Mr. Peanut, a permanent passenger, is a key attraction for fans.
"He is our shell-ebrity icon. He excited fans from eight to 80," Klein said. " He has the iconic top hat, cane, monocle and a charming personality. "He will always be there for you in crunch time."
Maintenance is Key
Armed with units traveling across the country required partnering with an industry-leading maintenance provider offering convenient locations as well as expertise.
"Penske is the most well-known national supplier of maintenance needs, and we travel throughout the country, so we need to make sure we have a location where we can go anywhere – small town, big town, you name it – and Penske has been there for us."
The teams in charge of each Wienermobile and NUTmobile are responsible for bringing the units in for maintenance every 45 days to make sure they are in optimal condition.
"We don't want to miss out on any special events, parades, festivals, customer visits and things like that because we have a maintenance need," Klein said.
"We want these vehicles to run as efficiently as possible. And Penske has played a key role in helping us do that."
By Bernie Mixon