Streamline Mexico Border Crossings within the Auto Industry
How Penske helps automotive manufacturers and suppliers with cross-border logistics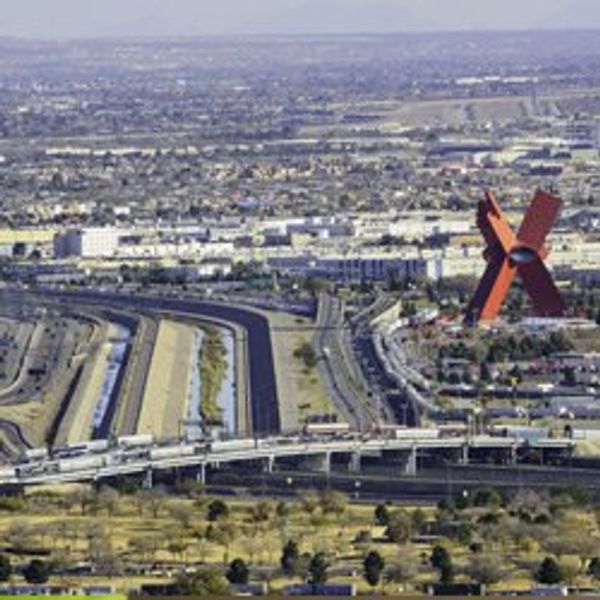 Successful border crossings require expertise, visibility and seamless communication. Due to government regulations, they also require additional, specific documentation and careful planning for carriers and shippers alike.
---
Cross-border operations also present a higher risk for delays, as officials on both sides of the border inspect loads for illegal products and contraband. And because northbound and southbound freight isn't always consistent, proper preparation and due diligence is needed to properly sync demand with capacity to boost efficiency and help secure capacity.
Due to the complexities of border crossings, many companies turn to a 3PL, such as Penske Logistics, for help. To optimize supply chain operations, reduce costs and increase efficiencies, Penske Logistics relies on its sound procedures and strong relationships to get goods across the border quickly and appropriately. Penske's proven systems and strategies help manufacturers ensure supply chains operate as planned.
"While there are many challenges and regulations to consider in cross-border operations, we have the experience, processes and certifications to help our customers navigate through them easily," said Andy Moses, senior vice president of sales and solutions at Penske Logistics.
Doing Business in Mexico
For manufacturers to be successful in Mexico, they must have a reliable supply chain with the ability to easily move parts and products in and out of the country. Doing so helps manufacturers get the right product and the right part in the right place at the right time.
Manufacturing is a complex industry, and experience syncing materials and production can ensure performance.
Penske Logistics in-Mexico operations, provide a variety of solutions for manufacturers and shippers in Mexico, particularly automotive manufacturers, such as:
Cross-border shipments via truck
Intermodal shipments
Transportation and carrier management
Distribution center and warehouse management
Lead logistics
Cross-docking
In-plant material follow-up
"We help customers ensure regulatory compliance at every step and easily facilitate customs clearance," Moses said.
With decades of cross-border operations experience, Penske Logistics maintains significant investments in the region, including strategic locations along the border and throughout Mexico, including a centralized Mexican headquarters.
Penske Logistics currently employs approximately 2,600 associates in Mexico and serves a variety of leading manufacturers, including major original equipment manufacturers (OEM) and tier-one suppliers within the automotive sector. Penske's employees in the Mexico operations are bilingual, which speeds the process if any translation is needed.
Each week, Penske Logistics handles more than 2,000 crossing shipments. Because Penske builds volume, it works to match northbound and southbound activity to boost efficiency. "When we can match cross-border activity, we can give drayage providers more round trips, which helps us secure capacity and build loyalty," Moses said.
Managing Complexity
Carriers only have to cover a few miles to move between the U.S. and Mexico. But those few miles bring added complexity and risk if processes aren't properly managed. More than 10 parties can be involved with a single border crossing, including those at the point of origin, a U.S. carrier, drayage carrier, Mexican carrier, U.S. and Mexican brokers and customs agents, and the destination.
What's more, there are six different legs in a round-trip movement from origin to designation. "It has to work seamlessly. You have to work with each party to make sure there are no miscommunications," Moses said.
There are many pieces that can cause a delay, such as wrong paperwork, missing paperwork or miscommunications, and proactively managing operations ensures nothing is overlooked. Technology plays a crucial role in managing cross-border shipments, and Penske's significant investments in technology bring added visibility.
In turn, this visibility allows manufacturers, supply chain partners and suppliers to track inventory and ensure deliveries move as scheduled. By ensuring predictable border crossings, Penske helps customers minimize inventory buffers and guard against any production disruptions or interruptions. In addition, the reliability of Penske's managed border crossing reduces the need for costly expedited freight to maintain production schedules.
Penske Logistics has expertise in managing each step of cross-border shipment execution, as well as the flow of inbound and outbound materials for manufacturers, including:
"We've develop critical milestones for every touchpoint from when a shipment begins to when it ends and we track each one," Moses said. "Each person in the process has an obligation and responsibility to keep the process moving forward."
Penske's scale, experience and expertise create a level of consistency that benefits all of its clients. "We're doing business with many OEMs and doing it across multiple product lines," Moses said.
Managing the Documentation to Streamline the Process
Coordinating all parties within the supply chain, providing visibility and managing necessary documentation helps streamline the movement of goods — all while cutting costs and increasing the speed of delivery.
The mandatory documentation surrounding a load can be extensive. For southbound loads, there is a bill of lading, a packing slip, a commercial invoice and a routing or instruction letter that highlights which carrier will be involved. "The more we can do upstream and the more validation we can do will help eliminate or reduce the number of issues by the time the freight gets to the border," Moses said.
Penske asks suppliers to send all documents related to a shipment within an hour of a trailer leaving the facility. "While the trailer is on the road, we can do the work with the broker and the customs agent can do their work. If there are any problems, we can be proactive and eliminate them before the load arrives at the border," Moses said. "If you're starting to look at it once it arrives, you're losing time."
Because of our technology, Penske is able to track loads at the part level. That part-level detail comes into play at the border. "When customs agents prepare pedimentos —customs forms created by the Mexican customs broker — it is at the part level and everything must be validated to what shipped," Moses said.
Having this part-level detail also helps the customer validate there are no discrepancies between what was ordered and what shipped, and plan for production. "If there is a shortfall, it is critical they know when they can make it up," Moses said. "Working with a manufacturer's supply base and syncing up materials and production is a very important aspect of what we do."
Ensuring Capacity
To ensure capacity, Penske has established an in-country team that has boots on the ground at several border-crossing locations, including Laredo, Eagle Pass, El Paso and Los Indios. The in-country team focuses on and partners with local carriers. "To be a carrier for Penske, you must meet stringent requirements," said Moses. "Carriers must be able to leverage technology to track and trace every load at every step of the route."
With certification from the Customs-Trade Partnership Against Terrorism (C-TPAT), Penske Logistics reduces border crossing times by employing Free and Secure Trade (FAST) lanes. Penske also relies on best practices to reduce delays associated with incomplete documentation and has experience managing potential noncompliance issues.
Improving Security
Because security is a priority, Penske Logistics takes multiple steps to reduce all security risks, including those associated with border crossings. Security measures include closed-circuit televisions at warehouses, guards, intrusion detection, access control and fenced yards. For additional safety, Penske works with carriers to properly time loads to minimize stagnation and reduce theft risk.
For goods in transit, Penske Logistics uses its increased visibility into each load to help protect shipments and to monitor chain-of-custody shifts. "Our level of visibility keeps loads safe on both sides of cross-border operations," said Moses.
Planning for Disruptions
Even the best-planned supply chain can experience disruptions. Penske Logistics' visibility helps identify delays and disruptions either before or as they are happening. This helps to get loads back on track and minimizes the ripple effect that the delay will have on operations. "We know what happens when the production line stops, so we do everything in our power to prevent that from happening," Moses said.
Natural disasters, labor disputes and infrastructure failures all can lead to delays that may require both short- and long-term solutions. For example, hurricanes and railroad strikes can affect the volume of trucks coming across the border.
To monitor the health of each individual movement, as well as an entire network, Penske Logistics' ClearChain® technology suite provides a control tower view that allows Penske's employees to see how every part of the supply chain is fitting together and if there is a risk of a disruption.
Ultimately, the goal is to get ahead of an event, and to identify potential disruptions, Penske uses ClearChain technology to overlay weather patterns from the National Weather Service as well as traffic information from the Department of Transportation over the area it serves. If Penske Logistics suspects a disruption, it can work with suppliers to pull materials ahead, as close to the plant or retail outlet as necessary, ensuring customers have the supplies they need.
Speed is an ally when working to mitigate disruption, and ClearChain allows Penske team members to pull data and information quickly, set up a geofence around an impacted area and obtain supplier information on everyone servicing it. What's more, the system is integrated with Penske's track and trace tools, making it faster and easier to pinpoint the exact location of every load in relation to a disruption and connect the dots quickly so Penske's supply chain specialists can react and keep products moving.
Penske Logistics has put together a red, yellow or green report that it sends to customers to keep them updated on the current status of loads, as well as disruptions, without overwhelming them with information. Behind the scenes, Penske works with carriers to aid in contingency planning and identify alternative routes. If the primary mode of transportation no longer works, Penske works to switch modes.
To overcome unexpected supply chain challenges, Penske leverages additional carriers, more labor and extra warehousing space when necessary. Penske also moves loads to alternative border crossings to keep goods moving and provides crisis management resources as needed.
Managing the Flow of Traffic
The amount of congestion at the border and the time it takes to cross can vary based on the day, week or time of the year. "Over the course of time, it fluctuates dramatically. Our teams know that when we're coming to the first two weeks of December, that means something," Moses said.
The bridge is typically open Monday to Friday from 8 a.m. to 11 p.m. with a cut-off time at 9 p.m. "You can't just head to the bridge any time you want," Moses said.
What's more, weekends have shorter hours, with the bridge open from 8 a.m. to 4 p.m. on Saturday and 8 a.m. to 2 p.m. on Sunday. "Loads that have to move on the weekend require more planning to ensure customs brokers will be open and ready for you and you can cross in that time," Moses said, adding that the holidays can also bring different hours of operation.
Applying the Penske Advantage
With more than 30 years of experience crossing the U.S.-Mexico border, Penske Logistics has the procedures and relationships in place to get goods across the border quickly and efficiently. Penske uses its proven proprietary management technology to aid manufacturers and move parts from origin to final destination, while reducing transit time and minimizing costs.
In addition to supply chain experience, Penske has a proven history of successful work with manufacturers. Managing production lines starts with ensuring the right orders are placed at the right time. The visibility ClearChain provides creates checkpoints throughout the supply chain, so all parties know what is needed, what is coming and when it will arrive.
With strategic locations on the border and throughout Mexico, Penske has the means, experience and expertise to help keep production running smoothly — with limited premium freight spend and minimal disruptions — so manufacturers can focus on their core business efforts.