Five Crucial Capabilities to Look For in a Cold Storage Provider
When dealing with perishable food in a cold storage facility, many important factors come into play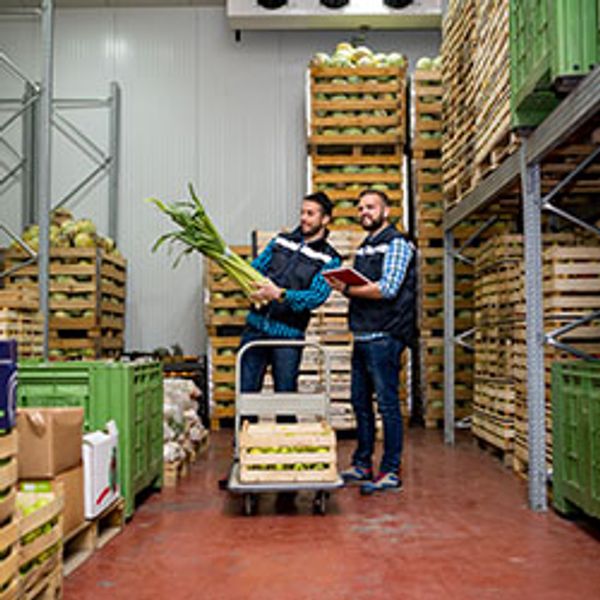 Food and beverage products in the fresh channel must be delivered on time and intact, which means retailers must work with reliable, proven supply chain and cold storage partners. To ensure success, retailers should look for these five key traits in their cold storage provider.
---
1. Visibility Tools
"Visibility is crucial to ensure freshness and availability," said Don Klug, vice president of sales, distribution center management at Penske Logistics. When it comes to cold storage, visibility allows people within the warehouse to see not only what is inside the four walls, but also what is en route and what is needed. For example, Penske Logistics' warehouse management system (WMS) is integrated with the customer's enterprise resource planning (ERP) system that sends the orders. When the warehouse receives a purchase order and/or an advance shipping notice, associates know what is on the trailer before it hits the dock. That allows Penske to have the right labor in place and be more efficient when offloading and slotting product.
2. Streamlined Communication
The ability to collaborate and communicate increases third-party logistics providers' (3PLs) and shippers' ability to plan and execute the movement of the goods, according to Klug. Through Penske's technology, the transportation management system (TMS) and WMS can also communicate with each other, giving companies the ability to build loads accurately and ensure shelves are never empty.
3. Food Safety Certification
Klug said food and beverage industry professionals should ensure their 3PL follows food safety storage guidelines. Within each Penske-operated distribution center, several employees are Hazard Analysis Critical Control Point-certified. HACCP, administered by the Food and Drug Administration, is a management system in which food safety is addressed through the analysis and control of biological, chemical and physical hazards. This includes raw material production, procurement and handling, manufacturing, distribution and consumption of the finished product. Penske also follows Current Good Manufacturing Practices and focuses on the cleanliness of its buildings.
Because food safety is the top priority for Penske, all employees within a Penske-managed cold storage facility receive training on overall food safety and sanitation. Employees also receive education on the Food Safety Modernization Act (FSMA), which outlines strict record-keeping and safety procedures, so they understand cross-contamination and the risks associated with food.
4. Track and Trace Capabilities
Some products, such as common allergens, must be segregated within the food supply chain. So having the ability to monitor, track and trace products to prevent cross-contamination is crucial. Penske's ClearChain®Technology Suite allows Penske associates and shippers to pinpoint products' locations throughout the supply chain, including within the warehouse and on the truck. The technology also includes checks and balances to ensure products remain segregated, and it flags any potential issues.
5. An Emphasis on Efficiency
Given the nature of perishable products, the warehouse must be managed and organized to optimize the movement of goods. Penske's engineers can design the warehouse layout and slotting patterns based on a product's replenishment rate, which drives efficiency. How a product is slotted varies by location, and there isn't a one-size-fits-all solution. That's why Penske takes a customized approach to each customer's specific needs.