Guide to Dedicated Contract Carriage in the Food and Beverage Industry
Download our free white paper to learn how the right dedicated transportation partner can transport your food safely and efficiently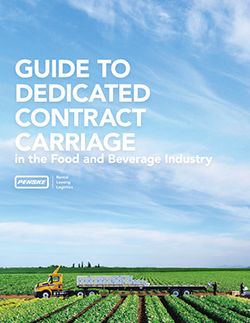 Transporting food and beverage products presents an increased level of complexity that must be effectively managed to ensure overall success.
---
From the importance of managing seasonal surge, contingency planning due to weather or agricultural conditions, complying with safety and regulation requirements, ensuring transportation cleanliness and creating best track and trace procedures, there are a wide range of food considerations that must be deliberated and executed to make certain products arrive on time and as specified. When it comes to transporting food and beverage products, there is no margin for error.
Choosing a Dedicated Contract Carriage (DCC) provider for your food and beverage operations is a critical step and it's important to identify your requirements and fully understand the benefits of a well-structured DCC arrangement before starting the selection process. That's why we created this guide – to make available the critical information you need to make the best decision possible.