Turn Your Warehouse on Its Head
Free white paper explains benefits of labor management software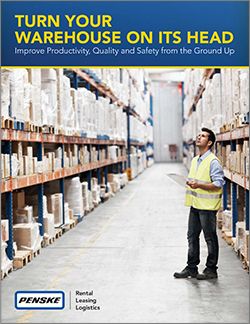 If you're ready to give your employees the reins – and rewards – for establishing efficiencies in your warehouse, it may be time to look into labor management software. Choosing the right labor management program is important, yet even more important is making the program successful for your business.
---
To learn more, read our white paper, "Turn Your Warehouse on Its Head." You'll discover how effective implementation of labor management software may help you to improve warehouse productivity, enhance quality and ensure a safe environment.
Among the topics covered:
Seven key benefits of labor management software. Learn how the right system can help you better balance workload, track productivity, reward associates and provide appropriate coaching and feedback.
Getting your employees to own the process. Doing so creates empowered associates who hold each other accountable for safety and productivity.
Effective leadership training solutions that help local supervisors and managers to become trusted mentors.
The four phases of implementation that will ensure your labor management software delivers the results you need.
Six steps to assessing your warehouse efficiency, including assessing your yard, inbound and outbound processes, along with task management, inventory management and warehouse labor.