Four Ways the Food and Beverage Industry Can Reduce Food Waste
Improve profits while benefiting the environment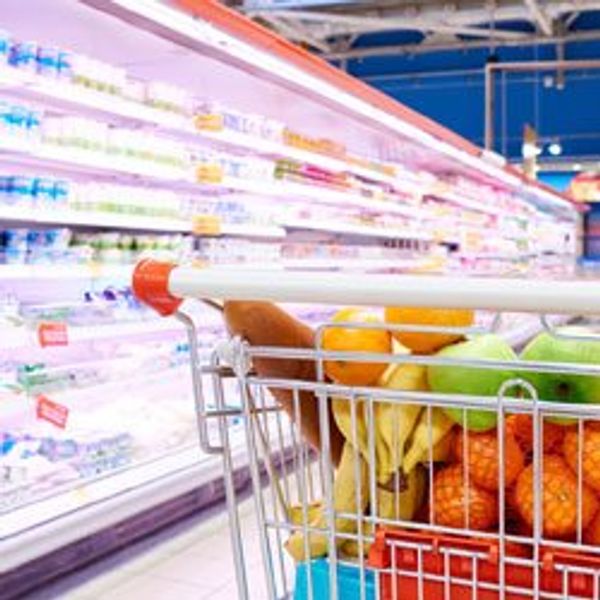 Food waste is a costly issue for those involved in the food and beverage industry, and minimizing waste can improve profits while also benefiting the environment. While there are a number of ways to reduce food waste, the National Institute of Health suggests that food manufacturers and retailers turn to the supply chain for food waste solutions.
---
Third-party logistics providers, such as Penske Logistics, have developed several areas of expertise that can benefit those within the food and beverage industry. Here are four ways retailers and their supply chain partners can work together to minimize and reduce food waste.
1. Create Visibility
For food and beverage retailers as well as their suppliers and logistics providers, gaining visibility into the supply chain can help them make better decisions in a number of areas, including load planning and routing. Different divisions within an organization often operate in silos, but a strong logistics partner can utilize a number of technologies that connect a customer's data, providing a true picture of its operations, uncovering efficiencies and streamlining deliveries.
3PLs continue to invest in technology that can increase collaboration and speed the flow of information among shippers, the warehouse and transportation providers. "There is a mass of data that can be collected within the supply chain. 3PLs are getting better at collecting the data," said Andy Moses, senior vice president of sales and solutions at Penske Logistics.
Moses said Penske Logistics is working to take technology and put it in the palm of a user's hand to make good business decisions on a regular basis. "As exceptions are occurring, we can utilize technology to ensure reaction times are immediate," he said.
Increased visibility is also helpful when shippers are working with their logistics providers on their transportation strategy. "The more collaborative we are, the more cost- and service-effective we can be," Moses said.
2. Monitor Temperatures
NIH reported that a product's shelf life depends on the optimal temperature and transportation conditions. Shippers define the exact temperatures that should be maintained during transport, and transportation providers can monitor those temperatures throughout the supply chain to ensure they remain in compliance.
Andy Moses, senior vice president of sales and solutions at Penske Logistics, said even slight fluctuations in temperatures can affect a product's shelf life. For example, raising the temperature of bagged salad from 34 to 42 degrees Fahrenheit during a shipment makes bagged salad go bad five days faster even though the product will be delivered perfectly intact.
Penske can monitor temperatures in a number of ways, based on customer needs. Real-time temperature monitoring sensors can provide constant tracking of the ambient air temperature within a load, and sensors can also be placed at the pallet level for additional monitoring.
3. Enable Agility
Having an agile supply chain gives shippers and retailers the ability to adjust operations within the supply chain to respond to market influences. Within the food and beverage industry, especially within the cold chain, time-sensitive deliveries, lean supply chains and product lifecycles demand that companies can adapt quickly to changes as they arise. "With a greater focus on fresh items, the market is asking for more cold chain flexibility," said Moses.
To provide that flexibility, Penske Logistics has a wide range of carriers available to meet surges in demand, such as when seasonal demand, weather disruptions or promotions occur. The breadth of carriers can also be beneficial if retailers or shippers have to seek out an alternative source of product outside of the normal geographic areas they use. By being able to meet that need, retailers and shippers can ship appropriate amounts rather than overstocking in case of a surge in demand, which could lead to waste.
Moses said some companies looking to increase their agility will work with Penske ahead of time to outline potential disruptions, review their past experiences and get contracts in place. "That way when the need arises, we're set up to do it and not sitting down and negotiating a contract," he said.
4. Facilitate Donations
The Food and Agriculture Organization of the United Nations estimates that 40 percent of food in the U.S. goes to waste, and The Environmental Protection Agency reported that about $30 billion to $40 billion in food waste losses come from the retail sector.
A growing number of food and beverage retailers are opting to donate food that is nearing the end of its shelf life. There are a number of federal laws within the U.S. that encourage food donation, including the Bill Emerson Good Samaritan Food Donation Act, the Internal Revenue Code 170(e)(3) and the U.S. Federal Food Donation Act of 2008. Grocers that would like help with the logistics to support donations can work with 3PLs to coordinate pickups and deliveries.