Beating the Supply Chain Bottleneck
How retailers and manufacturers can overcome the mounting transportation squeeze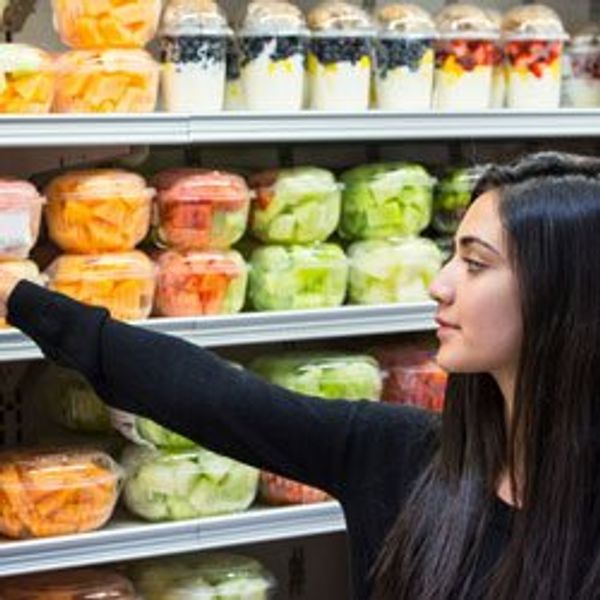 Shifts in consumer behavior, the worsening driver shortage, and new demands on the frequency and types of deliveries are placing a squeeze on the entire transportation industry. That squeeze is intensified in the food and beverage industry where a proliferation of products as well as the number of locations selling fresh foods has increased.
---
"The consumer has many more options to do their grocery shopping today than they ever had before," said Andy Moses, senior vice president of sales and solutions for Penske Logistics. "If a consumer has one bad experience today, it is highly likely they will change stores and today they have options to change. Ten years ago you didn't have those types of options."
Today shoppers can pick up food and beverage items at grocery stores, big box retailers, convenience stores or specialty grocers or order online. They also have greater expectations of service.
"We live in an environment where I order it now and I want it now. That type of convenience has an impact on the supply chain," Moses said. "At the end of the day, shippers have to make those types of accommodations if they want to keep a customer."
From a planning standpoint, customer expectations and shippers' desire to respond can add complexities to the distribution network. Upstream collaboration is the key to working through those complexities. "The more collaborative we are, the more cost- and service-effective we can be," Moses said. Working with shippers on their demand planning, forecasting and distribution points can help create a predictable transportation strategy that could alleviate potential disruptions when the unknown or unexpected occurs, such as volume surges and weather-related events."
Transparency is also a key component of Penske Logistics' transportation solutions. "The more transparency the transportation provider has and the earlier that transparency is provided, the better the planning a transportation provider can execute upon," Moses said.
3PLs continue to invest in technology that can also increase collaboration and speed the flow of information among shippers, the warehouse and transportation providers. "There is a mass of data that can be collected within the supply chain. 3PLs are getting better at collecting the data," Moses said, adding that Penske Logistics is working to take technology and put it in the palm of a user's hand to make good business decisions on a regular basis. "As exceptions are occurring, I can have the technology to ensure the reaction time is immediate."
Access to timely information also enables 3PLs to leverage data to anticipate exceptions and have a plan of action in place before the exception occurs. "Within a dynamic consumer environment, the customer has so many options, the worst thing to do is not have a product delivered or have a product on the shelf," Moses said. "It is a necessary evil to satisfy the increasing demands of the consumer, but it creates complexity."
Complexities within the supply chain also increase the importance of route optimization. "You can't look at it as distributing from A to B anymore, you have to look at the network and optimize it," Moses said, adding that optimization applies to miles, drivers and assets.
Optimizing drivers is taking on greater importance as the driver shortage worsens. While diversifying equipment increases efficiency of more frequent deliveries, it can also help increase the driver pool. "There are opportunities within the network to utilize straight trucks or box trucks where a CDL isn't required. This can loosen up the resource sleeve," Moses said.
"Overall, collaboration ensures 3PLs understand shippers' needs and behaviors and enables 3PLs to use their resources, no matter what they are, properly," Moses said.