Dedicated Contract Carriage Helps the Health Care Industry Improve Service and Cut Costs
Outsourcing delivery to a third-party provider can help you focus on serving patients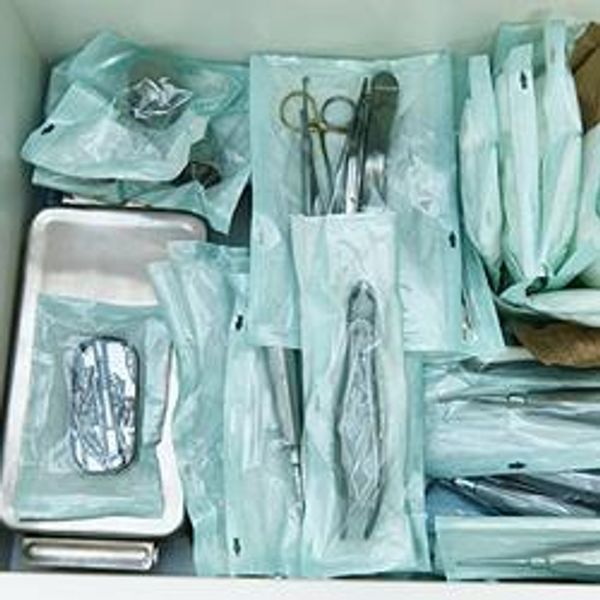 Health care facilities have unique needs, and dedicated contract carriage services can help improve service levels for hospitals, surgery centers, clinics and other providers while also driving operational efficiencies. There are several benefits associated with dedicated contract carriage (DCC), including reliable deliveries, improved efficiency and useful data analytics.
---
Reliable Just-in-Time Deliveries
Health care facilities and practitioners would rather use precious space serving patient needs versus using that same space to store inventory. "Space is at a premium, and it is driving a lot more just-in-time deliveries because there is less storage space," said Jeff Jackson, senior vice president of operations for Penske Logistics.
Visibility is critical when managing lean inventories. "The visibility tools Penske uses help ensure health care facilities have the right products in the right place at the right time to improve patient care," Jackson said.
Penske uses various technologies to provide real-time status updates on estimated arrival times to multiple parties within a supply chain. The technology also utilizes real-time traffic and weather updates to help drivers get ahead of potential disruptions. If a disruption does occur, Penske has robust exception reporting to help drive decision-making.
Penske also utilizes emergency action plans to address unexpected surges to meet any shift in demand. Those plans can include pivoting drivers from other accounts or adding equipment from Penske's fleet of rental or leased equipment. "When we create models, we understand some surge events are not predictable, so we really have to support any unexpected surge," Jackson said. "That is where our ability to be super agile and leverage our scale comes in to help them with their immediate needs."
Improved Efficiency
"Health care providers, as well as the health care distribution companies that serve them, are cost conscious and want to provide value to patients," Jackson said. Utilizing a dedicated contract carriage fleet can help improve costs through improved scale, increased visibility, route optimization and backhaul opportunities.
"Size and scale are the primary benefits of Penske's dedicated contract carriage," Jackson said. Penske has significant market density and buying power, which improves the overall cost of its services.
Data is critical within all logistics operations but particularly in health care. Detailed reporting and tracking not only ensures reliable transportation and the safety and security of health care supply chain but also helps uncover opportunities for savings. "We have an automated dashboard, so people have real-time access to information, and they can slice and dice cost to serve data down to the pallet level," Jackson said.
Detailed data can also help optimize routes and delivery points. "We work with customers to create load plans, and we use our engineering tools to create static routes and run route optimization," Jackson said.
Backhaul Opportunities
It is increasingly important to take advantage of backhaul opportunities to optimize transportation, improve sustainability and create synergies within fleet operations.
Finding the right backhaul opportunity requires intense coordination, because the timing must match at every step of the delivery process. As a result, Penske takes a multipronged approach to secure backhaul loads and identify backhaul opportunities. They identify their customer's vendor inbound freight and engage directly with third-party shippers as well as utilize the Penske Brokerage network.
To help increase backhaul opportunities, Penske can identify the best equipment for an operation. "Historically, many health care fleets utilized single axles, but we've moved more and more to tandem axles where we can because of the backhaul," Jackson said. "One fleet we took over about four years ago had all single axles because of the tight turning radius they navigate, but we assessed the network and decided we could do 25-30% of the work with tandem axles. We can still get in where we need, but it opens up the backhaul."
Highly Qualified Drivers
The driver shortage is a top concern within the trucking industry. The problem can be even worse in fields that require complex deliveries or value-add driver services, such as rotating inventory.
"We'll have multiple deliveries at a hospital, and we may have multiple points in the building. We may deliver to various points and different floors, and there are nuances in how you enter or exit. That is unique to health care," Jackson said, adding that this is much different from simply backing up to a dock to be unloaded.
Drivers sometimes handle stock rotation in storerooms or replenish storeroom shelves. "They get this done in a combination of unattended and attended deliveries, typically early in the morning while things aren't as busy to get the facility ready for the day," Jackson said.
As a result, there are more specific training requirements, and the onboarding takes longer. "With the driver shortage today, everyone is looking for help hiring drivers. We have a centralized driver hiring center that has improved our cycle time by two weeks," Jackson said.
For health care accounts, Penske looks for drivers who are open to having interpersonal engagements. "They could have multiple at a stop. Typically, these drivers want something a little more complex," Jackson said, adding that Penske has low driver turnover within the health care vertical. "We get drivers who like the environment. They see the same people every day, and they can get a lot of self-worth from making deliveries that make a difference. That was especially true during COVID-19."
Reliable Solutions
In health care, logistics is about more than a package. It is about patient care. Utilizing dedicated contract carriage solutions from Penske Logistics helps address health care's most complicated supply chain challenges efficiently and reliably so critical supplies securely reach their destinations exactly when needed.
Penske Logistics' DCC solutions can help health care product distributors and health care facilities cut costs, improve service and reduce administrative headaches, which is good for them and the patients they serve.