Guide to Dedicated Contract Carriage in the Manufacturing Industry
Free guide helps you make the best decision possible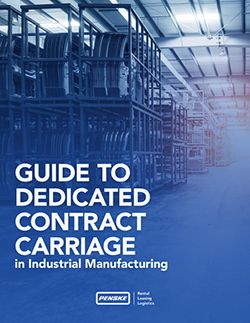 The manufacturing industry is changing at a rapid pace. You may be facing new economic factors or increasing competition. If you currently operate a private truck fleet, utilize common carriers, or are evaluating your available options for ground transportation, one way to handle your changing environment may be to consider if a Dedicated Contract Carriage (DCC) solution is right for you.
There are many factors to consider in making such an important decision. Before starting the selection process, it's imperative to identify your requirements and fully understand the benefits of a well-structured DCC arrangement.
To help determine if DCC is right for you, Penske Logistics created this Guide to Dedicated Contract Carriage in the Manufacturing Industry. Download the guide to learn how to select a specific provider as your dedicated carrier.