Dedicated Contract Carriage: An Option Worth Considering
Manufacturers and shippers can reduce cost—and anxiety—by taking advantage of a dedicated fleet solution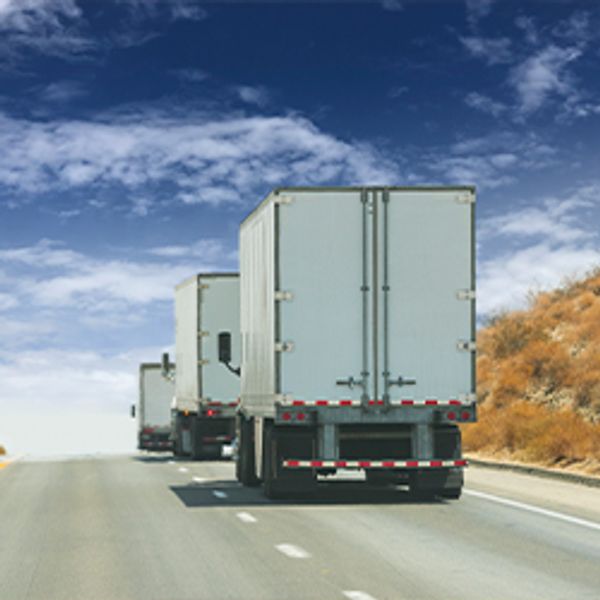 Driver shortages, tight capacity and increasing freight costs are among the forces that are reshaping truck transportation—and prompting many manufacturers to re-evaluate their trucking options.
---
Dedicated Contract Carriage (DCC) is a model that is attracting a lot of interest. There are a number of reasons for the increased attention, but a key consideration can be summed up in one word: control.
At a time when the market for truck capacity is in tumult, the ability to exercise close control over the availability and quality of transportation services is at a premium.
But DCC is not for every company, which is why shippers need to systematically evaluate its component parts when considering this option.
Degrees of Control
The "Guide to Dedicated Contract Carriage," a detailed guide to selecting DCC providers published by Penske Logistics, defines DCC as "a for-hire carrier dedicated and contracted exclusively to one shipper." Businesses that employ this transportation service "direct the execution of resources through a dedicated agreement while relinquishing the responsibilities associated with managing a private fleet," states the Guide.
In the private carriage model, shippers manage and operate their own fleets to carry their cargo and take full responsibility for related requirements such as complying with safety regulations, liability insurance and maintaining the equipment. A third option, called common carriage, is favored by shippers who prefer to contract with less-than-truckload (LTL) and truckload carriers (TL) on a transactional basis. The carriers involved are not dedicated to shipper customers, and assume responsibility for requirements such as compliance.
A useful way to look at these different service models is the degree to which each one cedes operational control to shippers. In the Penske Logistics Guide, this is summarized in a handy chart. As can be seen, the private fleet and DCC options are positioned highly on the shipper control axis, while LTL and TL common carriage transportation is at the low end of the axis.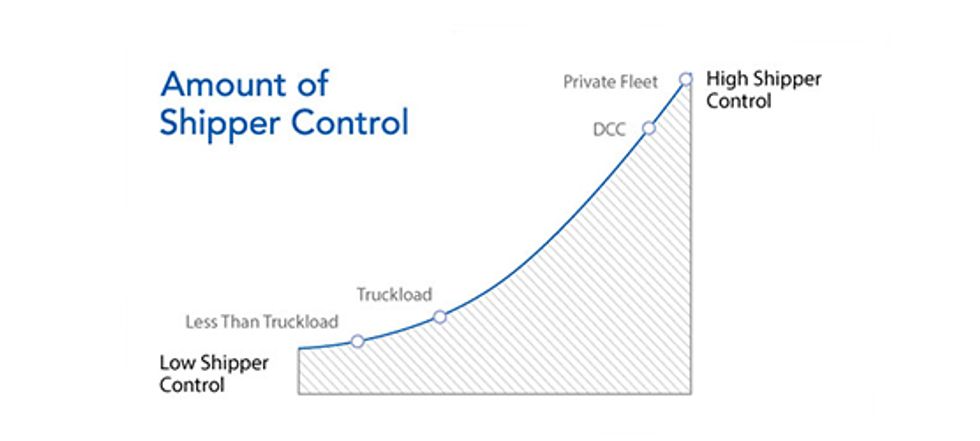 Lighter Operational Load
DCC is tailor-made for shippers that prefer to outsource the operation and maintenance of a dedicated fleet of trucks. They don't have to shoulder the day-to-day management of vehicles, yet have carrying capacity at their disposal.
"Shippers are guaranteed capacity, and have the benefit of drivers who are trained to meet their specific needs," says Tom Scollard, Vice President, Dedicated Contract Carriage, Penske Logistics. These are major considerations in a market hampered by a scarcity of both drivers and trucks. "Shippers that are private fleet owners may not be adequately equipped to recruit the drivers they need and to back-fill to fill talent gaps as drivers leave," adds Scollard.
Moreover, the labor challenge is not confined to drivers; there also is a shortage of qualified supervisors to oversee the operation of trucks, he points out.
Lead Logistics Providers (LLP) such as Penske Logistics are often better able to meet these labor demands than manufacturers. One reason is that they offer career paths geared to logistics professionals. A manufacturer may have a logistics team, but the company's business is not logistics, and thus, there is less scope for practitioners to climb the career ladder within the organization.
These issues are exacerbated by technological advances. Trucks have become "rolling computers" says Scollard, and shippers that want state-of-the-art vehicles and associated IT infrastructure may balk at the investment required as well as the unrelenting battle to keep pace with technological change. Again, a third-party provider, whose core competency is logistics, is generally in a better position to stay ahead of the curve.
Compliance is another encumbrance that many shippers prefer to offload to a provider as part of a DCC agreement. Trucking regulations have become more burdensome; the recently introduced electronic logging device rule is a prime example. Penalties for non-compliance can be substantial both in terms of direct costs and reputational damage.
Shift to Dedicated Contract Carriage
With these considerations in mind, when reviewing transportation options manufacturers should consider their supply chain pain points and how a DCC arrangement might address them, advises Scollard. These issues can be ad hoc; a shift in corporate strategy or the opening of a new plant, for example. Others may be inherent in the manufacturer's operational model. Examples include labor management problems or equipment utilization difficulties.
In addition, there are the structural changes in the trucking market described earlier. Scollard believes that these shifts are driving an increase in demand for DCC services.
For example, "The vehicles are becoming more sophisticated and shippers are demanding more technology," he says. Consequently, truck management is becoming increasingly specialized.
These specialist demands, in combination with the ever-present need to control costs and integrate transportation into highly automated supply chains, make the DCC model more attractive for shippers looking to outsource non-core competencies.
"Over the next 15 to 20 years, DCC could become the prevalent way of moving freight by road," Scollard says.