Four Steps on the Road to Supply Chain Digitalization
Manufacturers can get a head start by planning for the digital supply chain journey now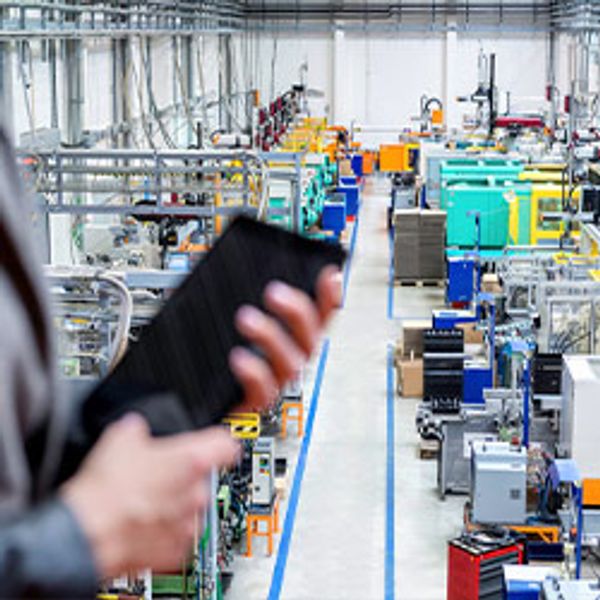 In tandem with the challenge of adopting smart manufacturing technology, manufacturers are grappling with the digital disruption of supply chains.
---
The reshaping of supply chains by technologies such as machine learning and Internet of Things sensing can be particularly challenging for manufacturers that lack specialized expertise in supply chain management and logistics.
That's why it is important to approach the task systematically. Manufacturers also need to be flexible in their approach to making the transition, because the component technologies of digitalization are still evolving.
Setting Course for Supply Chain Digitalization
As explained in the article "Overwhelmed by Supply Chain Technology? You Have Options," the digital disruption that will ultimately redefine the way supply chains are designed, built and managed is in its infancy.
There are many definitions of this fast-evolving supply chain, and we cited one from The Center for Global Enterprise in the above article: "A Digital Supply Chain is a customer-centric platform model that captures and maximizes utilization of real-time data coming from a variety of sources. It enables demand simulation, matching, sensing and management to optimize performance and minimize risk."1
The definition encapsulates many goals — one reason why the journey can appear daunting. However, by taking a step-by-step approach, the migration to a digital future is manageable. Here are four steps that will put you on the right track.
1. Get a Fix on Your Current Position
Knowing where you are today in terms of your technological and organizational preparedness is an essential first step.
"If a manufacturer does not have the necessary systems in place, leapfrogging to a more sophisticated supply chain structure could create problems," says Vishwa Ram, director of logistics engineering, Penske Logistics.
For example, are there performance gaps in existing systems that need to be addressed? A common problem is that off-the-shelf software packages don't perform as advertised for various reasons. It's very difficult to design standardized packages that handle the complexities of every supply chain, for instance. Having a clear idea of these shortcomings at the outset helps in the formulation of an action plan for adopting digital technologies and avoiding the automation of inefficient processes.
Another key area is data management. Not having the right data is one of the most common pitfalls companies encounter when implementing digital technologies — especially enterprises grounded in manual information systems. Issues such as inconsistent data and systems that capture the wrong information in the wrong fields can require a lot of remedial work up front, says Ram.
2. Select the Right Partner
Manufacturers often partner with external experts such as lead logistics providers (LLPs) to tackle the supply chain digitalization challenge. It's crucially important that your partner is up to the task. For example, is the LLP an experienced developer and implementer of supply chain solutions? Does the LLP have the resources and depth of expertise to take you to the next level and beyond?
"It's easy to underestimate the importance of choosing a provider that can continue to play a supporting role as your digital platform matures," says Ram.
3. Start with a Basic Solution that Builds Momentum
A good candidate for an inaugural project is improving supply chain visibility. Depending on where you currently are on the development curve, start with a modest goal that might involve tier one rather than sub-tier suppliers. Perhaps the solution provides more timely information on the whereabouts of components that plant managers can use to streamline production planning.
A foundational solution that Penske Logistics implemented enabled a manufacturer to track any truck in a freight network using minimal information such as shipment numbers received via mobile phones.
4. Build on the Foundation
Having gained experience with a comparatively low-level project, build from there. Maybe introduce predictive analytics that enables you to anticipate delays and plan ahead. Use the knowledge gained to develop analytics with a view to refining or even re-engineering production processes and supporting freight networks.
First Steps to Supply Chain Digitalization
In today's uncertain operating environment, supply chain digitalization is one broad change that seems inevitable.
The Council of Supply Chain Management Professionals' 2018 State of Logistics Report — co-presented by Penske Logistics — cites five trends that will shape the future of logistics; two of them pertain to digital disruption.
"A fully digital, connected and flexible supply chain optimized for e-commerce and last-mile, same-day delivery will become essential," states the report. Additionally: "The next-generation supply chain will improve fulfillment and drive efficiency through technologies such as big data and predictive analytics, artificial intelligence, robotics, crowdsourcing, and electric and autonomous vehicles."
It will take years for these changes to fully play out. Meanwhile, manufacturers can get a head start by planning the initial leg of this long journey.
---
1 Digital Supply Chains: A Frontside Flip: Building Competitive Advantage to Optimize Performance and Customer Demand, The Center for Global Enterprise, 2015.