Is Your Logistics Provider an Advocate of Collaboration?
The right lead logistics provider can reduce or eliminate friction in the supply chain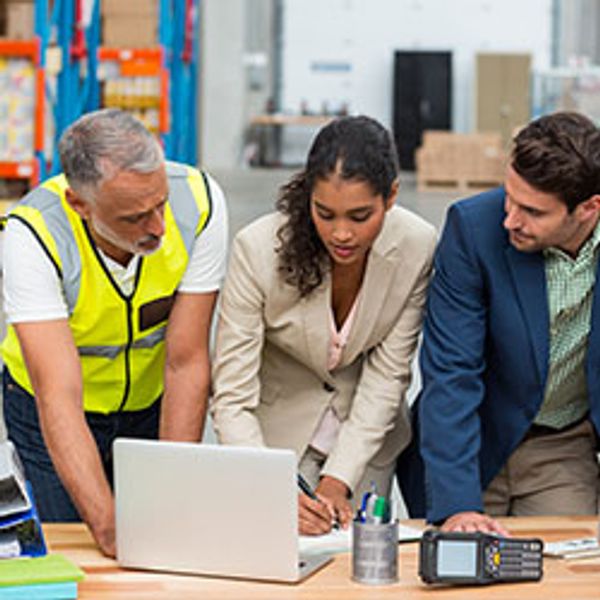 Industrial manufacturing supply chains are complex communities of trading partners that must work together to drive efficiency and maximize productivity. However, collaborating in this way is not easy when the entities involved have very different business models and levels of operational sophistication.
---
In logistics and transportation, these challenges are many and varied. Some manufacturers, suppliers and carriers collaborate effectively; many struggle to achieve meaningful alignment over the long term.
How can companies establish and maintain working partnerships that improve the performance of logistics operations and therefore the entire supply chain?
One approach is to employ a lead logistics provider (LLP) as an advocate of collaboration. LLPs are uniquely well positioned to fulfill this role in the supply chain – provided they possess the requisite expertise and experience. An LLP becomes your partner in streamlining the processes and creating a lean, cost-effective operation.
The Practice of Collaboration
Striving to achieve performance-building collaborative relationships is by no means a new goal in the logistics space. But the importance of these market partnerships is greater than ever.
In an extremely uncertain and demanding competitive environment where supply chain complexity is on the rise, trading partners need to leverage their collective know-how and resources. Such alliances provide a platform for growth by creating win-win situations that incentivize the parties to join forces in the pursuit of competitive advantage.
It's a compelling argument – but one that is much easier said than done.
Often, misalignments in key areas such as logistics best practices undermine performance and destabilize working relationships.
An LLP can identify such issues and facilitate solutions because it has an overview of the supply chain and can function as an "honest broker" that mediates between the participants. In other words, the LLP can become an advocate of collaboration.
"The LLP can reduce or eliminate friction in the supply chain," said Andy Moses, senior vice president of sales and solutions for Penske Logistics. "It can see mistakes that have gone undetected and use the experience it gained helping businesses across a wide variety of industries to fix these problems."
Here are some ways in which the role works in practice.
Promote equitable contracts. Freight contracts that make unrealistic demands on one or more of the parties involved cause unnecessary friction. Carriers are likely to miss performance targets if delivery deadlines are overly ambitious, for example. The LLP can help avoid such issues on two fronts.
First, this problem can occur when a shipper's procurement and operations departments are not on the same page when formulating and negotiating freight contracts with carriers. An LLP can point out these differences before they become embedded in the shipper/carrier relationship.
As Moses explained, "In some organizations, the procurement and operations teams work together, but in others, the extent to which they cooperate on freight contracts is more limited, and this often results in RFPs that miss important operational nuances."
Second, a LLP can shape freight contracts at the bid stage and ensure that agreements maximize the chances of a successful partnership between shipper and carrier. "Often, we are the face of the shipper in the marketplace," said Moses.
Smooth out operational speed bumps. A skilled LLP spots and fixes glitches before they become relationship-busting disruptions. And it achieves this by not being afraid to advocate for any of the parties involved. When loads are consistently late and require carriers to waste too much time waiting at loading docks, the LLP can lobby to have the schedule adjusted. When a supplier's loading dock is overwhelmed by the number of trucks it is required to receive, the LLP can advise on measures to improve throughput at the facility.
Anticipate disruptions. Experienced LLPs that use advanced information systems and analytics to constantly scan supply chains for potential problems can prevent delays and other problems from disrupting logistics operations. Maintaining a high level of operational efficiency is a great way to maintain productive relationships between trading partners. "For example, suppliers want to avoid being part of supply chain disruptions and disappointing their customers. We can help them to anticipate threats such as adverse weather patterns or demand peaks," explained Moses.
Level the playing field. Manufacturers, suppliers and carriers might be very different in terms of their levels of IT sophistication. Perhaps one party is highly digitized while another has yet to graduate beyond spreadsheets. There could be similar disparities in the talent department; one company has extensive in-house logistics and transportation teams, while another relies on one or two managers to oversee these activities. An LLP capable of working across all levels of expertise can bridge these differences.
Distinguishing Features
As these examples show, an LLP with deep market experience and technical expertise, and the ability to think both tactically and strategically can play a critical role in creating and sustaining collaborative partnerships.
But there is one other distinguishing characteristic of service providers that succeed in this role: culture.
This breed of LLP is predisposed to promoting healthy, long-term business relationships. Moses frames this as a propensity to do business equably. "The LLP must treat every company, whether a manufacturer, supplier or carrier, as a customer," he said.