Manufacturers Turning to 'Talent on Tap' Model to Fill Skills Gaps
3PLs can help fill the skills gap that is an ever-present challenge in the manufacturing industry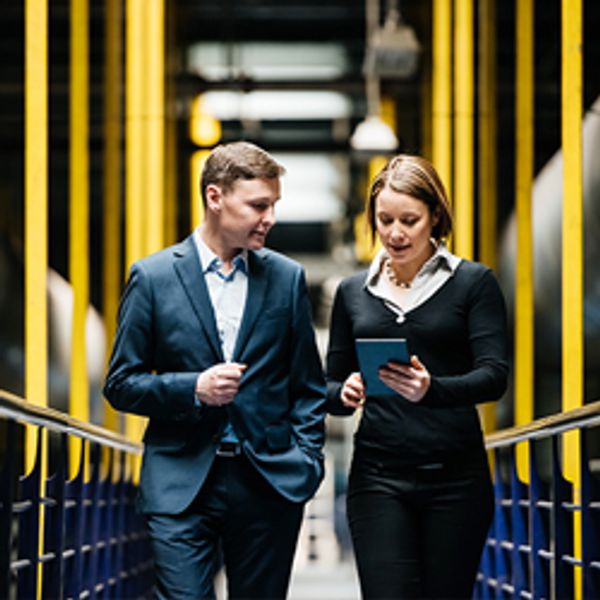 While advances in automation and robotics continue to expand their presence in the supply chain, people remain integral for the foreseeable future.
---
But how will manufacturers find the logistics talent they need to stay competitive when the mix of skills needed to design, build and manage well-run supply chains is changing?
As technology and machines continue to expand their role in the workplace, manufacturers need their workers to adopt new skills and even new ways of thinking.
Crimps in the Talent Pipeline
Automation and digitization are two of the main drivers of change in the supply chain domain. But technology is not the only driver. For example, markets are being recast in response to shifting consumer demographics and buying habits.
These changes are having a profound impact on the demand for talent. An example is the growing need for soft skills, such as communications, as well as technical skills.
However, while the types of skills are changing, the need for human talent is as urgent as ever.
This is underlined in the 2018 22nd Annual Third-Party Logistics Study. Research commissioned by human resources firm Korn Ferry – a co-sponsor of the Annual Third-Party Logistics Study along with Penske Logistics – found that globally, people and the knowledge they possess will be worth $1.2 quadrillion over the next five years whereas physical capital, including technology, will be worth an estimated $521 trillion. For every $1 invested in human talent, $11.39 is added to GDP, according to the study – a strong indication that investing in people continues to yield substantial value.
The problem facing manufacturing companies is deciding which skills to invest in and how to recruit the talented individuals they need. Acquiring the right mix of supply chain skills is especially challenging.
"Technical skills such as coding, industrial engineering and operations research are now huge in supply chain, and of course there is a constant demand for leadership skills," says Jeff Stoicheff, senior vice president, HR Logistics, Penske Logistics. Such skill sets are in short supply generally. "In addition, we have a much-improved economy, low unemployment and a large chunk of the current workforce will retire over the next 10 years," says Stoicheff.
Additional factors adding to the talent gap include the retirement of the baby-boom generation. Recent data compiled by the Society for Human Resource Management, citing Bureau of Labor Statistics (BLS) data, indicate the percentage of boomers retiring has doubled over the past eight years and will continue to rise until the last of the boomers reach 65.
This poses a significant challenge for manufacturers because not only are a quarter of manufacturing workers over the age of 55, but the BLS also states that manufacturers maintain the highest tenure in comparison to other sectors. This equates to greater institutional knowledge within the industry, which is now steadily declining, along with the drop in overall productivity that these experts provide.
The bottom line: while some manufacturers have the resources and market reach to meet their staffing needs, many struggle to find and hire high-caliber supply chain professionals from a talent pipeline that is severely constrained.
Manufacturers Tapping External Sources
Often, a better option is to contract with a third-party logistics (3PL) provider to fill skills gaps. This "talent on tap" option enables manufacturers to access the supply chain expertise and best practices they need, "And it frees up more time for their senior management to manage the business," points out Stoicheff.
But it's crucially important that they find the right source of talent.
A 3PL's breadth and depth of expertise is key. As manufacturers respond to increasing supply chain complexity and market volatility, their talent needs can change dramatically. Consequently, it's important that a 3PL can supply a broad range of competencies. A high level of technical and managerial expertise is important, but so are skills such as effective communications with various stakeholders, mastery of contractual agreements and the experience gained from working in multiple verticals, explains Stoicheff.
For example, in its role as lead logistics provider, Penske worked with a large U.S. car manufacturer to carry out a major overhaul of their logistics operations. The project included network design optimization, carrier and premium freight management, IT system integration, and finance management. Penske's team of associates, which is trained in Six Sigma practices, helped the manufacturer streamline operations and maintain a more centralized logistics network.
An in-house professional services team at Penske Logistics provides consulting support for companies across industry verticals. These services are in high demand, says Stoicheff, and the team evaluates each opportunity to make sure that its work is aligned with the long-term interests of customers.
The robustness of a 3PL's recruitment practices is another important consideration. To maintain a rich pool of talent, hiring programs need to cast a wide net. "We use a broad array of recruitment strategies that encompasses universities and hiring from the military to make sure that we have the right technical talent and leadership skills," says Stoicheff.
Leave the Heavy Lifting to a 3PL Provider
Manufacturers that partner with a 3PL attain greater supply efficiencies while accelerating the implementation of technology and IT-aided solutions. For example, by successfully implementing a supply chain IT solution that integrates with your existing ERP system, you can address the needs of all stakeholders within the organization. But to do this effectively involves a substantial amount of time, money and personnel. This is a monumental undertaking for even large-scale organizations. However, collaborating with a 3PL organization with extensive expertise in logistics can aid and guide you through the process.
The Future Looks Bright
Regardless of the challenges, there is hope on the horizon. Workers under the age of 30 recognize the many career development and advancement possibilities within the supply chain field. In addition to the wide variety of opportunities, many are able to gain a firsthand look at the industry through the many available internships, which only attracts and further strengthens the workforce.
Young professionals also report high satisfaction levels, with many respondents indicating in the 2018 22nd Annual Third-Party Logistics Study that they are optimistic about advancement opportunities with their current employer.
In fact, according to the survey:
81 percent of respondents strongly agree that the supply chain is a good career choice
86 percent of respondents said they are either very satisfied or somewhat satisfied with their current employer
76 percent would describe their work as "satisfying," 67 percent said "rewarding," and 60 percent said "exciting."
Steady Demand
One of the findings highlighted by the 2018 22nd Annual Third-Party Logistics Study is that shippers continue to leverage 3PL services beyond traditional cost-cutting. The trend "is shifting the conversation from moving loads at the lowest possible cost to maximizing value realized from the overall network," the study reports.
This means that companies are increasingly looking to use 3PL expertise as a strategic resource. That demand, coupled with the staffing challenges brought by fast-changing markets, reinforces the role of 3PLs as a vital source of talent.
Ten years from now supply chain management will probably look significantly different than it does today – but the need for skilled professionals will surely remain undiminished.