How Dedicated Contract Carriage Delivers Brand Value
Look for a provider with depth of experience that can bring best practices to your customer operations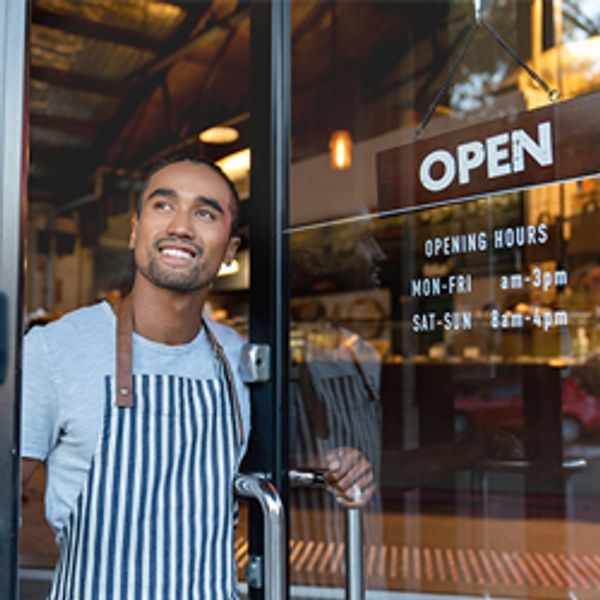 In many consumer-facing businesses, logistics is more than an activity for transporting products – it is an integral part of the brand. This is why shippers in these markets often choose dedicated contract carriage (DCC) as their preferred trucking logistics option.
---
An example is quick-service restaurants (QSR). Efficient and timely delivery services are critically important in an industry that sells fresh food to consumers. But professionalism and customer experience are also key because these trucking services and their drivers can come into direct contact with store customers when product is stocked on shelves during regular hours.
In the DCC model, the logistics service provider operates as a part of the QSR team, and as such, aligns with and supports the company's brand.
Distinct Benefits
The Guide to Dedicated Contract Carriage, a detailed guide to selecting DCC providers published by Penske Logistics, defines DCC as "a for-hire carrier dedicated and contracted exclusively to one shipper."
Businesses that employ this transportation service direct the execution of resources through a dedicated agreement while relinquishing the responsibilities associated with managing a private fleet.
Relinquishing a non-core competency such as fleet management and truck deliveries enables QSRs to sharpen their focus on core demands such as marketing and to access the expertise of an external logistics specialist. Importantly, they can also capture these benefits without surrendering control of the all-important interface with the consumer.
Private carriage and common carriage, the other two commonly used freight transportation models, offer a different mix of benefits. In private carriage, shippers maintain control over their own equipment and drivers by operating and managing their own fleet of trucks. But they must also take responsibility for the costs, risks and managerial resources required to maintain that fleet. QSRs that use the common carriage model employ multiple third-party carriers to move their freight on a transactional basis. This option relieves them of the managerial and cost responsibilities associated with fleet ownership but affords them less control over logistics operations – including the deliveries that support their restaurants.
In some cases, the move to an outsourced DCC regime may be prompted by a change in senior management, a desire to reduce cost or risk, or perhaps a shift in business strategy.
Finer Focus
Take, for example, a leading QSR chain that wanted to improve the freshness of certain products. The strategy required more frequent restaurant deliveries and a distribution model reconfigured to include direct-to-store delivery options.
The company selected a DCC service provided by Penske Logistics to do the job. Penske analyzed the chain's distribution network, delivery frequency, hours of delivery and driver duties, and built a network around these requirements. Penske then invested in a fleet of temperature-controlled trucks and distribution center freezer capacity to meet the company's 24/7/365 delivery demands.
Driver training is a key component of the DCC operation supplied by Penske Logistics. About one-third of the client company's restaurants are still open when drivers arrive to restock shelves. Hence, it is essential that drivers are well trained, reliable and focused on customer service. They must also be skilled in handling food products. That includes complying with food safety regulations, the safe handling of food and food storage, and deploying the right equipment to do the job.
Before being assigned a route, drivers complete a special training program, after which they are shadowed by an experienced driver for a predetermined period.
"Training is one of the most expensive things we do," says Andy Moses, senior vice president of sales and solutions for Penske Logistics. "People say it's expensive to train, but it's even more expensive not to train."
The DCC agreement enabled the QSR chain to avoid such driver-related staffing tasks and expenses. Additionally, the company did not have to invest in the extensive logistics infrastructure it required to support the new strategy and meet its customer experience goals across multiple locations.
"The option allows them to devote these resources to other aspects of promoting their products. Also, having a reliable outside expert to provide the logistics services they need gives them more confidence to introduce new products faster and keep pace with market changes," says Tom Scollard, vice president of dedicated contract carriage at Penske Logistics.
Competing on Brand
Brand-oriented DCC models are expected to gain in importance in markets, such as food service, that are changing in line with shifting consumer buying patterns. For example, restaurants now have to compete with an increasing number of online food delivery companies, which puts more pressure on them to provide a customer experience that is unique and consistent, cost effective and trustworthy.
DCC-based logistics can play a key role in helping companies achieve these goals. In addition to replenishing fresh product reliably and cost effectively, a well-run DCC service can be indistinguishable from the client company's brand. This may involve the branding of vehicles and drivers' uniforms, and developing customized delivery schedules for a wide variety of store locations.
"But it's important that companies choose a DCC provider capable of delivering on its service promises," says Scollard. "Look for a provider with depth of experience that can bring best practices to your customer operations."