A 4PL manages the complete supply chain, whereas a 3PL concentrates on logistics. This is the primary distinction between a 4PL and a 3PL provider.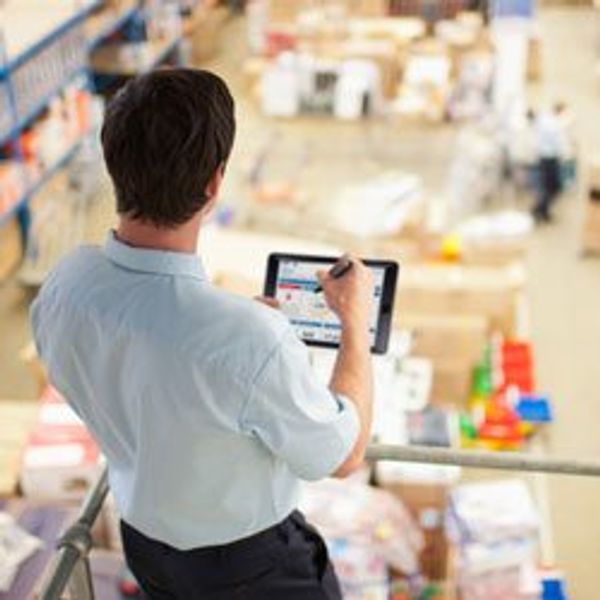 Lead logistics providers (LLPs), also referred to as fourth-party logistics (4PL) providers, have a broad role within the supply chain. They assume many of the same roles as third-party logistics (3PL) providers, but have much broader responsibility and accountability in helping the customer reach its strategic goals.
---
"Accountability and control help differentiate a 3PL from a 4PL," says Andy Moses, senior vice president of sales and solutions for Penske Logistics. "As a 4PL, we become a trusted advisor, and the customer becomes reliant on our data to drive them forward."
When functioning as a 4PL, a logistics service provider becomes a true partner with the customer. They work to create a lean, cost-effective supply chain. "The 4PL is the big umbrella. Under the umbrella you have all of the supply chains – transportation, warehouses and anything that is moving," Moses says. "The 4PL manages the big umbrella. That brings more sense of control and ownership."
A 4PL typically directs every moving part within the customer's supply chain and serves as a single point of contact for all parties involved, says Moses. An LLP's role typically includes managing and analyzing large amounts of data, overseeing transportation management, managing other 3PLs and transportation service providers, supervising warehouse operations, or operating any other portion of the supply chain.
"3PLs are very transactional. As a 4PL, you're leading that customer," Moses says, adding that 4PL relationships typically evolve from a 3PL relationship. "The customer becomes reliant on our data to drive them forward. Eventually we are sitting at the table with them, and the operational component is expected."
An LLP (or 4PL) works to:
Coordinate suppliers
Integrate supply chain technologies
Synchronize inbound logistics and outbound logistics flows
As an LLP, a 4PL uses its high level of visibility, real-time information, communication abilities and broad knowledge to align 3PLs, customers and service providers. A 4PL draws on the data it collects. In addition, it collects, stores and manages data from other supply chain partners. That visibility plays a key role in allowing the customer and 4PL to provide seamless supply chain services, improve customer service, manage exceptions, and remove costs and inefficiencies from the supply chain.
How 3PLs and 4PLs Work Together
When a 3PL transitions to a 4PL, it changes the type of information the provider may access. "I am still a Penske employee, but I am cut off from financial information at Penske because I am working in the customer's best interest," Moses says, adding that a 4PL's goal is to find the best overall transportation solution for its customer. "Penske submits bids, but I am comparing them to bids from their competitors."
Transparency is key for 4PLs that may also function as a 3PL. They must proactively work with customers to demonstrate the checks and balances they put in place, such as creating confidentiality agreements that prohibit the sharing of information and data from the customer's other 3PLs and transportation providers.
Building trust as a 3PL helps smooth the transition to a 4PL function. "You have to build relationships ahead of time, and we do that as a 3PL," Moses says. "Then, as a 4PL, you have to deliver and put it into action."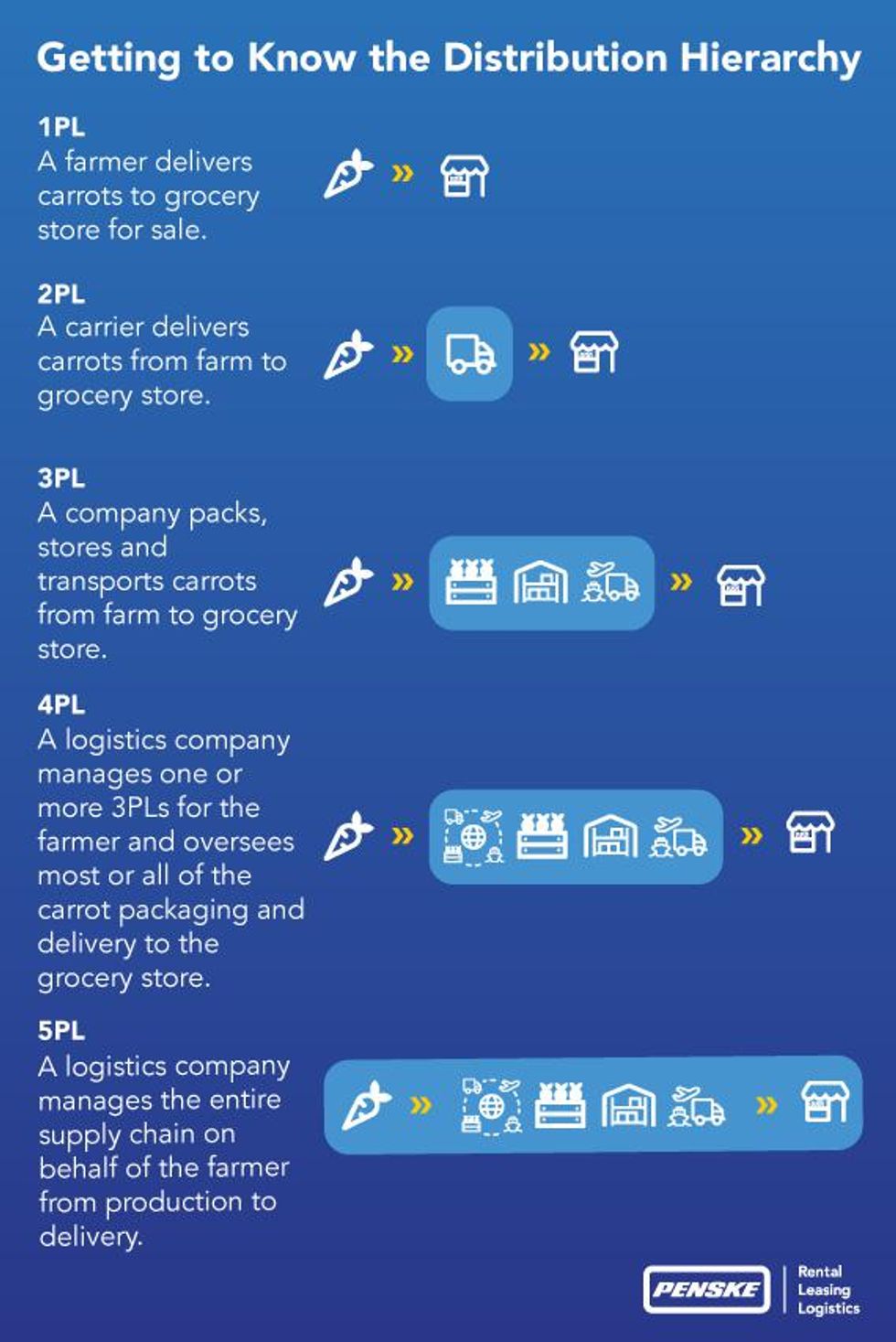 Defining 1PL, 2PL, 3PL, 4PL and 5PL using the distribution hierarchy in the graphic above:
What is a 1PL? - First-Party Logistics. A farmer delivers carrots to the grocery store for sale.
What is a 2PL? - Second-Party Logistics. A carrier delivers carrots from farm to grocery store on behalf of the farmer.
What is a 3PL? - Third-Party Logistics. A company packs, stores and transports carrots from farm to grocery store for the farmer.
What is a 4PL? - Fourth-Party Logistics. A logistics company manages one or more 3PLs for the farmer and oversees most or all of the carrot packaging and delivery to the grocery store.
What is a 5PL? - Fifth-Party Logistics. A logistics company manages the entire supply chain on behalf of the farmer, from production to delivery.