Streamline the Returnable Container Process
Properly managing the inbound and outbound flow of reusable containers takes a delicate balance and innovative technology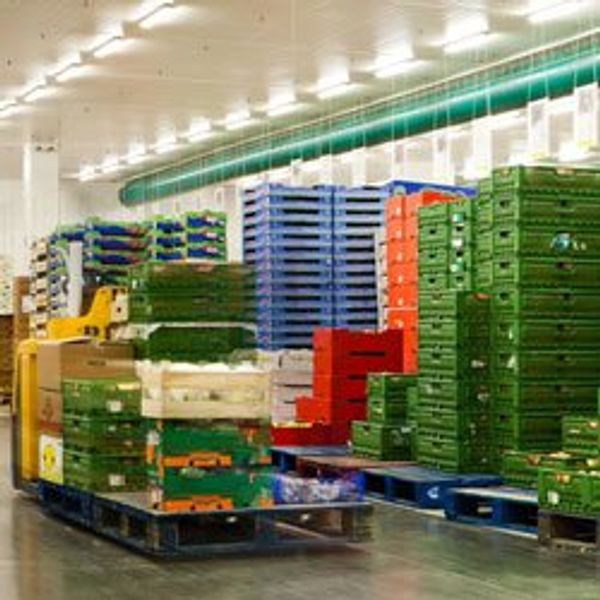 You may already know the many benefits of reusable containers. They are specially built to protect the products they hold. They also reduce waste and cut costs. But these benefits only happen if the containers are in the right place at the right time.
---
Properly managing the inbound and outbound flow of reusable containers takes a delicate balance. To efficiently get containers back to where they're needed, you need robust processes and a supply chain that operates exactly as designed.
The powerful ClearChain®Technology Suite can help you manage that flow. It seamlessly connects production with transportation for optimal results.
Achieve Consistent, Standardized Pack Sizes
The reusable container supply chain involves four key areas:
Containers in use for finished goods being produced
Containers holding products that are in use at the customer's location
Empty containers being sorted and processed for return
Containers in the return loop
Anomalies within any of those areas can throw the system out of sync. Shippers want a continuous flow of containers, but don't want to be overflowing with them, which makes the timing within the supply chain crucial. If they have too many on hand, they have to store them. If they are too lean, they are waiting on the empty containers to arrive so they can fill them.
Penske Logistics takes the reusable container processes initially developed in the automotive vertical and applies them to numerous other industries. This helps to standardize pack sizes, drive consistency and increase efficiency. Eliminating variances in the packaging also allows companies to get more containers on the trailer.
Get Real-Time Tracking of Inbound and Outbound Flow
Strict tracking parameters help to make reusable containers most effective. Capturing granular data – down to the serial number – improves safety, quality control, visibility and backup.
By knowing how many reusable containers you need to complete a full day's worth of production – in addition to knowing which stage of the supply chain the containers are in – Penske Logistics can ensure customers will have the amount they need when they need it.
Maintain a Continuous Flow for Balanced Production
Many additional factors can complicate the crate supply chain. These include uneven production and delivery, unpredictable production based on industry, and unpredictable consumer behavior.
Understanding the "crux" – the set inventory of cases needed to make a day's worth of production – aids in the supply chain. For example, if a dairy needs 11,000 cases for a day's crux, has 7,000 cases now and another 2,000 coming, then they'll need 2,000 more.
To track containers, Penske implements a variety of technologies, scanning deliveries on the outbound side, keying in pick-up quantities, and monitoring inventory levels within the warehouse.
Here's how it works: Drivers enter the number of reusable containers that have been picked up into their smartphones. Then the system electronically transmits that information to the customer and sends a report every two hours. The information is automatically tied to the trailer number, so the customer knows how many containers are available and their exact location.
Eliminate Container Shortages and Production Shutdowns
Within some sectors, such as the food industry, many reusable containers must be washed prior to reuse. That requires the arrival of a continuous flow of crates.
Improving the flow can eliminate the need to store extra containers for just-in-case scenarios. For example, in one instance, Penske Logistics' container management freed up six trailers full of reusable containers.
Any slowdown due to a lack of reusable containers significantly impacts costs, productivity and service. This can ultimately affect sales.
If data show a low amount of reusable container inventory, Penske Logistics sends drivers out on a sweep. Because the locations of containers are tracked, drivers know exactly where to go to pick up the amounts needed.
The same strategies apply to a number of food-related storage containers. These include bread trays that transport baked goods, along with flip-top totes that transport pre-made sandwiches and grab-and-go foods, such as fruit cups and salads.
Penske Logistics works closely with its customers to understand the quantity of containers required to support a healthy supply chain. Through data analysis, Penske can uncover peak times, volume files, year-over-year numbers or anomalies. That level of understanding ensures a balanced flow of containers and eliminates wait time.
To effectively reduce waste and cut costs, reusable containers are a must-have. So too is having the right logistics partner. ClearChain through Penske Logistics can help you streamline the returnable container process and help your business achieve the maximum benefit.