What Do Cars and Carrots Have in Common?
When it comes to logistics, a lot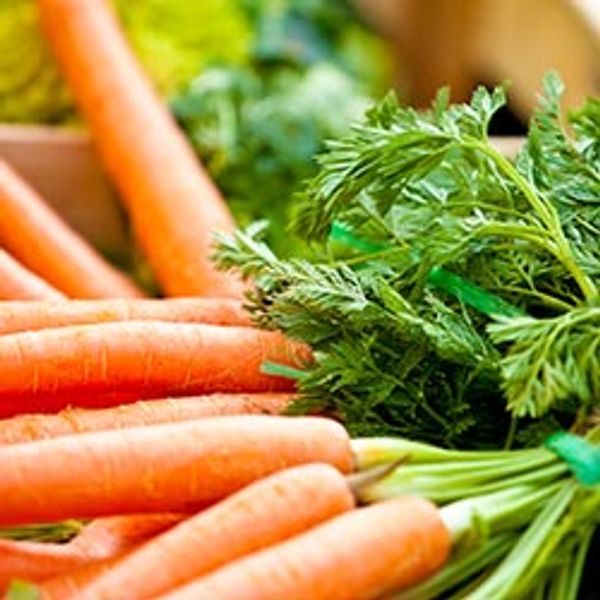 There are many similarities between the automotive and the food and beverage sectors when it comes to the supply chain challenges they face. The automotive supply chain has its logistics processes down to a science – and in many ways the food and beverage industry, faced with comparable challenges, is adopting similar processes.
---
"When you look at the two primary concerns of both industries, they are quality and safety," says Andy Moses, senior vice president of sales and solutions for Penske Logistics. He goes on to explain that both sectors deliver a product with strict material handling requirements and significant governmental regulations surrounding them. "It's remarkable how two such disparate verticals have so much in common."
Another shared concern for both industries, according to Moses, is cost. He notes how Toyota codified lean production principles – the systematic method for eliminating waste within a system – and that the 2008 – 2009 Recession drove the automotive inventory to very lean proportions, simply for survival. Similarly, the food and beverage industry – particularly produce – needs to keep a lean supply chain due to natural spoilage of its products.
The Safety Factor
Regardless of where the individual items are sourced, having a properly monitored supply chain is key to safety when it comes to recalls, both with cars and food. In the event of a recall, it's important to be able to trace a food product down to the item level, saving unnecessary disposal of food and allowing for a quick and confident response. Similarly, it's important to know where every part for every car came from, in order to minimize disruptions and have the assurance that the vehicles people drive are safe.
Trending: Local Sourcing
The rallying cry among foodies and farmers today is to buy fresh and local. And it's hard to say which came first – consumer pressure or chef's choice – but there has been a substantial localization of supply chains for restaurants. Chefs want to know who is growing their food, and knowing where the food comes from gives them a better shot at controlling quality and safety – not to mention satisfying their customers.
But before the whole local foods movement got wings, the automotive industry was quietly leading the way in creating a localized supply chain, by rationalizing inventory levels and having supplier parts brought closer to the plants to contain costs and prevent a pricey factory shutdown.
Some auto makers are bringing their supply chain close in order to have better control and this mirrors the way chefs are increasingly sourcing locally to have greater control over their ingredients. You can craft a better product when you're closer to the components – whether those components are air filters or heirloom tomatoes.
Discipline = Agility
"The discipline the automotive industry has brought to bear has translated into a more agile supply chain," says Moses.
The automotive sector has learned to manage "tight window times" to create a strong inbound logistics supply chain. According to Moses, it has achieved "plus- or minus- 15-minute windows" in delivery times through hard work and careful planning over its decades of experience.
The goal of every commodity sector is to have an agile supply chain, meaning the ability to scale rapidly and to respond to market influences. And certainly food and beverage, especially within the cold chain, is a prime example of a vertical where agility is not just a beneficial bonus, but a critical component.
Timeliness = Freshness
For perishables, the food and grocery model is changing. Consumer buying behavior puts more pressure on the supply chain to deliver fresh food on time, safely, and in the right quantities. "With a greater focus on fresh items, the market is asking for more cold chain flexibility," says Moses, noting that growing challenges are driving food and beverage experts to match skill sets from automotive.
As food and beverage companies have sought to increase their flexibility, they've benefited from the educated population of supply chain thought leaders, a direct result of the automotive industry's work over the past several decades.
"There is a sense of maturity in the automotive sector, where all partners in the supply chain understand the process," Moses adds. "Automotive is so accurate and disciplined that they are able to achieve a 99.9 percent reliability in their supply chain."
A Flexible 3PL Partner
The food and beverage sector is making significant strides in its supply chain accuracy, and is developing a model for reliable delivery of rapid-replenishment items that meets consumer demand for fresh and fresh-prepared offerings. And critical to its success is optimizing its transportation solutions. Food and beverage companies need to run their transportation as efficiently as possible, including reviewing their sourcing options and relying on a robust 3PL partner to connect the dots.
Moses says the question every food company needs to ask is, "have we considered the impact the localization movement has had on our business?" and, as a result, they may need to consider looking at their operations in a slightly different way.
Two Evolving Industries
The automotive and food and beverage sectors continue to play integral roles in society, and their supply chains are continually evolving to meet the demands of consumers.
"The automotive and food industries supply a product that is critical for consumers, so they need a reliable supply chain in order to optimize their businesses," says Moses. "Transportation costs are dwarfed by inventory costs," he adds, noting that storing inventory is often the real cost burden.
"By choosing a 3PL partner that has decades of experience and expertise in the automotive industry, food and beverage companies can benefit from the insight that an entrenched automotive supply chain partner can bring to their business, putting a fresh spin on the concept of reliability, on-time delivery and efficiency."