Managing Change in a Changeable World
Keep pace and avoid losing competitive ground by developing successful change management strategies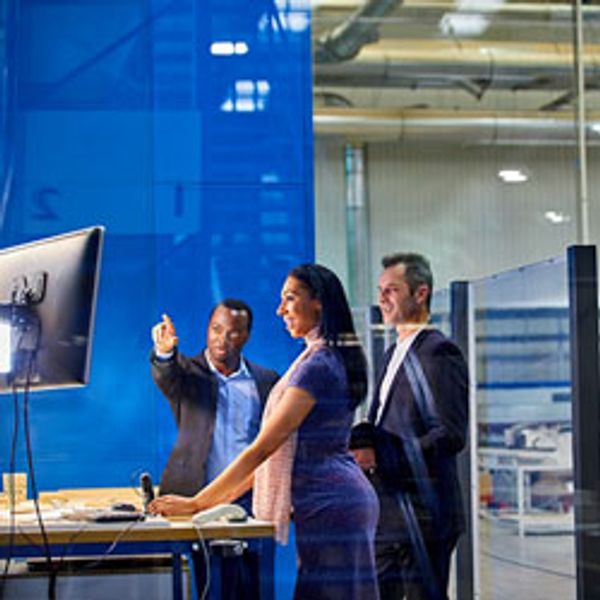 Managing change in the workplace is challenging – especially when it involves technological innovation -- but change management strategies can help transition organizations smoothly into the future.
---
The rapid pace of change and perceived threats to the status quo are difficult enough for many employees to deal with. Add the hype that often surrounds new technology, and it's not surprising that implementing technical solutions can be one of the trickiest exercises in change management facing manufacturers.
This is certainly the case in supply chain management. Solutions such as transportation management systems are constantly being updated and upgraded. Perhaps even more important is digitization and its transformational impact on logistics. The successful adoption of these innovations requires well-planned and well-executed change management strategies.
Management Toolbox
"Going forward, supply chain employees will need to adapt to the digitized workplace with a willingness to develop new skills and tap into technology," stated the 2018 22nd Annual Third-Party Logistics Study, co-sponsored by Penske Logistics.
But achieving this level of support is not easy when employees are understandably reticent about tech-driven change. It is notable that of the 580 respondents in the 3PL study – 21% of whom were from manufacturing – 15% of the shippers cited a non-digital culture or mindset as the reason for not investing in digital technology.
"Applying new solutions empowered by technology inevitably touches the workforce, and culture is a key consideration when planning change management programs," said Dave Bushee, vice president of logistics technology at Penske Logistics.
One of the most important tools for gaining buy-in is communications; ensuring that every affected employee understands the rationale for a new solution and how it will impact their role. People who understand an impending change in their routines are much less likely to be intimidated by it. Penske Logistics has learned this lesson over the course of countless implementation projects.
"It's part of our job to communicate with everyone involved," said Bushee. "That could include a shipping clerk who is not informed about the solution – every person touched by the technology is vital to its success. People are part of the value proposition."
And that includes individuals in customer and supplier organizations who interact with the new process. For example, Bushee described a project involving an inbound logistics solution for a manufacturer. The company was not confident that its suppliers would accept the technology. "We helped them guide the communications and explain the benefits to hundreds of suppliers through an online Penske portal," he explained.
Another communications tool that Penske routinely deploys is dedicated training teams that work with individual supplier or customer organizations. Teaching platforms such as webinars and on-site classes can also be part of the effort.
The communications toolbox is especially important when big manufacturers are involved. As Bushee noted, large-scale implementations can touch multiple divisions scattered across different geographies, requiring a multi-pronged communications program.
Outside of communications, the availability of experts to help shepherd the changes can make the difference between a successful implementation and one that is plagued by ongoing problems.
Penske Logistics has a solution design team that fulfills this role. "They have a strong IT background and have expertise in key areas such as procurement and manufacturing. We put this team in front of a solution – they are its ambassadors," Bushee said. The support of such a team can speed up implementations and promote a positive outcome.
Ideally, there should be a similar team at the manufacturer end. It's preferable to have leaders from operations and IT on the team who are well respected in their respective areas, and who are well versed in accelerating change within the manufacturing organization.
Interestingly, an unexpected bonus for some manufacturers is that they learn new things about their organizations as a solution is introduced. Documenting a new process and how it will be embedded in the enterprise can reveal insights into existing working practices that employees were largely unaware of, pointed out Bushee.
The Next Challenge
Over the next decade, technological advances will reshape supply chains and drive organizational change. In the 2018 22nd Annual Third-Party Logistics Study, 69 percent of shippers and 67 percent of 3PLs said they will invest in big data and analytics in the future. "We are actively monitoring any emerging technologies, including blockchain, that can position us to drive efficiency and find better solutions for our customers," said Andy Moses, senior vice president of sales and solutions at Penske Logistics.
To keep pace and avoid losing competitive ground, companies must develop change management strategies that transition their organizations as smoothly as possible. Flawed or ineffective strategies prevent companies from capturing the full value of their investments, and can even be retrogressive if manufacturers fail to address the natural resistance to change within their organizations.
In today's fast-paced world, change managers also must be aware of technological trends and anticipate the future challenges that they will be expected to oversee.
"We are always working to get ahead of these changes and to communicate what is coming, where innovations are on the hype cycle and where they might be applied in supply chain management," said Bushee.