Overwhelmed by Supply Chain Technology? You Have Options
In today's competitive marketplace, manufacturers embrace technology to streamline their supply chain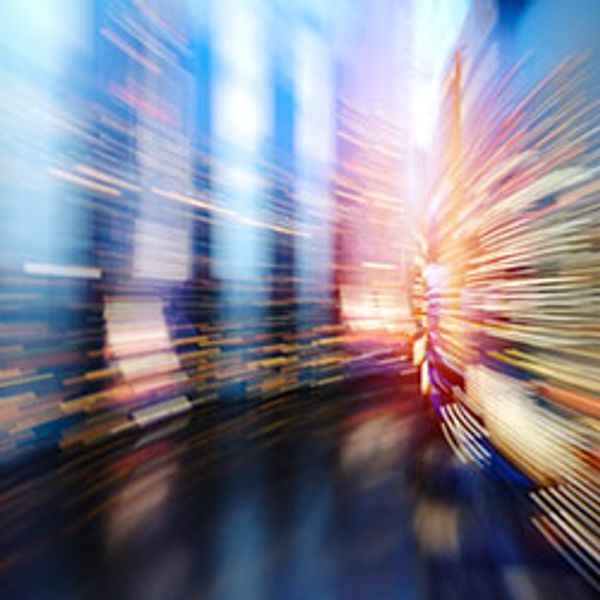 Digital technologies such as machine learning, big data analytics and Internet of Things (IoT) sensing are reshaping supply chains. Ultimately, the so-called digital supply chain will emerge where these component technologies converge to deliver unprecedented levels of operational automation and efficiency.
---
But a fully-fledged digital supply chain is some way off. Meanwhile, companies must figure out where their supply chains sit in this fast-changing universe and develop a game plan for adopting technologies that are becoming essential to competitiveness.
These are daunting challenges, especially for manufacturing companies that lack the required resources to evaluate and keep pace with multiple technologies, let alone implement them.
Fortunately, solutions are within reach. First, it's getting easier for enterprises to leverage digitization in their supply chains. Second, they have the option to utilize the systems and expertise that third-party providers have already developed.
The Future Is Here
What is the digital supply chain? There are many definitions. Here's one from The Center for Global Enterprise: "A digital supply chain is a customer-centric platform model that captures and maximizes utilization of real-time data coming from a variety of sources. It enables demand simulation, matching, sensing and management to optimize performance and minimize risk."
As mentioned, fully-functioning digital supply chains are far from reality. However, the technologies from which they are being forged have mostly arrived, and they are already impacting supply chain management.
An example is predictive analytics. "We are now going beyond the traditional dashboard which tells us what happened yesterday, to advanced, actionable analytics that tell us what could happen tomorrow and enable us to make better, data-driven decisions," explained Vishwa Ram, director of logistics engineering, Penske Logistics.
Ram described such an application Penske has implemented in collaboration with a company in the automotive industry.
The manufacturer's inbound logistics supply chain was based on preplanned routes for shipments from suppliers to its plants. However, the company's production schedules became more varied, rendering the routings less than optimal. The more erratic schedules meant that too many trucks were underutilized, driving up costs. In collaboration with the manufacturer, Penske used predictive analytics to forecast the demand for truck space. By highlighting the fluctuating demand levels from week to week, Penske was able to optimize the route plan in line with the manufacturer's changing production schedules.
Another technology that is having a real impact on supply chain efficiency is IoT sensing. For example, the parent company of Penske Logistics, Penske Truck Leasing, uses telematics equipment on trucks to continuously monitor vehicle performance. Sensors are also used by Penske to track the location and temperature of goods in transit.
Different Routes
Taking advantage of such technologies – and others that are gaining ground, such as machine learning and 3D printing – may seem like a formidable challenge. The good news is that becoming tech-savvy is less stressful than it was just a few years ago.
"Migrating from spreadsheets is getting easier thanks to developments such as the growth of cloud-based platforms that make it relatively easy to access solutions," explains Ram. Advances like these have compressed the time required to adopt new technology.
That said, companies still must make significant investments in hardware, software and expertise to stay ahead of the technological curve — investments that can be difficult to justify if logistics and supply chain management are not core competencies. Companies that place a stronger focus on other areas besides supply chain are probably unfamiliar with the full benefits of the function and more likely to give it a low priority when it comes to allocating investment funds.
In addition, companies need to meet certain requirements if they are to extract maximum benefit from investments in new technology. For example, the effective use of predictive analytics requires a lot of high-quality data. And "high-quality" does not only mean "clean"; data must be formatted in a certain way too.
Faced with challenges like these, some manufacturers choose to take another route: they plug into solutions that intermediaries such as 3PLs have already invested in.
"We can match the solution to the manufacturer's level of sophistication as well as its analytical needs," says Ram. "And we can help them in other areas, such as how they process data and how they think about analytics."
Penske Logistics also has significant experience helping companies manage the change associated with moving to a digital environment.
Importantly, this option gives manufacturers a readymade solution that is kept up to date by the 3PL. Systems, such as Penske's ClearChain®Technology Suite , are on the cutting edge of supply chain technology.
Staying Ahead
That cutting edge keeps advancing as new innovations go mainstream and become more widely adopted. "We are witnessing a fundamental change from decision-making that is based on intuition to a more data-driven culture," says Ram.
Over the next few years, technologies such as blockchain could join more mature innovations and accelerate the shift toward digitized supply chain management. Exactly when the digital supply chain will materialize is anyone's guess. But one thing is for sure: manufacturers that fail to keep abreast of the technological wave risk being left behind.