Freight Broker vs. Freight Forwarder: What's the Difference?
Though they may sound the same, a freight forwarder and a freight broker serve different purposes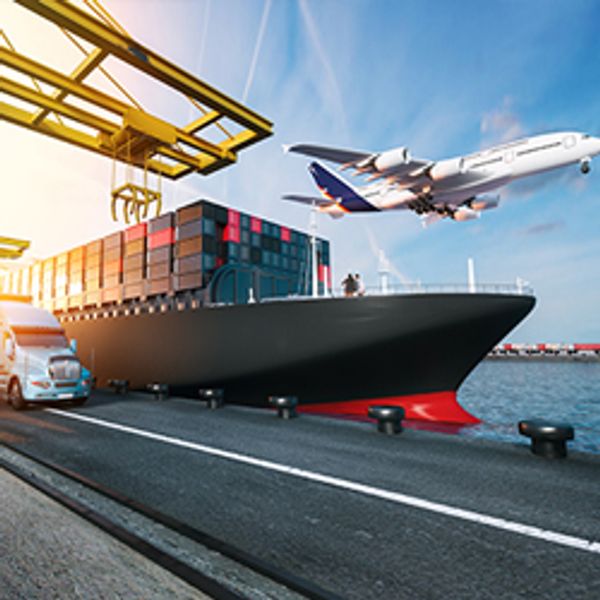 The terms "freight broker" and "freight forwarder" are often used interchangeably when people are discussing the movement of goods. But there are concrete differences between the two that go beyond simple semantics. Keep reading for answers to some of our most frequently asked questions.
---
What Is a Freight Broker?
Freight brokers connect shippers and carriers and oversee the movement of freight. Brokers must register with the Department of Transportation's Federal Motor Carrier Safety Administration (FMCSA) for brokerage authority. However, logistics brokers don't take possession of the freight. Freight brokers primarily handle shipments with U.S.-based origination and destination points. While a freight broker can handle international movements, those movements are usually in one specific area.
What Are the Benefits of Using a Freight Broker?
Working with a freight broker can save you time, money and resources by reducing the investment you make in equipment, buildings, technology, and more. You'll reap the benefits of having your own shipping department without having to finance a shipping department. A freight broker will also bring flexibility and industry knowledge to the partnership.
The relationships a freight broker brings to the table are another huge benefit – both the relationship you build with your broker and their existing business relationships that may benefit your bottom line.
When Do You Need a Freight Broker?
You may need a freight broker when you're dealing with increased seasonal demand or quick business growth. Or if you find yourself spending too much time shipping out orders and not enough time managing other aspects of your business.
What Is a Freight Forwarder?
A Freight forwarder arranges the shipping of freight for their customers, and then go a step further. In addition to moving goods, freight forwarders may store products for their customers. More importantly, freight forwarders have operating authority with the FMCSA in interstate or foreign commerce. That means they handle international shipments that move from country to country or across multiple countries.
Freight forwarders clear the movement of freight from one country to another, forwarding shipments through the legal requirements in each location. Freight forwarders typically ship freight under their own bills of lading. They also perform assembly and consolidation services. They can book cargo space for customers, often directly with the ocean or air provider, and negotiate rates for transport. Freight forwarding is typically more specialized work with specific terminology and legal requirements.
What Are the Benefits of Using a Freight Forwarder?
A freight forwarder specializes in navigating the often-complicated logistics industry and brings experience and accountability to the table. They provide extensive knowledge of international shipping, related laws, and regulatory standards while providing tailored, forward-thinking transportation solutions that can add value to your business.
Businesses may also benefit from a freight forwarder's access to existing global partnerships, strong negotiating skills and more.
When do you Need a Freight Forwarder?
If you lack the experience, time or budget needed to coordinate the transport of your goods, you might benefit from the help of a freight forwarder.
How do I Choose the Best Freight Broker or Freight Forwarder?
Though you may be tempted to choose the lowest price, there are additional points to consider when choosing a freight broker or freight forwarder. Do they have previous related experience? Do they have any industry certifications and are they appropriately licensed by the FMCSA? Are they offering insurance options and related claims support that will work for your business? And will they offer freight tracking and carrier vetting?
Count on Penske Logistics
Whether you need to move freight across the country or around the world, Penske Logistics has the experience and expertise to handle your freight brokerage and freight-forwarding needs.
Get a quick rate quote to move your product efficiently
Contact Us: 844-854-8442