Blended Transportation Solutions Help Shippers Win
How shippers can maximize efficiency by utilizing a combination of DCC and freight management services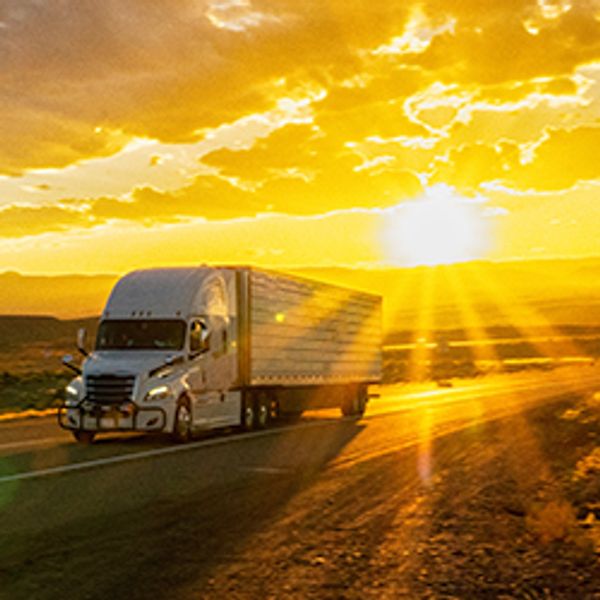 The modern freight environment is increasingly complex. Shippers need nimble solutions from logistics service providers to win.
---
In response to this complex and demanding freight environment, shippers are increasingly seeking blended transportation solutions to ensure reliable, on-time product deliveries at the optimal costs. The synergies of leveraging a blended dedicated contract carriage (DCC) and freight management (FM) solution are a prime example of this trend.
In a DCC agreement, for-hire trucking carrier capacity is dedicated and contracted exclusively to one shipper. In this model, the shipper relies on a third-party logistics (3PL) provider for drivers, vehicles, and make the deliveries. However, a DCC solution may not fulfill all the shipper's logistics needs, so can this model also be integrated into a broader portfolio of freight management services?
The answer is most definitely yes — but shippers need to be careful about selecting the right logistics partner to manage an integrated capacity model that encompasses both DCC and FM.
Multiple Benefits
When moving their freight by road, shippers have several models from which to choose. Aside from DCC, they can adopt the private carriage model where the shipper manages and operates a fleet of trucks. Another possibility is common carriage, favored by companies that prefer to contract with third-party over-the-road carriers on a transactional basis.
"When we talk with customers about their freight management needs, many issues often come down to whether or not they are getting the best value by operating their own fleets," says LeAnne Coulter, vice president of freight management at Penske Logistics.
Shippers that employ a DCC solution don't shoulder the day-to-day management of drivers or vehicles, and have carrying capacity at their disposal.
"Shippers are guaranteed capacity, and have the benefit of using our drivers who are trained to meet their specific needs," says Tom Scollard, vice president of dedicated contract carriage at Penske Logistics. "Shippers that are private fleet owners may not be adequately equipped to recruit the drivers they need and to fill talent gaps as drivers leave," adds Scollard.
These are compelling advantages, but companies with multilayered logistics needs may want to take advantage of blended transportation models that offer a mix of operational benefits. An attractive alternative is to contract with a 3PL/4PL provider such as Penske Logistics to provide a comprehensive FM platform that also includes DCC as a component of that platform.
Due Diligence Key
This integrated DCC and FM approach is garnering more attention in an increasingly complicated freight management landscape. But the efficient execution of this model requires the resources and in-depth expertise of a leading provider such as Penske Logistics.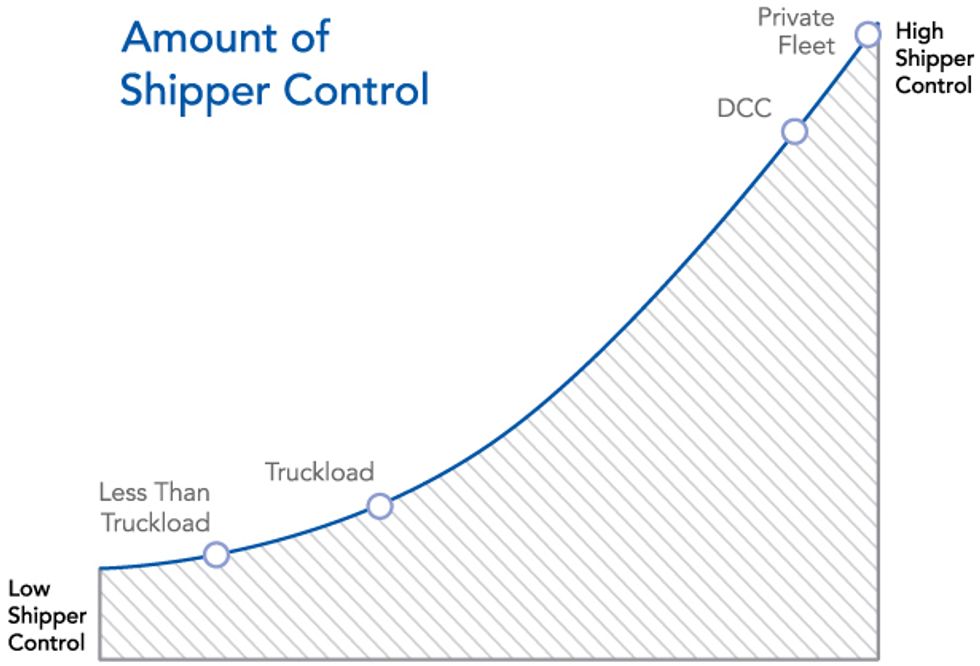 For example, a shipper might want to identify the portion of its common carriage freight that could be a candidate for switching to a DCC model. As is shown in Figure 1 from Penske's Guide to Dedicated Contract Carriage, it is necessary to evaluate various parameters such as the number of touchpoints involved and the duration of lead times over a normalized period in the shipper's business. After completing this analysis and calculating the cost of common carriage, a comparison with a DCC-based transportation service can be made.
How can shippers make sure that a logistics services provider has the know-how and resources to create and manage an integrated DCC and FM program, and keep it on track with regular reviews and network adjustments? Here are some key capabilities to look out for.
Large carrier network. The provider's fleet must be extensive enough to cater to a wide range of freight network configurations. "Our vast network of carriers gives us the flexibility to support customers as their freight needs change," says Coulter.
Technological excellence. Penske's ClearChain® Technology Suite improves real-time visibility into transportation networks, reduces costs, and improves service quality. ClearChain, in combination with Penske's state-of-the-art transportation management system, represents a new generation of logistics management systems. This technology is making it possible to provide integrated solutions that combine FM and DCC. Says Coulter, "Historically, this is a tough challenge, but our technology platform allows us to achieve integration and to optimize transportation networks."
Single source of truth. A platform that integrates different transportation models cannot function effectively if the underlying data streams are fragmented and incoherent. A single data repository sits at the heart of an efficient integrated platform. For example, "The selection of service providers between dedicated and third-party must happen dynamically and seamlessly in one system," Coulter says. That system also monitors the network's performance continuously. These capabilities are an inherent part of Penske's technology solutions.
Integration in Demand
Coulter believes that DCC and FM are paired much more today than was the case a few years ago in response to changing market demands. Advances in logistics management technology and market leaders such as Penske Logistics facilitate the pairing. "We are working with shippers to build a road map to these integrated solutions," she says.