Mitigate Delays, Expenses of Freight Bottlenecks with Increased Visibility
Evaluate your network design to keep freight moving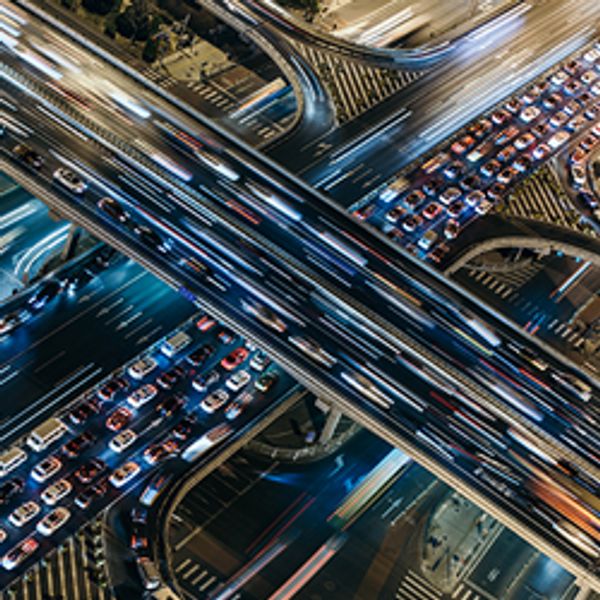 Congestion is a persistent and costly issue for the transportation and logistics industries, and some areas of the country face greater delays than others. Knowing where the greatest pain points exist can help businesses make informed decisions about their transportation network while also informing lawmakers about areas where greater investments are needed.
---
The American Transportation Research Institute's (ATRI) 2019 Top Truck Bottleneck List assessed the level of truck-oriented congestion at 300 locations on the national highway system. The analysis, based on truck GPS data from nearly one million heavy-duty trucks, found that the intersection of I-95 and SR 4 in Fort Lee, New Jersey, is the No. one freight bottleneck in the country.
The rest of the top 10 includes: Atlanta, I-285 at I-85 (North); Atlanta, I-75 at I-285 (North); Los Angeles, SR 60 at SR 57; Houston, I-45 at I-69/US 59; Cincinnati, I-71 at I-75; Chicago, I-290 at I-90/I-94; Nashville, I-24/I-40 at I-440 (East); Atlanta, I-20 at I-285 (West); and Los Angeles, I-710 at I-105.
ATRI's analysis found that year-over-year truck speeds across the top 10 locations dropped by an average of nearly 9 percent as congestion worsened along the nation's busiest freight roadways.
Keep Freight Moving
Supply chain disruptions can lead to missed deliveries, but visibility and real-time data can help drivers find alternate routes, if possible, and ensure loads are delivered on time. Knowing the exact location and circumstances surrounding a load provides opportunities to correct a problem either before or as it occurs.
Penske's ClearChain®Technology Suite provides a high-level, detailed view of all supply chain movements to ensure shipments keep moving. Users can drill down into all of the information associated with an order, including the status, scheduled pickup and delivery, actual pickup and delivery, origin, destination and the part-level detail of each shipment.
If a disruption occurs, ClearChain's CrisisWatch and HotWatch apps bring instant visibility that can help Penske associates and customers work together to mitigate the disruption and find the best way to navigate around it.
As part of its services, Penske Logistics can help its customers evaluate their networks and uncover ways to increase efficiency. That could include avoiding areas with known congestion issues.
Penske can help shippers run what-if scenarios so they can fully understand how routing and sourcing decisions shape overall costs. For example, evaluating the entire network, including sourcing locations and product demand, can drive the overall engineering of the supply chain, which can increase efficiency and, potentially, avoid areas with known transportation issues.