Are You Being Smart About Route Planning?
How experience and technology come together to improve operations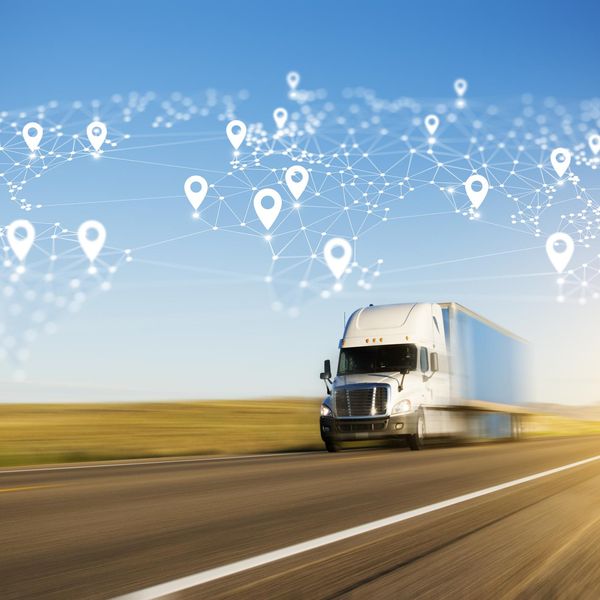 An estimated 70% of all freight moved in the U.S. annually is delivered by truck, but completing these deliveries on time is not getting any easier. Increasing road congestion is one of the speed bumps that are disrupting delivery services across the nation.
---
Fortunately, lead logistics providers (LLPs) such as Penske Logistics have developed tools and strategies for helping shippers to mitigate these risks. A prime example is the smart routing of commercial vehicles.
Using a combination of technology and logistics know-how, Penske adjusts truck routing schedules to allow for disruptive forces such as traffic-related delays. These methods are gaining in both importance and effectiveness.
"We have 100% accountability," says Andy Moses, senior vice president of sales and solutions for Penske Logistics. "We have the systems and processes in place to keep goods moving."
More Complexity
As most commuters know only too well, traffic congestion blights road transportation today. Ironically, one of the causes is the growth in e-commerce, a shopping option that enables consumers to avoid traveling to stores. But delivering the goods that each buyer purchases with a keystroke also generates more truck trips.
An analysis carried out by the American Transportation Research Institute (ATRI) on the proliferation of urban last-mile deliveries notes that from 1999 to 2017 e-commerce sales increased 3,000%. In response, retailers have decentralized distribution/fulfillment networks to bring inventory closer to consumers. These changes have altered the delivery landscape. For example, ATRI estimates that from 2015 to 2017, some 1,937 more courier services were operating in the U.S.
And while it would seem that the global pandemic, which kept many people home for more than a year, would have helped ease congestion on the roads, ATRI's 2021 report on the top freight bottlenecks found that while the average truck speed at some of the worst U.S. bottlenecks improved in the spring, freight was slowed by increased road construction during the shutdowns. ATRI also reported that once the shutdowns eased in the second half of 2020, traffic levels increased and those construction projects eventually led to further congestion.
At the same time, delivery windows have become tighter and there is less room for error in finely tuned logistics networks. As a result, companies are under more pressure to ensure that product is delivered on time, to the right place, and in the right quantity without incurring any damage.
Increasing interest in environmental sustainability is another trend that adds complexity to delivery services. An effective way to shrink a company's carbon footprint is to optimize distribution networks to reduce the number of miles driven and hence carbon emissions levels. Greener networks also promote improved supply chain performance, because minimizing the number of miles driven helps to improve vehicle utilization.
Smart routing helps companies to meet these converging delivery challenges.
Routing Analytics
A typical smart routing program collects data on average vehicle speeds over specific segments of a distribution network. Such data can be obtained from drivers' cell phones or GPS tracking sensors on vehicles. Geofencing systems signal when trucks enter and leave designated geographic areas such as freight yards.
A transportation management system (TMS) can use the data along with information on other constraints to refresh route plans so that delivery services continue to operate at maximum efficiency as conditions change. TMS analytics can highlight driver-related issues too, like when drivers are not adhering to the company's route plans, for instance.
These programs also adjust routing plans in response to broader changes. The number and size of deliveries change in line with shifts in demand during peak seasons as well as store promotions and store openings/closures.
Routing changes must be communicated to the warehouses and distribution centers that feed distribution networks. "Since drivers are paid considerably more than warehouse associates, we want to optimize the drivers' workload. So we design optimal routes first and then determine the best warehouse work plan to pick and load the product for these routes," says Amy Ilyes, vice president of logistics engineering, Penske Logistics. In addition, truck drivers tend to be a limited resource, she explains, so it makes sense to give them the best schedule possible. "But we are always sensitive to the need for a balanced workload in warehouses especially during peak demand periods," she adds.
Companies also need to be aware that delivery networks are shaped by the types of businesses served. For example, in business-to-business markets, the number of stops is typically less than in a network that supports retailers. Retail outlets are invariably located in urban areas, where constraints such as the number of one-way streets and the benefits of routing with right-hand turns must be addressed. Industrial companies are more likely to have facilities in less densely populated locations. Overall, business-to-business delivery plans are often more straightforward and include longer distances than retail-based networks.
Future Innovations
In recent years, advances in transportation and warehouse management systems technology have enhanced our ability to optimize route plans in response to market and operational changes.
Over the next few years, innovations such as Internet of Things sensing and the use of artificial intelligence to improve network efficiency will bring further advances. Moreover, as more data on the performance of delivery systems becomes available, companies will find new ways to streamline routing schedules.
The Role of the 3PL
Smart routing is not only about technological innovation. To get the most out of current programs as well as future advances, companies need a high level of logistics expertise too. A 3PL, like Penske Logistics, combines decades of experience across multiple industries with industry leading technology, such as our proprietary ClearChain® technology suite. The combination of people, process and technology ensures your supply chain keeps running smoothly.