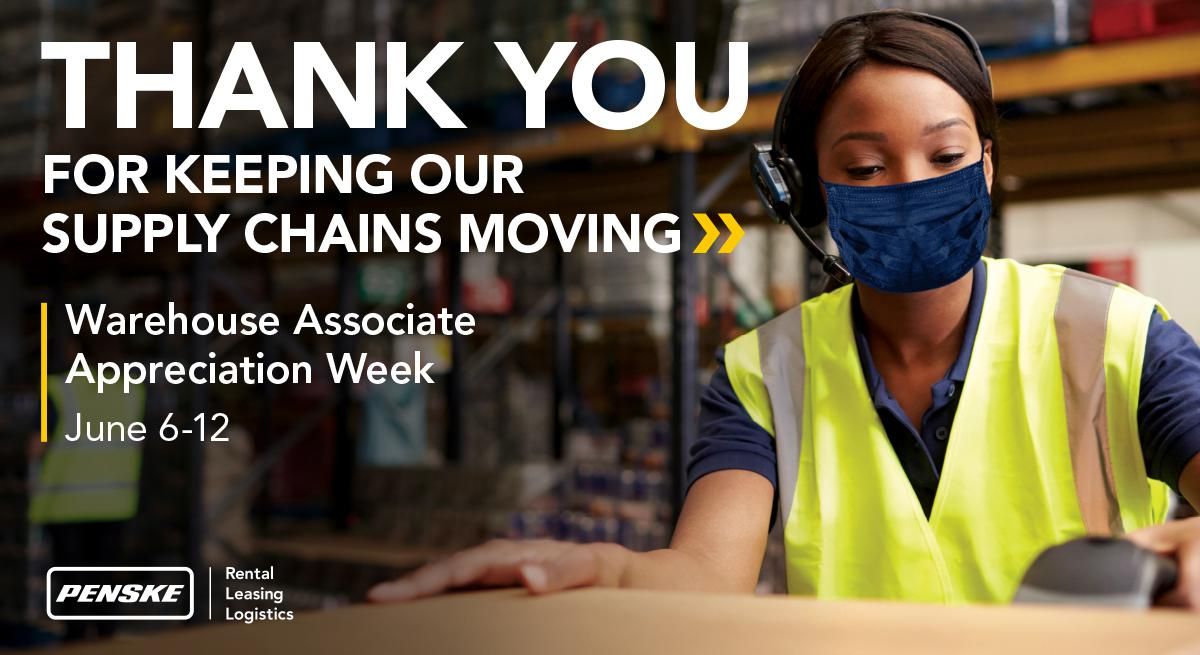 Penske Celebrates Warehouse Associates With Appreciation Week
Warehouse associates play a vital role in ensuring necessary goods are stocked for businesses and consumers around the world. These goods range from important medical equipment to groceries, and even everyday things we may take for granted, like office supplies and sporting goods.
---
To recognize the hard work of the men and women who help keep our stores and hospitals stocked, Penske Logistics is hosting Warehouse Associate Appreciation Week from June 6 -12.
"Our success as a company begins with you," said Steve Beverly, Senior Vice President – Operations, PL. "Over the past year, your efforts and your work have sent millions of products across the United States, Canada and Mexico. In a very real sense, you and your teams have helped keep our economies moving during the past year."
"Whether you're a forklift operator, receiving clerk, picker or a packer, each and every one of your roles is critical to our existence. So for that, I want to thank you for what you do day in and day out," said Marc Althen, President – Penske Logistics.

Since the onset of the COVID-19 pandemic in 2020, the role of warehouse associates has been even more important, as the demand for a number of goods rose to record levels. According to the Consumer Brands Association, packaged goods alone tallied over $1.53 trillion in sales, and 2021 could have a similar story. That means warehouse associates will continue to be challenged to meet a growing demand to keep supply chains moving.

Penske employs more than 4,300 warehouse associates in 32 U.S. states and seven countries. While their roles may differ, each plays an important part in moving tons of goods across Penske's 29.7 million square feet of warehouse space.

"I truly appreciate the dedication to our COVID protocols and the caring approach that you shared with each other during the past year," said Beverly. "As we look ahead, the economy is a bit uncertain. I know you have the choice to work anywhere, and I truly appreciate and I'm grateful that you have chosen Penske. You're appreciated and I recognize that without you, there is no Penske."
By John Moralis