Responses to Rising Costs in Manufacturing
Download our free white paper to learn how to lower costs and provide better service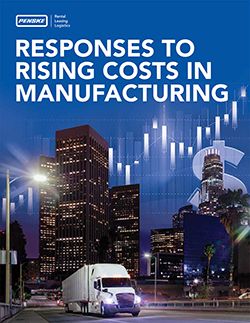 Truck driver shortages, increased economic activity and the growth of e-commerce are among the market forces that are driving up logistics costs in manufacturing. Companies must respond by finding ways to reduce and control the cost of logistics operations.
---
There are many ways to achieve these goals, for example, by incentivizing trucking companies to carry a manufacturer's freight and reconfiguring freight networks to run more efficiently. These strategies also can yield long-term benefits.
Download and read the full report to become more adept at analyzing your logistics expenditures and improve your ability to translate best practices into lower costs and higher service levels.