Six Ways to Connect Logistics with Smart Manufacturing
The pace of change in manufacturing is frenetic, but embracing the digital supply chain can help you keep pace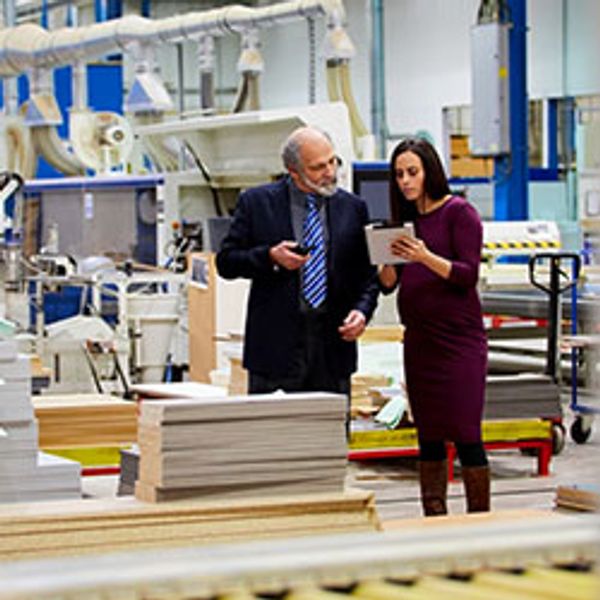 The digital transformation of manufacturing is underway, and companies are under pressure to piece together a cohesive strategy for adopting the technologies that are driving dramatic changes across the industry.
---
Where does logistics fit into this complex jigsaw?
Connection Points
In an industry survey of attitudes toward digital transformation in manufacturing carried out by the Society of Manufacturing Engineers (SME)1, 43% of respondents said that manufacturing is already seeing significant changes due to digital technology solutions.
"Actionable data is changing the game. Sensors enabled by the Industrial Internet of Things (IIoT) collect information and cloud-hosted software analyzes it, providing operations managers with information to make better decisions, leading to improved productivity, lower costs and increased profitability," said SME.
The most powerful benefits of smart manufacturing as ranked by respondents are increased productivity, improved operations, better/faster decision making, increased competitiveness and greater access to data.
Logistics has a role to play in each of these areas.
But the extent to which companies leverage logistics to capture these benefits depends on how they integrate it into their smart manufacturing strategies.
Here are six ways in which companies can achieve integration and benefit from the advances that are revolutionizing both manufacturing and logistics.
1. Marry Smart Manufacturing with Digital Supply Chains
As digital technology is changing the manufacturing landscape, supply chains are undergoing a similar transformation. For more on this see the Penske article "Overwhelmed by Supply Chain Technology? You Have Options."
In the supply chain universe, technologies such as machine learning, big data analytics and Internet of Things (IoT) sensing are reshaping supply chains and creating new opportunities to improve operational efficiency and lower costs. Companies can harness these benefits to enhance the effectiveness of their smart manufacturing strategies.
One approach to leveraging logistics in this way is to use a lead logistics provider (LLP) with the requisite expertise and resources to bridge the two universes. The LLP can advise on how digitized logistics operations can support and even refine a smart manufacturing platform.
"We can match the solution to the manufacturer's level of sophistication as well as its analytical needs," said Vishwa Ram, director of logistics engineering at Penske Logistics. "And we can help them in other areas, such as how they process data and how they think about analytics."
2. Talent Pipeline Support
An asset that a manufacturer may or may not possess that an LLP almost certainly offers is logistics talent – especially in areas such as digital transformation.
In the SME study, respondents rate finding skilled people as the top challenge to implementing smart manufacturing solutions (34% of respondents). An LLP can provide the skills required in logistics when and where needed to support smart manufacturing.
3. Analytical Horsepower
One of the most powerful capabilities of a smart supply chain is the ability to perform advanced analytics using artificial intelligence and machine learning. For example: "We are now going beyond the traditional dashboard which tells us what happened yesterday, to advanced, actionable analytics that tell us what could happen tomorrow," explained Ram.
Such capabilities can enhance a smart manufacturing strategy. For instance, the use of predictive analytics to anticipate logistics problems enables manufacturers to avoid supply disruptions that can derail data-driven production schedules.
4. Network Reconfiguration
The introduction of digital technologies such as 3D printing can change the distribution footprint of a manufacturing operation. An LLP can help the manufacturer to re-engineer its distribution network to align it with the new, digitized operation.
5. Change Management
Companies that have embarked on an integrated smart manufacturing journey face some stiff change management challenges in multiple areas – including supply chain management.
"Applying new solutions empowered by technology inevitably touches the workforce," said Dave Bushee, vice president of logistics technology at Penske Logistics. And the hype that often surrounds new technology can reinforce employee uncertainty when changes are implemented.
There are many ways to allay such fears and smooth the way for new technology, but one of the most important is effective communications. Multiple communications channels such as online portals and seminars can be used to explain the rationale behind a new solution to employees as well as to trading partners such as suppliers.
An experienced LLP that has implemented many sophisticated logistics solutions is already plugged into challenges like these.
6. Identify and Anticipate Glitches
Even a well-executed smart manufacturing strategy can cause unanticipated anomalies that undermine the competitive gains if not addressed. A seasoned LLP has the expertise and end-to-end perspective to spot these unintended consequences in the supply chain before they become performance-sapping problems.
As Andy Moses, senior vice president of sales and solutions at Penske Logistics, emphasized, an LLP can "reduce or eliminate friction in the supply chain."
Not Too Late
The pace of change in manufacturing is frenetic, but we are in the early days of the industry's digital transformation. In the SME study, only 30% of respondents said that they are in the process of implementing or using smart manufacturing solutions; 27% had not even started yet.
"The good news for manufacturers is that there is still time to jump into this digital revolution," the SME said.
The same can be said for the logistics component of the revolution.
---
1 Manufacturing in the New Industry 4.0 Era Survey, March 2018