Coordination and Planning Lead to Successful Transport of $3 Million Clothing Donation
A team approach helped connect essential products to the people who needed them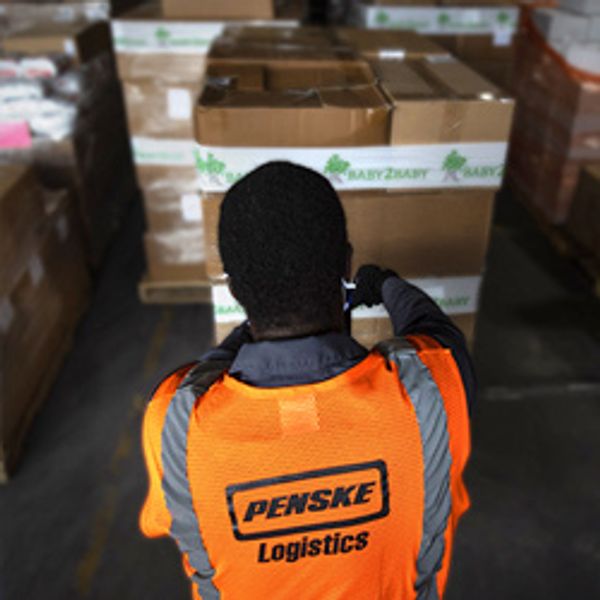 Transportation and logistics are a critical link connecting generous donations to those who need them. Penske Logistics recently worked with Baby2Baby, a national nonprofit that provides basic essentials to children living in poverty, and Old Navy to transport $3 million of clothing donations in a dozen markets.
---
The Scope
As part of the project, Penske moved 600,000 units of clothing, picking up more than 4,000 cartons of clothing at 100 stores.
Baby2Baby, Old Navy and Penske worked in lockstep to identify Baby2Baby National Network members located near the Old Navy stores. Baby2Baby coordinated with Baby2Baby National Network members across the country and worked with Penske to finalize logistics and execute deliveries to each organization, according to Baby2Baby representatives.
Logistics plays a huge role in any donation, especially one that involves delivering to multiple cities across the country during a pandemic. "Our mission is to put basic essentials into the hands of the children living in poverty we serve, so with Penske's support and flexibility in meeting each organization's unique delivery requirements, we were able to ensure that communities received what they needed as soon as possible," Baby2Baby representatives said.
The Plan
Tom Scollard, vice president of dedicated contract carriage for Penske Logistics, said the key to success was advanced planning and preparation. "We focused on process enablers to ensure that everybody had what they needed on the front end, and we could make it happen," he said.
That included engaging managers to procure drivers, obtaining the appropriate number of pallets to load boxes on, and having all bills of lading in place to ensure everything was legal. Penske also worked to identify the most efficient routes while meeting the pickup timeframes Old Navy provided.
Coordinating drivers took time. "Once we talked it through, every one of our driver managers found a way to make it happen," Scollard said.
Baby2Baby, Old Navy and Penske communicated daily and scheduled weekly calls to discuss team updates and next steps. These updates were incredibly helpful as it allowed Baby2Baby to keep its members in the loop on their incoming shipment, according to Baby2Baby.
The Pilot
Penske rolled the project out in Dallas and used it as a test market. "We said, 'Let's start here and make any tweaks as we go," Scollard said. "The Dallas piece went extremely well."
Scollard said the team reviewed each of the 17 stores in the Dallas market to determine which could not be accessed by a tractor-trailer. "We secured rental trucks from Penske Truck Leasing and scheduled the pickups based on the type of equipment we were using,"
The Rollout
Once Penske had a good understanding of the Dallas market, the team communicated the process to the other locations. "We wanted a consistent approach in each of the markets. It was essentially taking a blueprint and applying it across different areas," Scollard said.
In addition to Dallas, Penske picked up and delivered Old Navy merchandise in Atlanta, Baltimore, Birmingham, Alabama, Chicago, Dallas, Los Angeles, Miami, Nashville, Scottsdale, Arizona, Seattle, St. Petersburg, Florida, and Westchester, New York.
It was essential to go in with a good plan and to have clear, concise and consistent communication across all of the markets, Scollard said.
One of the challenges of moving a donation of this size is working within the limitations that face some of the smaller organizations in the Baby2Baby National Network. "When the organization has limited staff and shortened hours due to the COVID-19 pandemic, it creates another set of challenges to deliver a high volume of items and for them to be able to quickly get items distributed to their communities," Baby2Baby representatives said. "Penske worked within the parameters of each organization to complete each delivery without any issues."
Success
"A team approach is a part of our culture. I never saw more evidence than through this. Whether it was driver managers, back-office support or the professional drivers, everybody was willing to step up and participate," he said. "We solve problems every day. That type of responsiveness is in our Penske DNA. It felt pretty organic."