Quick Service Restaurant
Food and beverage in-store delivery and warehousing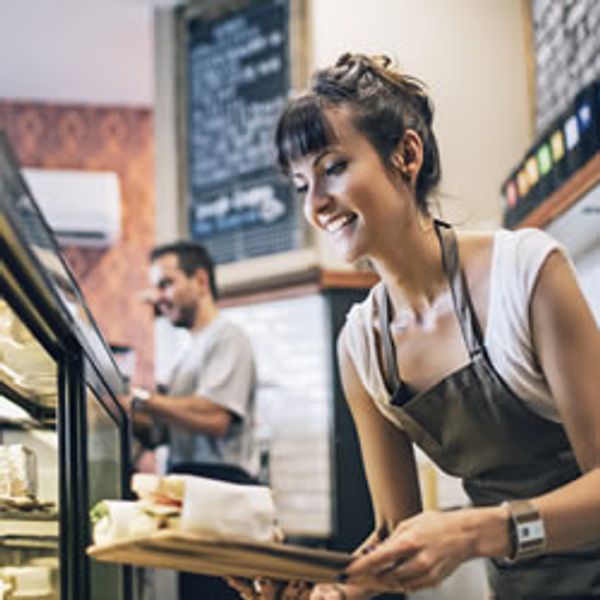 This global quick-service restaurant (QSR) is intently focused on how customers experience their retail stores and their products, which must be consistent and engaging each and every time. They seek logistics partners who share their high performance standards—a 3PL who is flexible and willing to take a journey with them. Penske Logistics provides delivery of fresh goods, baked goods, dairy, frozen, and merchandise to restaurants throughout North America.
---
Since the relationship began, senior leadership from the QSR and Penske focused on aligning supply chain departments to uncover opportunities. Penske Logistics started with in-store delivery services in a single market. It has expanded to include transportation elements and the operation of cold chain storage and ambient distribution centers.
Supply Chain and Logistics Tools
With more than 500,000 deliveries a year for this QSR, having the right software and technology in place is critical for success.
According to Andy Moses, senior vice president of sales and solutions, Penske Logistics, a proprietary system helps design the most efficient routes with a route algorithm. Dedicated staff constantly redesign this QSR's routes for absolute optimization.
"We also invested in an entirely new fleet—new trailers with multi-temp units—and we rebuilt every single one of our distribution centers with larger coolers and freezers to support this restaurant's expansion.
"True to Penske's approach of providing customized solutions for each customer, we started by asking the customer what their requirements were and built a custom solution from there," said Moses.
"We look at their network, delivery frequency, hours of delivery, which activities our drivers will perform, and then build a network around those requirements."
Truck Driver Training
The deliveries to the QSR are sometimes made during operating hours as well as after-hours, which requires highly skilled drivers.
"For us, it starts with people," Moses explains. "We need the driver to be trustworthy and customer-service-oriented because about one-third of the stores are still open when a driver arrives."
Before new drivers are assigned a route, they undergo a training regimen that lasts two to three weeks. The training encompasses an orientation to Penske and the customer, along with a rigorous safety course. Following that is one-on-one training; then, shadowing an experienced driver on the route.
Complying with the FDA's Food Safety Modernization Act (FSMA) is another aspect of training for Penske drivers, which covers proper temperature monitoring, safe handling of food and food storage, and deploying the right equipment to do the job.
"Training is one of the most expensive things we do," said Moses. "People say it's expensive to train, but it's even more expensive not to train."
Warehousing Solutions
As the relationship between the QSR and Penske matured, Penske Logistics took on additional warehousing responsibility, including the opening of a large regional distribution center.
Penske manages warehousing and delivery and management of fresh and baked goods, dairy and frozen products. Additionally, Penske manages receiving, warehousing and picking of complementing merchandise for company-operated and licensed stores as well as all items needed to support QSR openings and renovations.
Supply Chain Collaboration
"Communication between Penske and the restaurant is frequent and occurs across multiple channels and throughout the organizations," said Moses.
"There's a senior leadership channel, a mid-level channel and operational channels. We have weekly calls related to operations, finance and inventory. The best way to sum it up is that there's never a surprise in this network.
The constant communication helps the QSR view Penske Logistics as a true partner. We work on network design and investment decisions together because we have established a relationship based on communication. They know they could not be successful in their business without us."
"We had been growing so fast that we had not done a good enough job of getting the supply chain fundamentals in place."
—EVP global supply chain