Data and insights in the 31st Annual State of Logistics Report® help shippers and carriers plan their business strategy for the remainder of 2020 and beyond.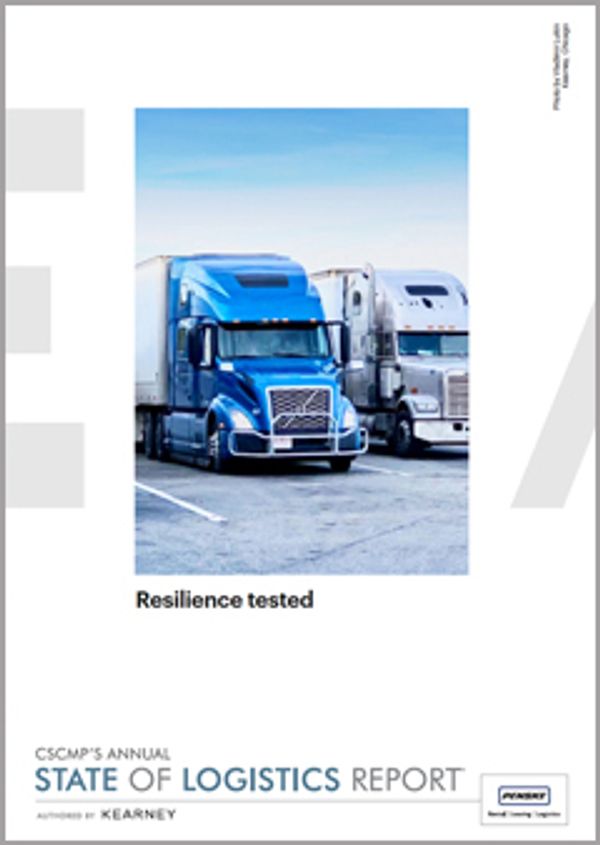 After a strong 2019, the logistics industry was initially traumatized by COVID-19 and the measures taken to reduce its spread, but logistics providers proved that they are critical as well as resilient.
"Whether it's delivering critical medical supplies or allegedly hoarded toilet paper, logistics is essential to national security and well-being," said Michael Zimmerman, a partner with the global strategic management consulting firm Kearney and lead author of the 31st Annual State of Logistics Report.
The 31st Annual State of Logistics Report was introduced by the Council of Supply Chain Management Professionals (CSCMP) and presented virtually by Penske Logistics on June 23.
"2019 was a strong year for logistics activity, and the numbers we saw at the beginning of 2020 seemed to be our way of welcoming the new decade. To say that everything changed is an understatement," said Rick Blasgen, CEO of CSCMP. "Supply chain management professionals deal with change daily, and many in our industry have led efforts in adapting, innovating, and managing through unprecedented disruption while simultaneously creating new operating models."
Zimmerman said 3PLs either adapted, rolled up their sleeves and served their customers who saw surges in demand or absorbed a lot of pain for those that saw business shrink. "3PLs will be seen as valuable assets that came through in a crisis," he explained, adding that the logistics industry was tested throughout the pandemic. "In many cases, it held up better than expected. The story is that both shippers and carriers learned a lot from the COVID crisis."
Logistics Costs
In 2019, the logistics industry exhibited very good fundamentals. "Although almost nobody saw the COVID-19 crisis coming, the state of the industry in 2019 suggests that it could recover quickly," Zimmerman wrote in the report.
In 2019, U.S. business logistics costs rose 0.6 percent to $1.63 trillion, or 7.6 percent of 2019's $21.43 trillion GDP. That decreased from 7.9 percent of GDP in 2018, which reflects better overall productivity, Zimmerman said. Additionally, road freight capacity improved, benefiting shippers, and parcel and last-mile delivery saw continued growth and significant innovation.
Overall, in 2019, transportation costs grew by 2.5 percent. Full truckload and less-than-truckload costs increased by 1.4 and 1.3 percent, respectively — both less than the 2019 inflation rate of 2.3 percent. There was a 5 percent increase in the costs of private and dedicated fleets, driving the overall motor carrier sector to a 3 percent U.S. business logistics cost increase.
E-commerce Growth
E-commerce continues to boom. U.S. e-commerce sales grew almost 15 percent in 2019, to $600 billion. That accounted for 11 percent of total U.S. retail sales, an increase of 11 percent from 2018. In 2020, the market segment was amplified by the online shopping of those sheltering at home.
The U.S. parcel delivery sector grew almost 9 percent in 2019, to a $114 billion market. That growth is consistent with its five-year compound annual growth rate of 8.8 percent. Looking to the future, the sector's growth and challenges all come in the last mile, Zimmerman said in the report.
Ultimately, Zimmerman said carriers face inevitable cost increases. "There's no other way to meet the increase in expected service levels. Nevertheless, as a carrier, you can achieve profitable growth through a balance of scale, density and mode choice," he said.
The Need for Agility
Zimmerman said the remainder of 2020 will be challenging for 3PLs simply because the country is in a recession. However, he expects 3PLs to do well in 2021-2022 as customers realize the value 3PLs provided during difficult times.
To meet customers' existing needs and win new business, logistics practitioners will need to become even more agile as they navigate recovery in the second half of 2020 and into 2021, Zimmerman said.
He said shippers will be less willing to accept that a 3PL gives them a fixed price for a fixed asset base that they pay for whether they use it or not and instead will want a model where costs flex up and down with their needs. "Whether 3PLs solve for that with a campus model or agile shuttling to offsite storage or have smaller or counter-seasonal customers lined up when the main tenant's utilization is down, what matters is that they are working for and identifying and deploying better solutions," Zimmerman explained.
Technology is a critical component that enables 3PLs to meet their goals, and Zimmerman said 3PLs will continue to invest in new tech. "Shippers expect 3PLs to be leaders in technology adoption and bring the productivity and optimization these technology offers, but they don't want to be guinea pigs. That is a fine line for 3PLs to walk," he said.
What Lies Ahead
Ultimately, Zimmerman said that supply chains need to become more resilient and better able to adjust to and recover from future difficulties. He expects 3PLs to build in more options and elasticity. "The pendulum that once swung toward ultra-efficient, single-source, just-in-time and heavily cost-focused supply chains will swing back in favor of flexibility and reserve capacity to cope with uncertainty and risk," Zimmerman wrote in the study.