Truck Safety Joins the Supply Chain Tech Revolution
The impact of technological change is apparent in every corner of supply chain management – including safety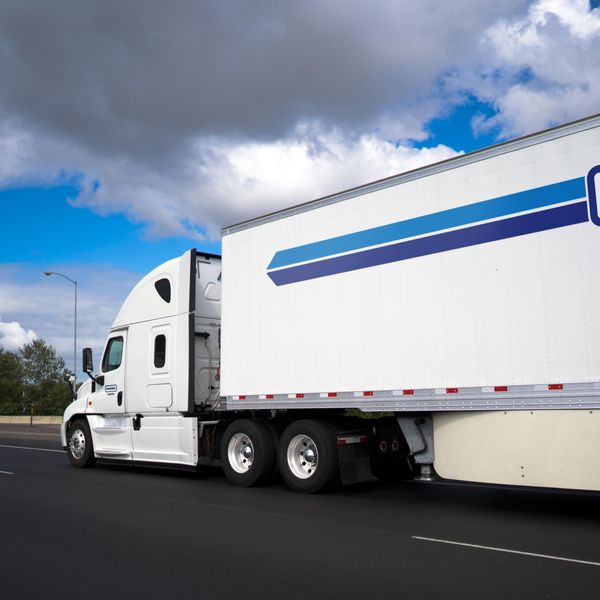 Just as artificial intelligence (AI) and machine learning (ML), remote sensing, and predictive analytics are transforming supply chain operations, they are also bringing huge changes to safety programs.
---
Penske Logistics is at the forefront of this tech-based revolution. A prime example is Penske's use of technological innovation to make truck driving safer.
Innovation in Many Forms
"We believe that our drivers are the most advanced technology on a truck," says Jason Herr, vice president of safety at Penske Logistics. By investing in advanced safety features, Penske gives drivers more tools to perform safely.
Many of these investments make trucks safer machines to operate. Penske vehicles are packed with safety-improving devices including backup alarms, stability controls, parking brake alarms, lane departure warnings and tire pressure management systems. And the number and sophistication of these devices continue to increase year by year.
The way drivers interact with vehicles and their working environment is another area of focus. Again, Penske continues to push the envelope with new and improved tech-based solutions. Here are some examples.
All-seeing cameras.Cameras mounted externally on vehicles as well as internally in cabs are a well-established safety feature in trucking. However, the technology is advancing both in sophistication and the way captured images are used to enhance safety.
For example, as part of a video-based safety program, Penske has installed almost 4,000 camera units with plans to add more devices. The program uses video footage to coach drivers on safety. "Video from onboard cameras is transforming the way fleets protect drivers and the business, and make roads safer," says Herr. "Footage is used to identify correct driver behavior and the skills needed to improve safety. We can show drivers where they can improve, much like videos to improve a person's golf swing," says Herr.
The program has reduced the total number of incidents and DOT recordable accidents. It has improved safety scores across the business, as well as delivered savings in injuries, vehicle collisions and repairs, and liability claims.
Footage from vehicle cameras is also used to "show the value of other technologies," Herr says. Images of how, say, a collision mitigation system worked in practice can be studied to determine the technology's effectiveness and opportunities for improvement.
AI/ML's steep learning curve.AI and ML are being deployed to spot driver performance patterns and learn from operational experience. This application is especially powerful when combined with camera technology.
An example is an ongoing program to mitigate – and ultimately eliminate – incidents caused wholly or partially by driver fatigue. Penske has launched a pilot program to detect fatigue-related behavior patterns and the susceptibility of tired drivers to distractions. AI/ML models analyze images of drivers and look for telltale signs of fatigue. "We have been on this journey for several years," says Herr, "and the work will continue as the increasing demands of daily life deprive drivers of rest."
Back to the future with predictive analytics. Penske is using predictive analytics to "look in the rearview mirror to see better over the hood," says Herr. For instance, analyzing a driver's incident history can indicate which areas of risk he or she is most prone to and how to intervene to avoid future incidents.
​Scorecards show the way. Scorecards are commonly used in logistics operations as a convenient way to present performance metrics, and they feature in Penske's driver safety programs too. The Safety Performance Scorecard evaluates performance at the corporate and company location levels. It summarizes overall performance in a single score and shows the metrics that are key to improving safety practices.
Although some of these tech advances were introduced in response to government regulation, many were adopted in anticipation of mandates or because Penske has decided to act independently. In fact, Penske's proactive evaluation and adoption of fleet safety technologies are typically years in advance of federal mandates, Herr says.
Tech Advances Accelerating
Harnessing technological innovation to improve driver safety will continue to advance over the next five years or so, believes Herr. A major opportunity is "the convergence of data" from multiple sources such as vehicle electronic logging devices and truck-mounted sensors, he says.
The onward march of automation in trucking also will drive the adoption of more sophisticated safety technology. As the role of drivers evolves in parallel with the digital transformation of trucking, the industry will need to address new safety challenges.
Investments in related technology will be a critical part of the industry's response. While the primary return on these investments is a safer environment for drivers and other stakeholders, "there are also returns in the form of lower driver turnover, reduced business risk, and reduced liability claims," says Herr.