It Takes Multiple Roads to Reach Trucking's Safety Destination
Penske's commitment to safety helps customers reduce liability and reputational risk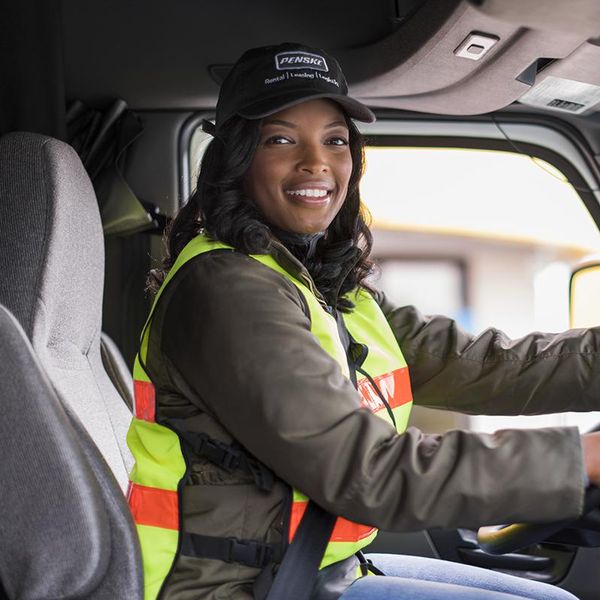 At Penske Logistics safety is not characterized solely as a priority, safety is also one of the company's core values. This philosophy reflects the importance of safety, a small word for a vast area of responsibility that has become more challenging in line with the growing complexity of the logistics business.
---
Nowhere is safety more important than in truck driving, and Penske Logistics' multifaceted safety program for drivers combines proactive safety training with the most advanced truck safety technology.
Three Legs of the Safety Stool
Penske's truck driver safety mission is to safeguard company associates, the motoring public, and the business, says Jason Herr, vice president of safety at Penske Logistics. He leads Penske's corporate effort to build and maintain a strong safety culture through compliance and the administration of numerous related programs.
Drivers at Penske begin learning that culture as soon as they are recruited. An associate engagement program establishes safety-related roles and responsibilities across all company locations, sets expectations, and creates an assessment system to ensure that drivers understand what safety entails.
"We also focus on personalizing safety," says Herr, with continuous discussion, observation and reminders about individual performances in this vital area. "We embrace the foundations of safety leadership, and take driver safety from the head to the heart," he says.
But educating drivers on safety is not the whole story; it is also necessary to recognize individuals' accomplishments in this area. An array of Penske-sponsored initiatives, including an Annual Safety Awards program and acknowledgments for accident-free driving records, recognizes drivers' safety diligence.
Says Herr, this company-wide effort rests on three pillars: training, communications and continuous improvement.
1. Training to Improve Safety
Delivering relevant training in a timely manner is key to engaging associates in Penske's safety programs. This is achieved through formal courses, a comprehensive database of lessons and advice, and a regular drumbeat of updates.

Prior to operating Penske vehicles, newly recruited drivers receive training in critical areas such as what do in emergency situations. A host of additional training courses keep associates informed of the changing safety landscape. Examples include courses on hazmat, defensive driving, the dangers of driver fatigue and driving tips reinforced with images.
Training also encompasses the safe performance of physical duties, like manually lifting heavy loads. "We teach the basics of movement and how to perform job-specific tasks," says Herr, to help associates avoid injury.
2. Communication for Improved Safety
There is a lot to learn and keep abreast of, which is why Penske employs multiple communications channels to convey safety information to drivers. The aim is to convey safety messages frequently and consistently.

These channels include videos and alerts delivered electronically on key issues such as the dangers of dehydration and shifts in weather conditions. "If we have a series of related incidents, we might create a campaign around that topic," explains Herr. "We have a databank of these incidents because history tends to repeat itself." Recurring incidents caused by vehicles hydroplaning in inclement weather or inadequate truck following distances in heavy traffic might be the focus of campaigns.
3. Continuous Improvement and Safety
The third pillar, continuous improvement, uses observations, inspections and general performance monitoring to identify areas of potential improvement. The idea is to ensure that the company's safety regime is always moving forward.

Much of this effort begins with the vehicles. "Penske Truck Leasing is a leader in the industry for maintenance and safety. [This enables us] to build the safest truck on the road," says Herr. Investments in safety-enhancing devices such as lane departure warnings, backup alarms, stability control, disc brakes, LED headlights and onboard cameras attest to this unending pursuit of a safer working environment.
Reaping Customer Benefits
While the number one reason to devote so much time and resources to truck safety is to protect personnel and uphold the integrity of Penske's business, customers profit from the effort too, says Herr.
Penske's top-rated safety record enables shippers to reduce their own liability and reputational risk. "They can focus on their core competencies," Herr says. Because when it comes to the safety of freight transportation, "you need safety experts – and that is who we are."