Planning for the Unexpected
When a Fire Collapsed I-85, Penske Logistics Kept Goods Moving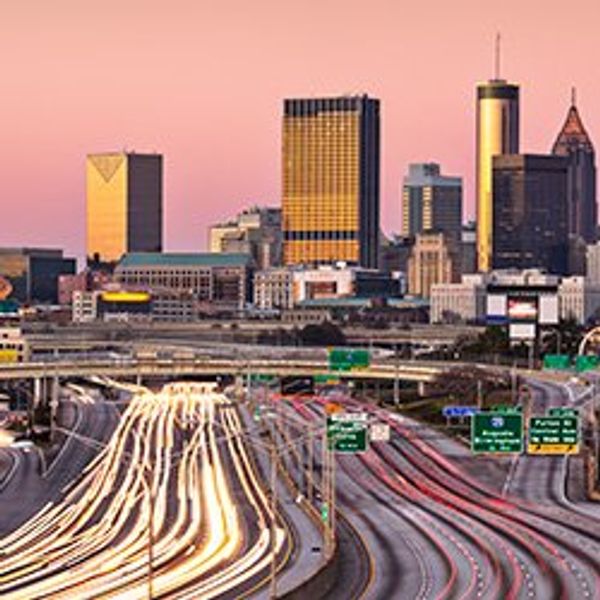 As a massive fire engulfed and collapsed a busy section of I-85 in Atlanta on March 30, 2017, Penske Logistics team members took quick action. They got ahead of delays within minutes of the closure and kept customers rolling even though a two-mile section of the interstate remained closed for more than a month.
---
"As soon as the first driver called and said there was an issue on I-85, we notified the network and let people on the route know what was happening," said Andy Moses, senior vice president of sales and solutions for Penske Logistics.
Leading-edge technology allows Penske to pinpoint the location of every driver. That helped operations managers take 100-percent accountability as soon as they saw their drivers stopped moving in and around the I-85 area.
Quick Decisions Keep Trucks Rolling
Within minutes of the fire, operations managers started to reroute trucks that normally travel I-85, taking into account the already-congested Atlanta traffic. Next, they reached out to customers in danger of missing their scheduled delivery windows. Whether the customer had a 15-minute or a four-hour window, Penske operations managers worked with them to find optimal solutions.
In the days that followed, operations managers helped customers develop short- and long-term plans to mitigate the effect of the I-85 closure. Some worked with customers to change delivery windows. Others worked with customers to create a new routing schedule that kept the standing delivery windows in place.
At the same time, operations managers reached out to drivers who were re-routed around the collapse. Together, they discussed which routes would be easiest for trucks to maneuver, and which routes could bring potential challenges. This helped minimize downtime, ensured drivers received appropriate compensation, and allowed Penske to add extra drivers and routes as needed to ensure on-time deliveries.
While Penske optimized routes in and around Atlanta, operations managers also looked at how the I-85 closure affected the entire interstate, from the North all the way down to Alabama. They also reviewed fuel consumption and miles-per-gallon decreases to implement appropriate cost-saving and safety measures.
Crises Make All Parties Stronger
Thankfully, disasters like the I-85 fire don't happen regularly. Yet when crisis situations arise, Penske is always prepared. "We have 100 percent accountability," Moses said. "We have the systems and processes in place to keep goods moving."
To maintain that 100% accountability, Penske hosts "lessons learned" sessions with associates after any crisis situation. Those lessons then get shared throughout the organization to help prepare everyone for the next event.
No matter the cause of a disaster – whether it's a bridge collapse, a hurricane or a blizzard – Penske Logistics takes action. "We are true partners," Moses says. "We do what it takes to make sure our customers can deliver on their promise."