Reliable Supply Chains Help Keep Inventories Low
Data and visibility help optimize supply chain efficiency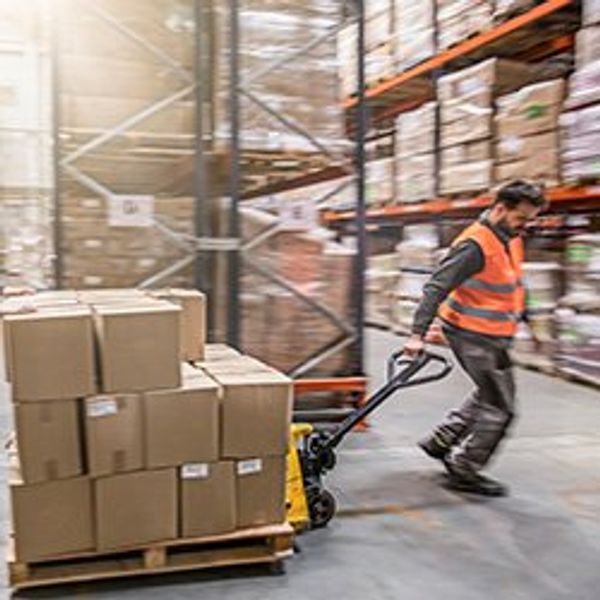 Inventory is expensive. It ties up capital and costs money to store. Many companies are working to reduce their inventory by embracing a flow-through model where products are never at rest.
---
"Consumption-based inventory is the goal," said Andy Moses, senior vice president of sales and solutions for Penske Logistics. "Customers can take down inventory levels when there is trust on the transportation and supply chain execution side, because providers are reliable and offer visibility into each load."
Factors Behind the Decline
Since peaking in mid-2016, inventories have continued to fall. Strong consumer demand and improved supply chain efficiency explain part of the decline, according to the 28th Annual State of Logistics Report, which was introduced by the Council of Supply Chain Management Professionals (CSCMP) and presented by Penske Logistics on June 20.
"There are more tools and technology out there to help clients manage inventory much more effectively," said Sean Monahan, a partner with the global strategic management consulting firm A.T. Kearney and lead author of the study.
In addition, companies unsure about future demand appear to be holding inventory levels closer to actual retail sales numbers, rather than stocking up in anticipation of faster growth.
Impact of the 'Now Economy'
Moses said consumer behavior also drives the need for low inventory levels. "We are currently in the 'now economy.' Everybody wants it now, and if there is a new trend tomorrow, the product that was hot today can become obsolete," he said, adding that a flow-through approach to inventory ensures shippers aren't left with products that won't sell. "Before, there were trends you could see to know demand was shifting. Now you have to be careful, because the 'now economy' changes daily."
Stagnate Inventory Drives Up Costs
Moses said that as interest rates creep up, inventory gets more expensive. "If I have a warehouse with $5 million sitting in it, that sits on my balance sheet until I move it."
Carrying inventory ties up capital. Also, shippers must pay for costly storage space. In 2016, storage expenditures rose 1.8 percent and are now as important as the financial carrying cost of inventory, according to the State of Logistics Report.
"The days of building a million-square-foot warehouse and stuffing it with inventory are gone," Moses said. "Now shippers are going to smaller centers with demand-driven and built-to-order inventory levels. The reliability of the supply chain allows that to happen."
Benefits of Supply Chain Visibility
One of the challenges with a just-in-time supply chain is the physical distance it takes to move product. "This came to light when people started to offshore," Moses said. "Procurement is getting a better price per widget, but it is further away."
Visibility can help mitigate that risk. "Through visibility, I know where my product-in-transit is at all times. I know what is going to happen and the steps we will take if something happens," Moses said.
Penske Logistics gives customers a high-level, connected view of the supply chain as well as granular specifics. That visibility allows Penske to get ahead of a potential disruption and minimize its effect throughout the supply chain.
"It is important for customers to know that if something is going to happen, you have procedures in place so they're not shutting down a line or disappointing customers," Moses said. "If something gets stuck, I can possibly go in and intercept part of that pallet to keep a line moving rather than keeping two days of inventory on hand to make sure that doesn't happen."
Why Velocity Matters
Interestingly, companies are working to keep inventory levels down while also building more, smaller distribution centers. To make that work, companies need velocity. "You can't let inventory rest in those places for very long," Moses said. "It is all about speed."
To drive that speed, shippers need a good demand forecast planning process. Penske Logistics helps shippers forecast by running what-if scenarios and then drilling down into the ways transportation can aid in the process.
"Maybe you used to ship a whole truckload into a distribution center, but now you're moving smaller inventories, faster," Moses said. "We can go to less-than-truckload shipments and also consolidate it across customers to share the space on the truck and maximize the load."
A good yard management system also can help prevent bottlenecks within the DC's yard and direct trailers to the exact location in the distribution center where product is needed. "Now the yard is coordinated in an effort to maximize drivers' efficiency," Moses said.
Monahan said shippers are using tools and technology to manage inventory more effectively. "They are using data to understand their stock and safety stock rather than looking at days of supply," he said. "They are becoming more sophisticated and looking for ways to access inventory more efficiently."