Logistics Outsourcing Success Tips
Four elements of a successful request for proposal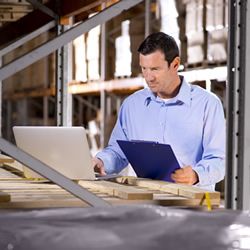 In the logistics industry, a request for proposal (RFP) is designed to help shippers find the best 3PL providers to meet their needs. The goal of an RFP is to ensure a prosperous partnership and good working relationship for both parties, and finding the right fit starts with a comprehensive and detailed RFP process.
---
A thorough RFP process helps shippers communicate their needs and expectations and ensure they find the right partners to meet their short and long-term goals. It also helps logistics providers understand their role, identify solutions and project accurate pricing. Andy Moses, senior vice president of sales and solutions for Penske Logistics, said successful RFPs typically include four crucial elements.
1. A Problem that Needs to be Solved
An effective RFP goes beyond looking at transportation as a commodity. "Instead of saying, 'we're looking for trucks to do this,' a good RFP will highlight the problem the company is trying to solve. That is very important," Moses said.
As part of the process, the shipper can identify any gaps in service, what they're trying to achieve from an execution standpoint and any technology requirements they have. "That helps us formulate what the solution looks like," Moses explained.
2. Complete Data
Throughout his career, Moses said he has seen a number of RFPs that have offered up incomplete or incorrect data. "In many cases the data doesn't support what they're trying to achieve," he said.
For example, an RFP seeking a dedicated contract carriage solution may include data on one year or six months of deliveries but is missing correct and complete destination addresses. Moses has also seen data with billing addresses rather than destination addresses.
"The first thing we do on a data file is test the quality of the data to ensure the fields and destinations are correct," he said, adding that Penske Logistics spends a significant amount of time verifying and obtaining information. "Our proposal is only as accurate as the data we receive."
3. Fact-Based Assumptions
Once the initial data and delivery information is verified and scrubbed, Penske Logistics looks at product and delivery assumptions that should be applied when doing the modeling. "To best optimize the solution, you need to have a deep understanding of the business objectives and also what factors can impact the results," Moses said.
Assumptions go beyond load destinations and include specifics, such as delivery windows, pick-up wait times, loading and unloading needs, known seasonality or variability, freight characteristics and the average detention time at the delivery destination.
Shippers should also include information on freight volumes, standard dimensions and how the product is handled. Moses said, "Is it stackable? Is it in plastic or cardboard containers? Is driver assistance required?"
Providing specific details and accurate information helps shippers make apples-to-apples comparisons. It also ensures load rates are accurate, which supports long-term relationship growth.
4. Real-World Operational Insights
"Bringing in someone from the shipper's operations department to help craft the RFP can be incredibly valuable," Moses said. "Many times procurement writes the RFP and distributes it, but someone from operations could provide details around the freight, specific operational needs and the overall goals," he said. "It is incredibly valuable to include the people who will own the execution."
"In an ideal world, shippers pre-select the companies they want to participate and then bring them in so they can gain a better understanding of the shippers' needs," Moses said. "Then they could provide the necessary visibility and give respondents access to their operations and let us see how they operate," he explained.
That would allow respondents to understand the required solutions and compile the data needed to provide an accurate proposal and identify whether or not they are the right fit. Even if shippers don't invite respondents in, providing an avenue for learning is important.
"In a high-quality RFP, there are multiple steps for respondents to learn and recognize if this is a project they want to pursue," Moses said. "We build solutions. With every RFP, we ask ourselves if we have capacity, if we can bring impactful value and if we'd be a good fit for the shipper."
Details Matter When Choosing the Right Provider
There are many elements to choosing the right logistics provider. The right logistics partner has a firm grasp on each piece of the logistics process, as well as the necessary resources to complete each task.
Penske places a high premium on the RFP process, taking the necessary time to clearly understand how our logistics solutions may impact the entire company. Our goal is to ensure the efficiencies provided by Penske are realized at virtually every level.
For more information on what Penske Logistics can do for your organization, please contact us at 800-529-6531.