Cross-Docking's Rise as a Supply Chain Risk Manager
How companies are managing risk and increasing agility with cross-docking solutions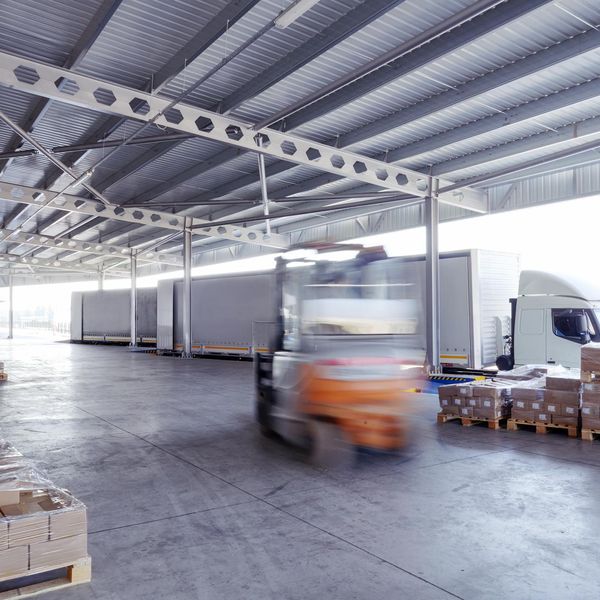 Cross-docking – unloading product from an inbound truck and loading it directly onto an outbound truck – is a well-established logistics practice that is growing in importance as a way to manage risk in the supply chain.
---
An effectively designed and operated cross-docking facility smooths the volatility that can throw even the most well-run supply chain off track. And it plays a key role in controlling inventory and transportation costs.
But unlocking these benefits requires a particular type of expertise, such as the ability to orchestrate inbound and outbound cargo flows with a high level of precision.
Delivering Gains on Many Fronts
Cross-docking helps shippers to manage risk by maintaining a consistent, carefully managed flow of product, explains Brad Sachs, vice president of DCM operations at Penske Logistics. This capability can be deployed in various ways.
A prime application is feeding product lines. Manufacturing plants – especially those engaged in just-in-time operations – cannot tolerate erratic, unreliable supplies of materials and components. An efficient cross-dock facility receives inbound shipments of supplies and delivers them consistently to plants in the right order and quantity. For example, "we pick up multiple parts for our customers in the auto industry, bring them to a cross-dock, and ship them to various plants," says Sachs. Moreover, cross-docks can regulate these flows in synchrony with shifts in demand – a critically important function in an uncertain commercial environment.
Another notable application is managing inventory to maximize turns. As Sachs points out, warehouses store – cross-docks redirect. Carefully choreographed combinations of the two keep inventory moving and minimize holding charges.
Cross-docks also excel at assembling orders for delivery to locations with varying requirements. For example, stores in a retail network may have widely different lead time demands. A cross-dock facility can build orders in line with lead times, verify product quantities and quality, and deliver the orders in sizes and frequencies that are attuned to each location's requirements.
Moreover, capabilities like these can be deployed with a wide range of shipment types. Transloading freight containers falls within the purview of cross-docking, where ocean containers can be deconsolidated and the goods palletized and loaded onto outbound trailers.
In addition to regulating product flows, cross-docking helps to control freight transportation costs. Having broken down inbound shipments, a facility builds loads for full truckload transportation, avoiding where possible more costly and less efficient less-than-truckload deliveries. Well-managed cross-docks that have the flexibility to readjust quickly to fluctuations in demand also help shippers to avoid costly expedited shipments.
Other advantages of cross-docks include reduced material handling costs, improved service levels, lower labor costs and lead times, and increased speed of delivery. The latter benefit is particularly important at a time when customers are demanding tighter delivery windows.
Need for Exceptional Skills and Resources
As can be seen from the above, cross-docking delivers multiple benefits – but capturing them requires specialized expertise.
For example, at Penske "we design the internal flow of a cross-dock to make it as productive as possible, and we marry external and internal flows to achieve the right balance between the two – this is key," says Sachs. Integrating external facilities such as warehouses into the cross-dock system is also vitally important.
"Look for a cross-dock service provider with a tier-one warehouse management system and/or cross-dock system," advises Don Klug, vice president of sales, distribution center management at Penske Logistics. The provider should offer deep experience in cross-docking in different industries and dealing with just-in-time logistics systems, he says. And given the technical demands of this logistics practice, the provider must have the engineering resources required to support this type of operation.
A challenge that any cross-dock specialist needs to address is keeping up with the latest technology, no small task. Penske recently implemented new software designed to optimize cross-docking systems.
Rising Interest in Cross-Docking
The appeal of cross-docking solutions will increase over the next five years or so, believes Sachs. As shippers come under more pressure to improve service levels and keep a lid on inventory and transportation costs – the latter will be impacted by issues such as driver shortages – there will be more interest in cross-docking.
The challenges of managing multiple types of risk in supply chains will also play a part in making cross-docking more compelling for companies. Lean, agile supply chains are able to flex quickly with unpredictable markets, "and cross-docks give you the opportunity to adjust on the fly when you need to," Sachs says.