Penske Brings Augmented Reality, Tech Innovations to the Warehouse
The latest technology is helping to improve accuracy, speed, safety and more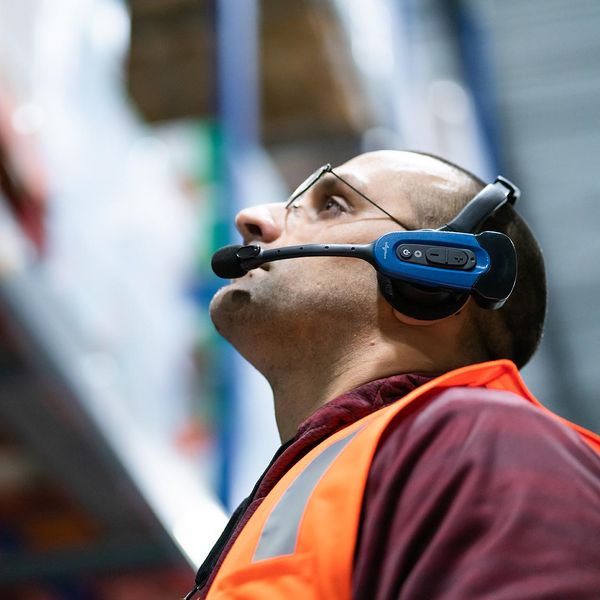 Quality, on-time metrics, and cost are all critical components within the warehouse, and advanced technology is making the movement and storage of goods more efficient.

---
"Every warehouse, whether a dedicated operation or a multi-client customer, has specific issues to address, but at the end of the day, the most important thing is to get the product to the end customer in the most efficient way possible," said Don Klug, vice president of sales, distribution center management for Penske Logistics. "Customers need to know they are going to get their product when they say they need it."
Penske Logistics is piloting and implementing a range of technology across its network, which Klug said can improve accuracy, speed and safety. Plus, the information the systems quickly collect and share can help customers better manage their inventory and potentially reduce inventory carrying costs.
Here are seven ways Penske is using technology to improve operations within the warehouse:
Drones: Penske Logistics recently piloted drones, which fly through a distribution center's aisles and provide updates on inventory or alerts if products are not in their assigned slot. As they travel, the drones scan LPNs (license plate numbers) on pallets and barcodes on racking at storage locations to verify inventory accuracy. That information is uploaded to the warehouse management system, automating the inventory count, which speeds the process and minimizes the risk of human error.
Visual Guided Vehicles: Visual guided vehicles, which can be used to move pallets or other inventory throughout the warehouse, are trained to run the same pattern. "Visually, it remembers the path it has to travel to get from A to B and back to A," Klug said. "A VGV is going to do what we train it to do. It is like a radio-controlled car. You run it down a path, and then it can repeat it."

Klug said VGVs are becoming more relevant as things like COVID increase the need for social distancing or as labor becomes harder to find. Automation can also free up human talent to focus on more important tasks within an operation and improve overall safety. "Rather than have a person lifting heavy boxes, let's have a robot do that," he said.
Voice Pick: Penske Logistics uses Vocollect Voice Pick devices at several operations across its network. The systems use a headset that talks to the employee, directing the employee to the right pick location and then dictating what to pick. Voice pick improves productivity as employees' hands are free and improves accuracy. "You're hitting on quality and speed. Those are the main two reasons to utilize it," Klug said, adding that the units offer several different languages, which minimize language barriers within the warehouse.
Pick-to-Light: Pick-to-light systems guide employees with lights at the storage locations and monitors that display quantity to pick and where to place the items, improving accuracy and speed.
Smart Glasses: Smart glasses deliver information to employees through augmented reality, adding a layer of intelligence to the process and optimizing picks to improve efficiency. The systems use 2D labels to pinpoint the locations and display the relevant information, including location, quantity, item and an optional picture of the product, through the glasses. "If you're wearing glasses and look at the right pick location, it looks green. The wrong one looks red," Klug said.
The software also assists in the procurement of equipment, workflow structure and system integration. "Again, it improves speed and quality," Klug said.
Radio Frequency Scanners: Penske uses various radio frequency scanners, including forklift-mounts, handhelds and wearables, which direct employees to the correct picking location. Once the employee has picked the product, he or she scans the barcode and the system automatically updates the picked items in the warehouse management system.
With forklift mounts, the unit stays with the forklift, whereas handhelds and wearables move with the individual employee. Handheld RF scanners have a trigger and a keypad and scan a barcode on a case or a pallet while a wearable straps onto an employee's arm. "The keyboard is there so that we can use it, but the scanner is actually a ring on the employee's finger," Klug said. "Your hands are free, so you can still pick up a case."
Pick Modules: Penske has also innovated with multi-tier pick module with merge, sort and loading conveyors at a customer location. The system increased overall storage locations by 17% and improved storage cube utilization. It also aligned pick locations with order profiles and set it up for future inventory growth. The system increased productivity and picking capacity, showing an 86% increase in the number of cases picked per hour while reducing picking errors.
"This pick module was designed to enhance the number of SKUs the customer could put in a small amount of space," Klug said. "They were trying to maximize how many specific SKUs they can put in an area so a robot can pick them up and put them in cases."