Improving Warehouse Sustainability
Ensuring a successful future for your business and the environment with green warehousing practices that help you meet your carbon-neutral warehousing goals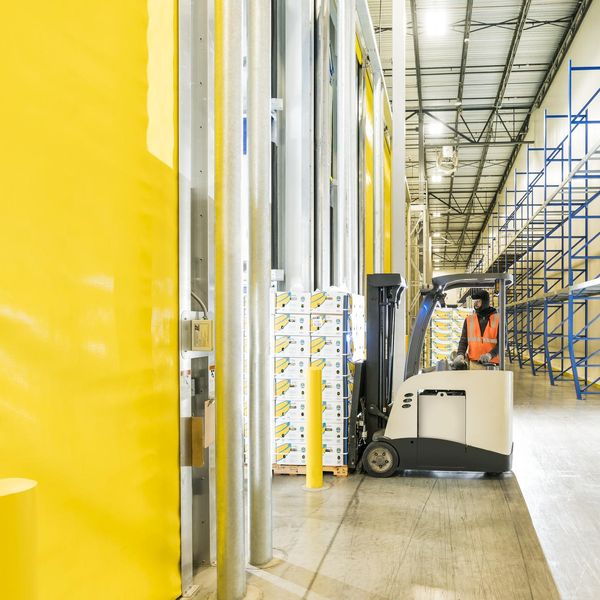 An energy-efficient warehouse can cut operational costs while improving sustainability, making green warehousing initiatives a win-win solution within the supply chain industry. A range of eco-friendly solutions can be applied to new construction or existing facilities.
---
Penske is committed to sustainable building design, embracing several strategies to minimize the carbon footprint within a warehouse and working with customers to achieve their carbon-neutral warehousing goals.
LEED Certification
Leadership in Energy and Environmental Design (LEED) is a green building certification program and rating system, and the global standard for environmentally sustainable building design, construction and operation. At Penske, our goal is for new builds and logistics centers to be LEED certified when possible.
Sustainability Practices Within the Warehouse
Comfort and Environmental Impact: New buildings feature driver lounges, enabling drivers to get out of the cab and go inside, reducing idling time and increasing driver comfort. Some locations also offer shore power as a way to cool trailers and avoid idling their small diesel engines. Penske is also adding shore power to sites that have reefers.
Decreased Energy Consumption: Lighting is a significant contributor to a location's energy demands. LED lights are much more efficient, and warehouses can also utilize skylights to increase the amount of natural light flooding into the building. Another option is to install sensors that can monitor lighting demands within a space, adjust the amount of light provided, and turn off lights when the area is not in use.
Heating and Cooling: Temperature control within the warehouse and warehouse office space is critical to keeping employees comfortable and productive. Temperature control measures can focus on those areas occupied by people, and high-efficiency HVAC systems can generate better savings and reduce energy consumption.
Water Usage: Conserving water is another important part of maintaining warehouse sustainability. Installing low-flow fixtures and partnering with landlords to reduce overall water consumption can help preserve energy and cut costs.
Sealing the Envelope: Energy reduction programs are most successful when cold storage buildings are fully sealed, so Penske installs high R-value insulated dock doors on cold storage facilities to block leaks. R-value is a measure of thermal efficiency, and the higher the R-value, the greater the door's insulating properties. Penske also installs dock leveler energy guards to help prevent thermal loss. Dock levelers prevent hot air from getting in and cold air from getting out, creating a perfect seal on the dock door. Seals and shelters are designed to accommodate a variety of trailers to ensure proper fit.
Natural Refrigerants: Natural refrigerants, like carbon dioxide (CO2), are a sustainable alternative to hydrofluorocarbon refrigerants (HFCs), a chemical commonly used in refrigerated warehouses. They have near-zero global warming potential (GWP) and have the potential to reduce energy, gas and water consumption. Penske is currently installing a CO2 refrigeration system in California to reduce environmental impact and future-proof the location as local and federal regulations phase out many synthetic refrigerants.
Network Design: Although a warehouse's location doesn't affect energy-efficient solutions within the four walls, it can contribute to a company's overall efficiency goals. Strategically locating a warehouse close to transportation solutions or within the company's distribution network can decrease miles traveled, which will reduce emissions. Penske can work with customers to optimize their overall network.
Renewable Energy: Penske works with customers on a case-by-case basis to discuss energy delivery options, which can include solar generation systems. Renewable Energy Certificates provide an additional option when direct renewable supply are unavailable. Our end goal is to reduce energy consumption and increase renewable energy usage.
Improving sustainability within the warehouse isn't an all-or-nothing approach, and Penske can work with customers to deploy solutions that best meet their economic and environmental goals. Contact Penske to discuss warehousing solutions.