"Accountability and control help differentiate a 3PL from a 4PL," says Andy Moses, senior vice president of sales and solutions for Penske Logistics. "As a 4PL, we become a trusted advisor, and the customer becomes reliant on our data to drive them forward."
When functioning as a 4PL, a logistics service provider becomes a true partner with the customer. They work to create a lean, cost-effective supply chain. "The 4PL is the big umbrella. Under the umbrella you have all of the supply chains – transportation, warehouses and anything that is moving," Moses says. "The 4PL manages the big umbrella. That brings more sense of control and ownership."
A 4PL typically directs every moving part within the customer's supply chain and serves as a single point of contact for all parties involved, says Moses. An LLP's role typically includes managing and analyzing large amounts of data, overseeing transportation management, managing other 3PLs and transportation service providers, supervising warehouse operations, or operating any other portion of the supply chain.
"3PLs are very transactional. As a 4PL, you're leading that customer," Moses says, adding that 4PL relationships typically evolve from a 3PL relationship. "The customer becomes reliant on our data to drive them forward. Eventually we are sitting at the table with them, and the operational component is expected."
An LLP (or 4PL) works to:
Coordinate suppliers
Integrate supply chain technologies
Synchronize inbound logistics and outbound logistics flows
As an LLP, a 4PL uses its high level of visibility, real-time information, communication abilities and broad knowledge to align 3PLs, customers and service providers. A 4PL draws on the data it collects. In addition, it collects, stores and manages data from other supply chain partners. That visibility plays a key role in allowing the customer and 4PL to provide seamless supply chain services, improve customer service, manage exceptions, and remove costs and inefficiencies from the supply chain.
How 3PLs and 4PLs Work Together
When a 3PL transitions to a 4PL, it changes the type of information the provider may access. "I am still a Penske employee, but I am cut off from financial information at Penske because I am working in the customer's best interest," Moses says, adding that a 4PL's goal is to find the best overall transportation solution for its customer. "Penske submits bids, but I am comparing them to bids from their competitors."
Transparency is key for 4PLs that may also function as a 3PL. They must proactively work with customers to demonstrate the checks and balances they put in place, such as creating confidentiality agreements that prohibit the sharing of information and data from the customer's other 3PLs and transportation providers.
Building trust as a 3PL helps smooth the transition to a 4PL function. "You have to build relationships ahead of time, and we do that as a 3PL," Moses says. "Then, as a 4PL, you have to deliver and put it into action."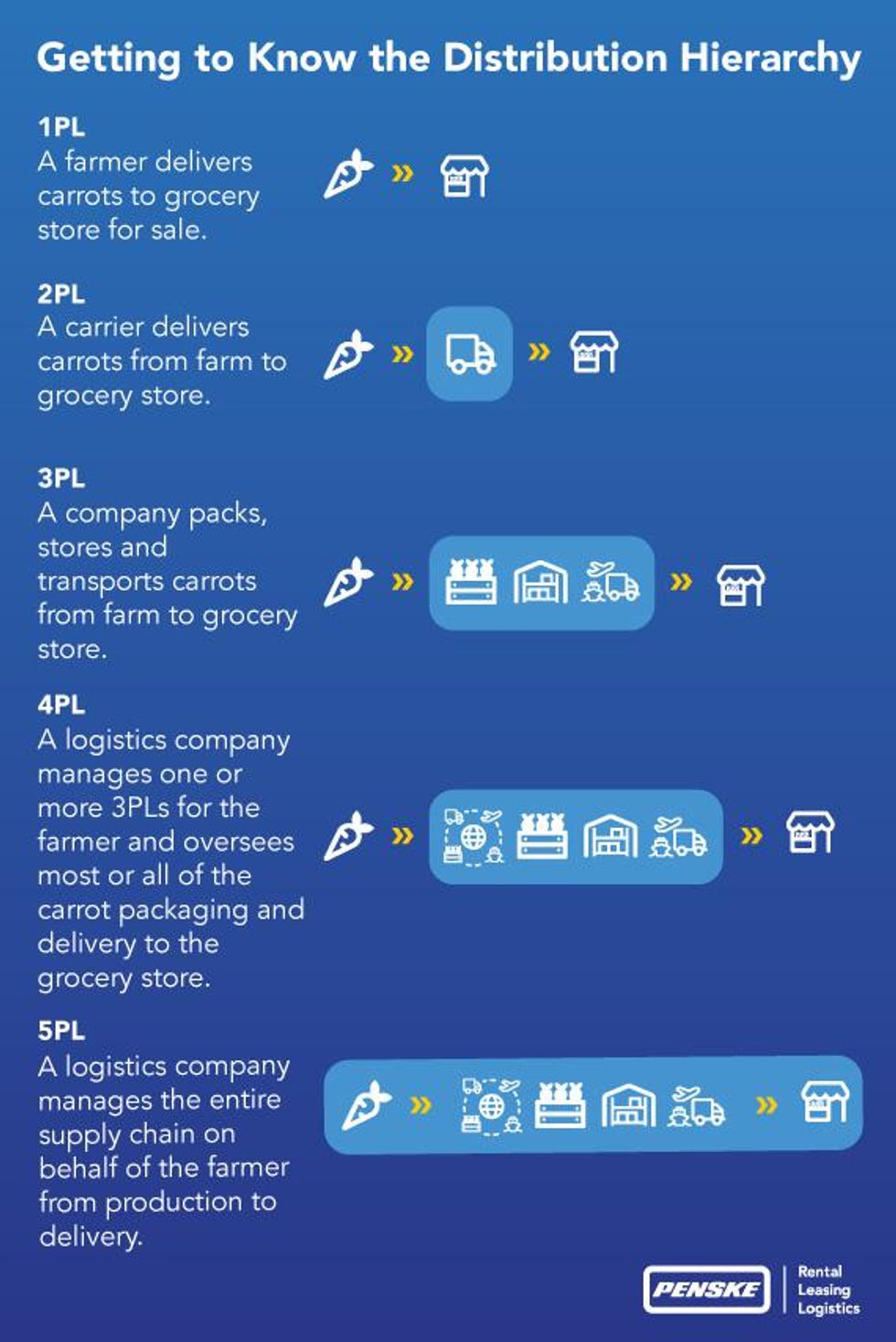 Getting to Know the Distribution Hierarchy
Businesses must choose the best method of distribution for their products, whether it be delivering items to a neighborhood store or exporting goods throughout the world. The process of transporting and distributing goods has never been simpler thanks to improvements made possible by the world's intricate supply networks.
Nevertheless, selecting the appropriate distribution strategy for your company may appear more challenging than ever due to the expansion of several party logistics (PLs). Each level of PL grows increasingly sophisticated, and PLs are represented by numbers.
Businesses have a lot to consider before deciding on their supply chain, from 1PLs to 5PLs. Here is an explanation of each level of PL and how it might help your business.
What is a 1 PL?
First-Party Logistics (1PL). A business or individual who requires the transportation of cargo, freight, commodities, or products from one location to another is known as a 1PL first party logistics provider. Only two parties are involved in first party logistics. You are the maker or distributor of the products, and the retailer or client is the one who gets the commodities (your customer). In the entire process, there are no additional intermediaries. For example, a farmer delivers carrots to a grocery store for sale.
What is a 2 PL?
Second-Party Logistics (2PL). A 2PL model is one where a business hires a private company to transport goods to a destination. In this agreement, the 2PL organization is technically a carrier. This means their job is to bring goods from a warehouse or manufacturing center to a receiving party. This indicates that their responsibility is to deliver items to a destination from a warehouse or manufacturing facility. An example of this would be if a carrier delivers carrots from farm to grocery store.
What is a 3PL?
Third-Party Logistics (3PL). An associate or service known as a 3PL (Third-Party Logistics) aids in managing the supply chain. The administration of warehouses and inventories, order fulfillment, shipping arrangements, retail distribution, exchanges, and returns are typical 3PL services.
Partnering with a 3PL enables a merchant to concentrate on other areas of their business. You may keep your goods at a 3PL vendor's warehouse and have the merchandise transported straight from your manufacturers, saving you the hassle of maintaining your own warehouses and handling distribution in-house. Items are automatically dispatched from the 3PL's warehouse once an online client creates an order. Customers don't give the handoff between receiving orders and fulfilling them much thought because the procedure is simplified with a 3PL. For example, a company packs, stores and transports carrots from farm to grocery store.
What is a 4PL?
Fourth-Party Logistics (4PL). A 4PL is a logistics model where manufacturers assign one outside supplier the whole management and organization of their supply chain and logistics. This partner is in charge of overseeing the whole supply chain, including the evaluation, design, construction, implementation, and measurement of the client's solutions. The only partner oversees and supervises the supply chain on the client's behalf, coordinating the activities of warehouses, shipping firms, and freight. This is exemplified by a logistics company who manages one or more 3 PLs for the farmer and oversees most or all of the carrot packaging and delivery to the grocery store.
What is a 5 PL?
Fifth-Party Logistics (5PL). A company that has the ability to oversee a vast network of supply chains is known as a 5PL, or fifth-party logistics provider. An organization hires a 5PL to handle the planning, coordination, and management of all supply chain operations. 5PL providers typically employ and oversee other 3PL and 4PL businesses to handle specific duties. For example, a logistics company manages the entire supply chain on behalf of the farmer from production to delivery.