Visibility Can Help Minimize Disruptions at and Near the Nation's Ports
Imports at the nation's major retail container ports have been at near record levels and the trend is expected to continue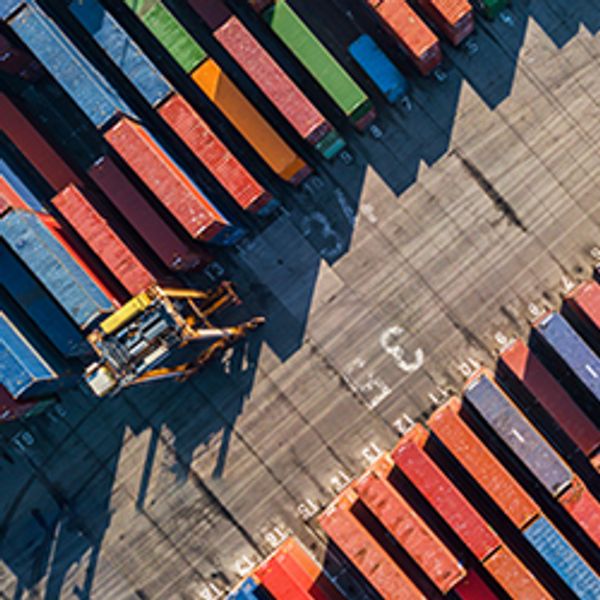 Ports are a key link in the supply chain, and the seamless movement of freight often depends on goods flowing through a port without any disruptions. Freight volumes, weather and even traffic near a port can lead to interruptions, which makes visibility and real-time communication an important element of freight movement.
---
High Freight Levels
Imports at the nation's major retail container ports have been at near-record levels and the trend is expected to continue throughout the remainder of the year according to the monthly Global Port Tracker report released in August by the National Retail Federation (NRF) and Hackett Associates.
"Even with virtually everything America imports from China soon to be subject to tariffs, it isn't quick or easy for retailers to change their supply chains," NRF Vice President for Supply Chain and Customs Policy Jonathan Gold said.
New 10% tariffs on an additional $300 billon in Chinese goods took effect on September 1. Coupled with 25 % tariffs imposed on $250 billion worth of imports over the past year, the new round will tax almost all goods the United States imports from China.
Hackett said the 10% tariffs would not likely have an immediate impact on import volumes but an increase to 25% as happened earlier this year with the most recent previous round of tariffs could lead to lower trade projections.
Severe Weather
Severe weather can be part of life along a coast, and hurricanes frequently cause disruptions. Most recently, Hurricane Dorian temporarily shut down maritime and rail assets throughout the East Coast in September. In Florida, ports in Miami, Jacksonville and Fernandina closed due to the storm. In Georgia, ports in Brunswick and Savannah closed and the South Carolina Port Authority closed the ports in Charleston and Georgetown. In North Carolina, ports in Wilmington and Morehead City closed. When a closure happens, it can take time to get operations back to normal.
Traffic Concerns
The 2019 Urban Mobility Report, which was released by the Texas A&M Transportation Institute in August, reported that travel demand in cities of all sizes has exceeded the transportation system's ability to meet that demand. The report examines traffic conditions in 494 urban areas nationwide. According to the report, congestion is worse in large urban areas, particularly those located along coasts or near big ports, which are major freight centers and freight generators. The report included Atlanta, Los Angeles and Houston on its list.
The Need for Visibility
While there are several potential issues that can occur at a port, the cause of the disruption is less important than the work done both before and after an event occurs to mitigate the effect it has on the supply chain. Penske Logistics can closely monitor each individual movement as well as an entire network, which shows how every part of the supply chain is fitting together and if there is a risk of a disruption.
Penske uses its ClearChain® technology suite to overlay weather patterns from the National Weather Service as well as traffic information from the Department of Transportation over the area it serves. If Penske Logistics suspects a disruption, it can work with suppliers to move materials as close to the plant or retail outlet ahead of time as necessary, ensuring customers have the supplies they need.
Speed is an ally when working to mitigate a disruption, and near real-time visibility enables Penske team members to pull data and information quickly, set up a geofence around an impacted area and obtain supplier information on everyone servicing it. Penske's track and trace tools make it faster and easier to pinpoint the exact location of every load in relation to a disruption and then connect the dots quickly so Penske's supply chain specialists can react and keep products moving.
Penske Logistics has put together a red, yellow or green report that it sends to customers to keep them updated on the current status of loads as well as disruptions without overwhelming them with information. Behind the scenes, Penske works with carriers to aid in contingency planning and identify alternative routes. If the primary mode of transportation no longer works, Penske works to switch modes.
Managing a crisis requires both a high-level and detailed view of the entire network. ClearChain makes it possible for Penske Logistics to connect each part of the supply chain and react as quickly as possible, sometimes before a problem occurs. Even minutes can mean the difference between a carrier getting caught in a delay or identifying the opportunity to route around it.