Manage the Unexpected
Connect each part of the supply chain and react as quickly as possible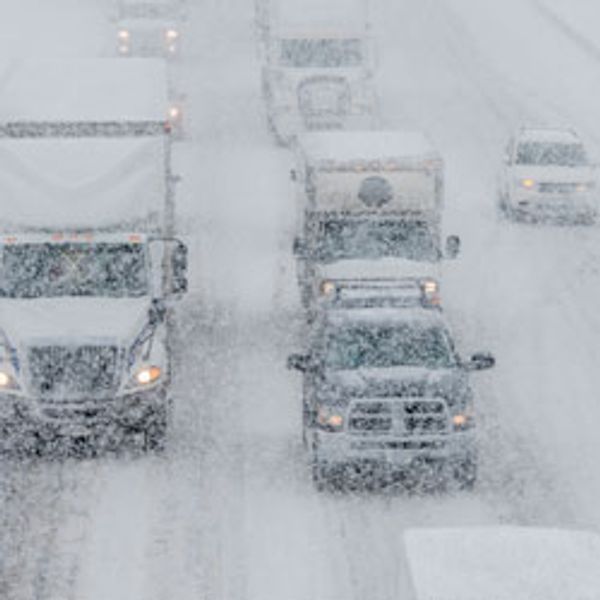 A landslide closes a road. Supplier constraints create shortages. A bridge collapse leads to months of re-routings. Labor disputes close a port. No matter how hard you try, you can't totally eliminate disruptions. Yet each disruption brings a unique opportunity for service recovery. The better you handle a disruption, the better customer service you can deliver.
---
The work done before and after a disruption helps to mitigate its effect on the supply chain. Knowing how to react when disruption strikes takes a thorough understanding of each moving part of the supply chain. It also takes a high-level view of an entire network.
Penske Logistics' ClearChain®Technology Suite can give you the control-tower view you need. With the technology, Penske associates see how every part in the supply chain fits together. That allows them to proactively estimate any risk for disruption and to get ahead of an event whenever possible.
Track Potential Traffic and Weather Delays
To identify potential disruptions, Penske uses ClearChain technology to overlay weather patterns from the National Weather Service and traffic information from the Department of Transportation over a service area. If Penske Logistics suspects a disruption, it can work with suppliers to pull ahead materials as close to a plant or retail outlet as necessary, ensuring customers have the supplies they need.
"The ability to track carriers with GPS allows us to operate like air traffic control. The speed of information that is transmitted allows us to address a critical problem quickly."
—Andy Moses, senior vice president of sales and solutions for Penske Logistics
Track and Trace Loads with Real-Time Visibility
Speed is an ally when mitigating a disruption. ClearChain allows Penske team members to pull data and information quickly, set up a geofence around an impacted area, and obtain supplier information on everyone servicing it. What's more, the system is integrated with Penske's track-and-trace tools. That makes it faster and easier to pinpoint the exact location of every load in relation to a disruption. ClearChain helps connect the dots quickly so Penske's supply chain specialists can react and keep products moving.
"The key is to try and get ahead of a disruption. Once we're in the event, we try to find the best way to manage around it."
—Andy Moses, senior vice president of sales and solutions for Penske Logistics
Mere minutes can make the difference between a carrier getting caught in a timely delay or being able to route around it. Speed also can ensure manufacturing plants aren't idle while waiting for parts that have been delayed, or that store shelves aren't empty as customers rush to stock up ahead of a winter storm.
Proactively Identify Suggested Detours
Penske Logistics compiles a red, yellow or green report that it sends to customers. It keeps them updated on the current status of loads and any disruptions without overwhelming them with information. Behind the scenes, Penske works with carriers to aid in contingency planning and identify alternative routes. If the primary mode of transportation no longer works, Penske works to switch modes.
Managing a crisis requires both a high-level and detailed view of the entire network. ClearChain makes it possible for Penske Logistics to connect each part of the supply chain and react as quickly as possible, sometimes before a problem occurs.