Cold Chain Warehousing: Innovations That Keep Fresh Food Fresh
Free white paper explores how technology maximizes operations, ensures compliance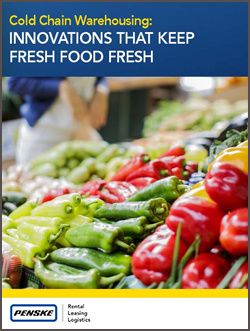 Ensuring the safe and reliable storage and transportation of fresh foods has never been more important than now, especially with the ongoing implementation of the Food Safety Modernization Act (FSMA). The food warehouse plays a crucial role in keeping fresh foods fresh. To be safe and compliant, warehouses must have a logical design and layout, maintain the proper temperature zones for specific products, and utilize the right software for optimal efficiency.
---
To learn more, read our white paper, "Cold Chain Warehousing: Innovations That Keep Fresh Food Fresh." Among the topics covered:
Six ways to maximize warehousing operations and deliveries. You can help enhance efficiency with improved slotting patterns (moving high-velocity pick items closer to the door) and with the use of voice-pick systems. By establishing labor management time standards, you can improve productivity. A sound contingency plan will help your warehouse handle any situation. And a 3PL can provide a set of "outside eyes" and allow your warehouse discover new ideas.
The latest technical advancements in food warehousing. An upgraded Warehouse Management System (WMS) provides the essential monitoring and detailed tracking mandated by FSMA. The latest systems also allow you to view all tasks within the warehouse and prioritize them. And better warehouse management leads to better space utilization. That visibility promotes greater accuracy of shipments and facilitates better use of space and personnel. A companion labor management software solution will empower warehouse associates to reach maximum productivity and earn rewards.
Tips for assessing your warehouse efficiency. You'll learn the benefits of having plans for handling the trailer before it arrives at your gate, knowing how you'll handle the product once it arrives, and ensuring you're shipping the perfect order.
Is your warehouse FSMA compliant? Some tips to keep a safe and compliant food warehouse include identifying areas where food could be vulnerable to contamination, ensuring your company audit standards are reliable and compliant with regulatory standards, and using a single-source 3PL for both warehousing and transportation to shorten your supply chain and make it more transparent.