Eight Ways Penske Boosts Fresh Channel Efficiency
With cold storage occupancy rates at an all-time high, increasing efficiency is a must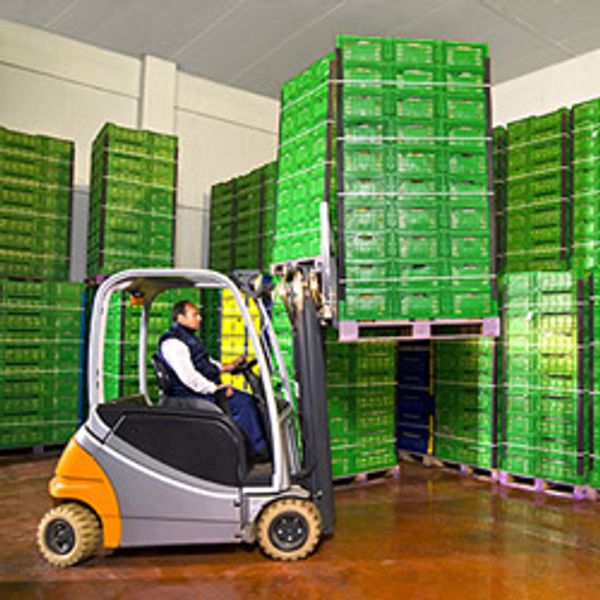 Global population growth, increased consumer demand for fresh produce and a wider variety of perishables are all driving the need for cold storage space. As a result, occupancy rates at cold storage facilities are at an all-time high. To maximize available storage space, companies are increasing efficiency.
---
Penske Logistics, which operates both ambient temperature and dedicated cold storage facilities for fresh channel clients, relies on technology, associate expertise and experience to drive operations for its customers, which include grocers and convenience stores.
"Our expertise is bringing in the people and leaning out the supply chain," said Don Klug, vice president of sales, distribution center management at Penske Logistics. "Our core competency is running warehouses. The grocer's focus is to make sure they have the right product on the shelf when the customer needs it. Our focus is on getting the product to 100 stores.
"Over time, we're learning that more and more leading grocers are seeing that the specialized services and attention from a third party like Penske drives value. They'd rather focus on their customers and products they're buying. They're looking for somebody that has logistics expertise."
Penske has warehouse facilities to serve customers and can implement clean, safe and scalable warehousing solutions at its customers' locations. The company uses its expertise to drive efficiencies within the warehouse walls and throughout the movement of goods. Here are eight ways Penske streamlines cold storage and the fresh channel:
1. Network Management
Customers increasingly want to get their storage facilities closer to the grocery stores. Penske can help its customers evaluate their overall distribution network and the role of national vs. regional distribution.
"A lot of customers are trying to get closer to the consumer to keep the product fresher," Klug said. "The whole country is getting closer to wanting an e-commerce model for everything."
2. Shrink Reduction
Reducing the amount of shrinkage and product loss is crucial in the cold chain. "Customers want you to receive and ship everything at 100 percent accuracy," Klug said. If it isn't accurate, the result is two-fold. "First, there is lost product, and second, there is a lost sale at the store."
To minimize shrinkage, Penske uses a robust warehouse management system (WMS) and can either use its own technology or its customer's. "We manage the dates and make sure the first-in, first-out system is working," Klug said.
Penske also leverages checks and balances within the technology to ensure proper product handling. In addition, it provides employees with extensive training to minimize the risk of product damage or contamination.
3. Employee Training
All employees within a Penske-managed cold storage facility undergo training on overall food safety and sanitation. Employees are also educated on the Food Safety Modernization Act (FSMA), which outlines strict record-keeping and safety procedures, so they understand cross-contamination and the risks associated with food.
Within each distribution center, several employees are Hazard Analysis Critical Control Point-certified (HACCP). HACCP, administered by the Food and Drug Administration, is a management system in which food safety is addressed through the analysis and control of biological, chemical and physical hazards. This includes raw material production, procurement and handling, manufacturing, distribution and consumption of the finished product.
By managing the distribution center as well as the dedicated contract carriage, Penske can collaborate better with the cold storage transportation group and increase visibility into the operation. This improves on-time deliveries and provides cost savings.
"When you use a third party, you're relying on that third party to get it to the store on time," Klug said.
5. Efficient Slotting Patterns
The layout and slotting of product can drive replenishment rates and the efficient movement of goods within the warehouse. How product is slotted varies by location. For one distribution center, Penske created a system where three pallets could be placed in a rack at one time.
"You don't have to replenish it as much or call someone back to the slot because there is more product," Klug said.
6. Standard Operating Procedures
Penske can create and maintain efficiency through its standard operating procedures, which may cover everything from how products are received, stored and put away to how they are picked, packed and shipped. This maintains quality throughout the supply chain.
For example, Penske creates standardized processes around receiving through its WMS, which is integrated with its enterprise resource planning (ERP) system that gets the orders.
"If they send us a purchase order, and we have an advance shipping notice assigned to the trailer, we know what is on the trailer before it hits our dock," Klug said.
That enables Penske to be more efficient when offloading and slotting product. "We put the heaviest items on the pallet on the bottom, so when they unload it at the store, they can do it in the most efficient way possible," Klug said.
7. Cross-Docking Operations
Within facilities, Penske Logistics handles cross-docking operations for fresh food and flowers. Cross-docking is the practice of unloading product from an inbound truck and loading them directly onto an outbound truck, reducing the need to store things in a warehouse.
At one location, cross-docking helps bring fresh baked goods, including donuts, cookies and brownies, to stores each day. "Our warehouse is about two miles from the bakery, which is baking every single day," Klug said.
The bulk-baked goods arrive at the warehouse via shuttle loads and are cross-docked in a temperature-controlled area, with Penske putting together the racks that will be delivered to each individual store.
"Then, we're consolidating truck routes based on product need for each store," Klug said. "It is a pretty slick operation to see, and it's one of the methods we can apply for any client."
The building also includes a 30,000-square-foot refrigerator, which stores sandwiches and salads for daily deliveries. "We build a store order of the required amount of sandwiches and salads," Klug said, adding that Penske locks each full bin with cable ties to ensure no one can tamper with the food products.
8. Product Thawing
For retail outlets that offer freshly prepared products in the store, Penske can deliver flash-frozen goods, which it thaws before shipping to the stores, so they can be baked on site.
"For one customer, we operate the regional distribution centers, then the consolidated distribution centers (CDC) and then dedicated contract carriage to take product to the stores," Klug said.
"Within each CDC, we are taking the product, such as croissants, that are baked to 70 to 75 percent, freezing them and sending them to one of our cold storage facilities. Based on demand, we then take them from a freezer to a refrigerated area, then to the trailers to deliver the thawed product to the stores. At that point, they do the final bake at the store."
Taking a Multipronged Approach
By combining various methods to drive efficiency, Penske can provide reliable service and a quality product that meet retailers' demands with low shrinkage levels.
"We do very well at making sure they don't lose store sales and that we actually ship what they want us to ship," Klug said. "We are productive and efficient, and we can do it for a better cost."