Five C-Suite Level Concerns within the Food and Beverage Distribution Network
Penske Logistics discusses top challenges within the food supply chain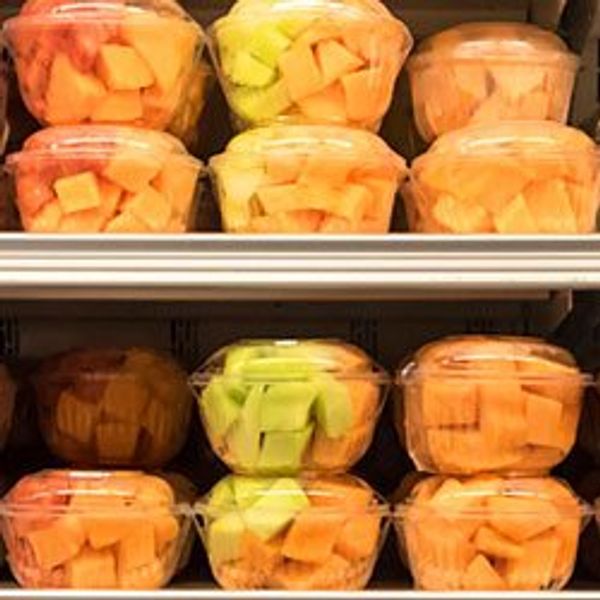 Those within the c-suite level of food and beverage companies are tasked with taking a holistic look at their supply chains and determining how to make them operate in the face of change. For shippers looking to support their food distribution networks, top priorities are managing expenses, meeting the end-customers' needs and ensuring consistency.
---
Andy Moses, senior vice president of sales and solutions for Penske Logistics, said the same concerns often rise to the top for high-level executives in the food and beverage industry, and he shared those here.
1. Costs
Capital expenses within the transportation sector continue to increase, and many shippers experienced sticker shock as they evaluated their replacement cycles.
"The cost of a Class 8 tractor is 40 to 48 percent more than it was 10 years ago," Moses said, adding that driver wages are also increasing as the driver shortage continues to grow. "Clearly the costs of transportation have risen faster than anything else. It puts efficiency at a real premium. In an effort to navigate that, folks naturally start looking at their alternatives."
Whether due to regulatory requirements, commodity prices or operating costs, shippers face continually increasing costs. Penske brings the resources and experience to help shippers mitigate the effects of cost increases by driving waste out of processes, eliminating non-value added activity, and leveraging cross customer network opportunities.
2. Network Efficiency
With the rising cost of transportation and the focus on freshness, gaining efficiencies within the supply chain has become a greater priority for food distributors. Reducing empty space within a trailer and minimizing unnecessary miles are two ways for shippers and their transportation providers to improve operations, aided by excellent routing and leveraging a lane's density.
"Penske has a variety of customers that we're serving in any specific geography, and we can get some efficiencies out of that from a network perspective," Moses said. "Often by having a network where you have multiple customers and have some freight density, you can leverage resources to the benefit of all."
The food industry tends to struggle with meeting surge requirements, which can arise from a weekly promotion or weather, so it is important for suppliers and their providers to be able to scale up quickly to meet the need.
"Years ago, people would have extra trucks," said Moses. "Today they don't do that. I think it puts shippers in a position where they need to develop new competencies and one of those is in managing outsourced relationships."
3. Recalls
Food recalls are inevitable, and to prevent consumers from getting sick and to protect their brands, food suppliers need to be able to pull products off of the shelf quickly when necessary. The ability to track products throughout the supply chain enables food distribution companies to intercept recalled items before they are delivered, or quickly thereafter.
"If there is anything threatening, you're going to want to be able to go back and trace which specific containers of your product have been affected," Moses said.
Moses noted that scanning technology allows carriers to scan products at "multiple touch points" throughout the supply chain, such as upon pickup at the suppliers' dock, delivery into the warehouse, loading at the warehouse and the final delivery from the truck.
4. Temperature Control
Temperature control technology can help the food distribution network ensure product consistency and quality deliveries. The ability to monitor the temperature of products while en route is becoming more critical.
Not only does temperature control technology provide documentation that a load was transported properly, it can provide exception alerts so carriers can find out in-transit if there is an issue rather than waiting until a load is delivered.
Temperature tracking may become even more important as the Food and Drug Administration (FDA) moves forward with its implementation of the Food Safety Modernization Act. FDA is required to issue regulations for the Sanitary Food Transportation Act that will prescribe sanitary transportation practices to ensure that food transported by motor vehicle or rail remains safe. Although the industry is awaiting the final rule, the proposed rule establishes requirements for maintaining temperature control records. A final rule is expected in early 2016.
5. Consistency
The consistency with which a product is delivered is incredibly important to food distribution companies, and it is becoming a greater challenge as those in the food and beverage sector have moved toward fresher products.
A growing number of grocery stores are segmenting out their fresh channel and are offering more grab-and-go items, such as fresh sandwiches, salad bars and pre-packaged product. "Clearly there is a whole multi-channel kind of challenge that shippers face today and there are different challenges around fulfillment in those channels," Moses said. "It is no longer good enough to have a tractor trailer run every three days or so. They want daily or more frequent replenishment of those items."
In the fresh channel, instead of a tractor-trailer delivering goods, it may be that a driver walks in with a tray or two of material. "You're getting into different types of equipment and drivers with different skill levels," Moses said, adding that as drivers are entering the store through the front door, and possibly even restocking displays themselves, their people skills take on greater importance.
Moses said the focus on the fresh channel is also changing warehouse operations. "You're getting into an 'each' picking environment rather than pallet picking, and that requires different levels of technology in the warehouse," he said.
A number of food retailers, such as coffee shops, also offer their products for sale in grocery stores. "You have a lot of segmentation within the supply chains," Moses said. "When shippers have their product in their retail stores, they have a whole supply chain around that. When they also have their product at the grocery store, that is a different channel."
Ultimately, consistency is the key to success in every sector of the supply chain. "Repeat diners and the consistency with which your product is delivered is something that someone in the food business is thinking about," Moses said.