How Logistics Is Fighting the Fight Against Foodborne Illnesses
Tracking and detection technologies are important tools for keeping foods – and people – safe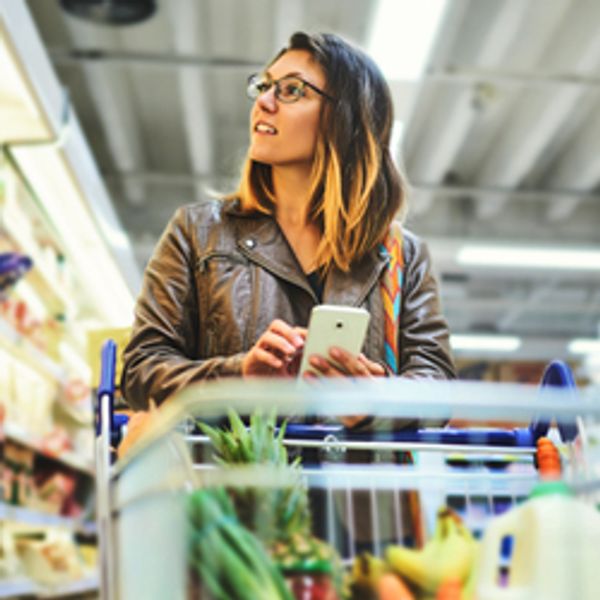 Food safety is a "winnable battle," says the Centers for Disease Control and Prevention (CDC). But combating the scourge of foodborne illnesses has become more challenging as food supply chains have increased in complexity.
Logistics is a crucial weapon in the battle, both as a way to prevent contaminated product from reaching consumers and a way to speedily retrieve, dispose of and replace tainted food to minimize the risks.
Lead logistics providers (LLPs) such as Penske Logistics are playing a front-line role. They are deploying best practices and systems that closely monitor food product flows, support recalls and identify ways to make food supply chains safer. And these tools will become even more powerful over the next few years.
An Ounce of Prevention
The statistics for food-related illnesses paint a stark picture. CDC estimates that 48 million people get sick, 128,000 are hospitalized, and 3,000 die from foodborne diseases each year in the United States.
Part of the problem is that the food business has become more complicated over recent years.
"We're seeing SKU counts change each year, a more engaged public, and retailers responding to consumer concerns with stricter protocols for dealing with contaminated foods," says Steve Chambers, area vice president, Penske Logistics. Tighter regulation and increasingly rigid government inspection procedures are other complicating factors."
Prevention is better than cure, and Penske puts considerable effort into checking food shipments before they reach the store shelf.
"When food comes into our distribution centers, we verify that external and internal temperatures comply with safety regulations for each product type. Also, we check product expiration and pack dates," explains Chambers.
If a truck's trailer is staged for several hours, hourly temperature checks are carried out. And where Penske is responsible for delivering to retail outlets – as opposed to just providing warehouse services – product temperatures are verified right up until the time the shipment is offloaded on the retailer's premises.
If any anomalies are detected, the retail customer is informed immediately. Penske also flags potential problems. An example is when a vendor sends a pallet of various products with multiple expiration dates as a single SKU, making it more challenging to confirm that every item meets the required safety standards.
Recall and Replace
Still, as the CDC figures for national food illness outbreaks attest, there are times when contaminated product makes it to the shelf. In these situations, a well-coordinated, quickly executed recall operation is vitally important.
At Penske, a food recall situation triggers an immediate communication process that includes customer contacts as well as relevant site leaders and inventory control managers at the LLP. Tier-one recalls tend to be the most urgent. Penske's managers "determine what inventory of the affected SKUs we have in our warehouses and their code dates," explains Chambers. This information is conveyed to the customer as soon as it is available.
If new product is in stock, Penske collaborates with the retailer to ensure that relevant stores are supplied as soon as possible with the inventory. On the other hand, if fresh supplies are not available, the LLP can help the retailer to locate replacement products in its network and quickly formulate a logistics plan to replenish affected outlets with minimum delay.
Of course, replenishment is only half the job. Tainted products must be removed first and disposed of properly.
"We can pick up the contaminated food, consolidate it in a facility and tag it, so it's clear that these items are off limits," says Chambers. The retailer determines how unwanted stock is handled. If the recall involves a large number of SKUs, the manufacturer might be charged with picking up and disposing of the spoiled inventory. Another variation is where the retailer is responsible for shipment transportation, in which case it may elect to scrap the tainted product at the store level.
No Time to Relax
Visibility and transparency are critical elements of successful prevention and recall strategies. Today, advanced transportation and warehouse management systems track every SKU across the entire distribution system.
"We can specify when a case left a pick slot in the warehouse and to which store it was delivered," says Chambers.
This information is essential not only during a recall operation, but afterward when investigators dissect the chain of custody to determine where the contamination entered the supply chain and how to address this vulnerability.
Penske is working to improve these tracking and detection systems even further, says Chambers. "For example, we are developing more sophisticated ways to record and monitor the temperatures of loads," he says. These advances will help retailers to pinpoint and remove tainted product to minimize the risk to consumers and reduce wastage because entire shipments may not have to be rejected.
But technology is not providing all the answers.
For instance, Penske is developing best practices to accommodate different mixes of food types; organic and gluten-free categories are just two examples. In the warehouse and during transportation "we are putting barriers in place to ensure that there is no cross-contamination between products," Chambers says. "There has been a huge increase in awareness of these issues in recent years."
The pressure to invest in safety measures is unlikely to ease. As Chambers points out, regulators require more detailed oversight of product flows, and consumers are demanding more transparent supply chains.
Everyone's goal in the food business is to provide safe, wholesome food from farm to fork. Logistics and supply chain services providers are vital links to making that happen throughout distribution networks.