Going the Extra Mile for Nonstandard Freight
Case study examines how Penske Logistics' expertise helped two shippers overcome complex challenges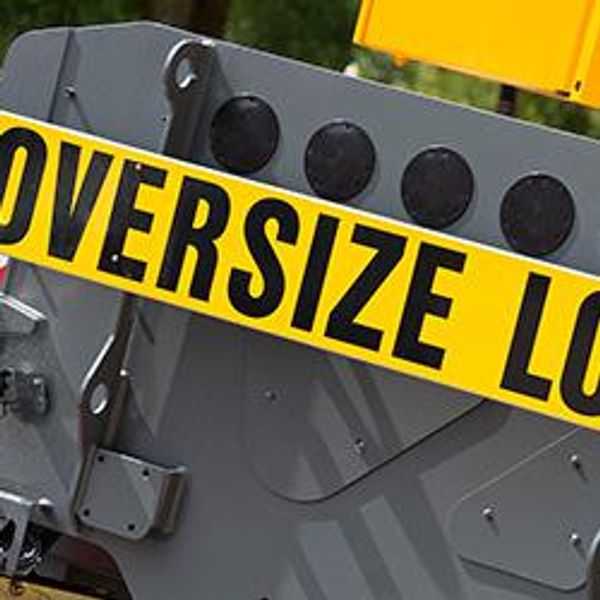 No two shippers — or supply chains — are the same. Some require more complicated freight management (FM) solutions owing to the nature of their businesses. Heavy haul shippers or those with specialized trailer loading requirements are examples; companies with rapidly changing organization structures or high growth trajectories can also fall into this category. When specialized product meets rapid change, the need for support becomes more critical.
---
There is a compelling case for outsourcing to a third-party provider with deep expertise and extensive resources for these enterprises. However, while finding the right 3PL is critically important in any outsourcing arrangement, the stakes are especially high where exceptional FM demands are involved. Here are examples of two shippers that met the challenge.
Bringing Order to Disjointed Processes
A manufacturer of industrial filtration equipment needed a suite of FM solutions that standardized its nonstandard freight operations.
The company delivers loads ranging from relatively small items to giant equipment units to various customer types across the United States. The associated logistical challenges are difficult enough; also, the organization's internal bank of tribal knowledge was depleted following multiple acquisitions and management changes. It turned to Penske Logistics LLC to support almost every FM department, from route planning to freight payments.
"There was an urgent need to standardize processes because the manufacturer had acquired so many different enterprises and its FM processes were fragmented," says LeAnne Coulter, vice president, freight management, Penske Logistics.
Take the management of carriers, where the enterprise "needed Penske to function as its procurement arm," says Coulter. In addition to procuring specialized truck capacity for the manufacturer, Penske addressed specific issues, such as making sure that transportation providers are held liable for damages when appropriate.
Other areas where the company has leveraged Penske's expertise include holding carriers accountable for adhering to KPI metrics and monitoring carrier/driver certifications. The latter process is vitally important for a company that ships out-of-the-ordinary loads. When delivering an outsize unit interstate that requires, for example, a section of highway to be cleared, all relevant certifications and insurance coverages must be in place ahead of time. "We have the systems that register all relevant carriers and keep these records up to date," points out Coulter.
Importantly, Penske's mix of services keeps pace with the manufacturer's fast-evolving business. "Since there is nothing under the freight management umbrella Penske can't handle, we can provide this level of support," says Coulter.
Managing Extreme Demand Shifts
A manufacturer of vehicles has a complex freight network that requires a similar level of support. But in this case, engineering and route planning expertise are of particular importance, explains Penske's Coulter.
The company serves thousands of dealerships across the U.S. and Canada. These customers vary in size and have wide-ranging delivery and inventory demands. Consequently, there are considerable variations in load sizes and configurations; even the way finished vehicles are positioned on trucks for safe delivery can change significantly from one load to the next.
Another complication is that the manufacturer has doubled in size since it first contracted with Penske to manage its FM operations. Through doubling its manufacturing footprint in the U.S. and Mexico, and increasing the number of its last-mile distribution centers, Penske and its client needed to replan the transportation network to meet end-customer expectations.
A notable challenge in this business is ensuring that specialized double-deck van capacity is available in a business characterized by seesawing demand. During demand peaks, it might be necessary to use nonspecialized equipment. Penske — in collaboration with the customer — performs dynamic analyses to best fill orders and achieve maximum truck utilization.
Also important are "the speed at which we execute load plans and the information we supply," says Coulter. The process starts with dealer orders received via a customer platform. A Penske Routing Tool builds route plans based on customer locations and service needs and disseminates the plans to all relevant parties early each morning. The plans provide routine delivery information as well as safety guidelines such as how the roll-on/roll-off loads are to be secured on trucks. "We have to integrate with lots of different systems," notes Coulter, "and it's not just how the data is housed but how quickly we compile and distribute the data."
Meeting these demands requires a strong IT backbone and transportation management system, deep engineering know-how, and comprehensive back-office capabilities.
Think Out of the Box
Penske's FM solutions for both these companies offer lessons that are of value to any shipper.
"Don't approach your FM challenges with a siloed view," advises Coulter. When creating an RFQ, "consider the end-to-end process from order to delivery, rather than just focusing on certain pain points." This advice applies to the information gathering phase too. Coulter says it is important to consult a wide range of internal sources when building the case for an outsourced relationship.
A flexible mindset also ensures that the breadth of expertise and resources available from a leading 3PL such as Penske is fully leveraged, suggests Coulter. "There are many options available to customers, and taking full advantage of our expertise helps to build long-term relationships that grow as the customer grows," she says.