Add Capacity, Improve Sustainability Through Logistics Route Optimization
Taking miles out of your supply chain network can help you reach your sustainability goals and increase efficiency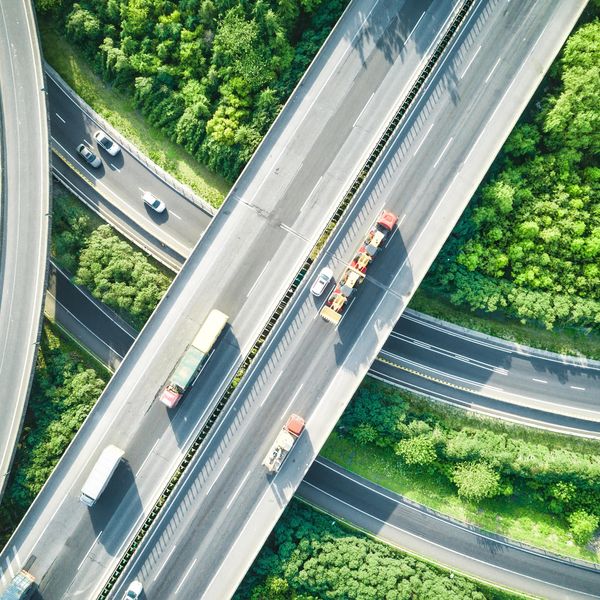 Increasing efficiency to take miles out of a network can free up capacity and boost sustainability by reducing fuel use and cutting carbon emissions. Finding inefficiencies typically starts with examining data, reviewing business rules and evaluating equipment.
---
"Taking miles out is about saving money, but more and more of our customers have specific carbon-reduction goals, so it is more top of mind than it used to be," said Amy Ilyes, vice president of logistics engineering for Penske Logistics.
Penske approaches efficiency in several ways, including routing and overall network design. "We'll usually have different levers we can pull when we do an analysis. We may do one scenario where we change the time windows, one where we consolidate orders across days of the week, and one where we change the size of the trailer," Ilyes said. "Our software also considers historic traffic patterns and is aware of areas where the vehicle reduces speed."
Logistics Route Optimization
Optimization starts with gathering information on current routes and creating a baseline. "We have a variety of tools and computer models to optimize their routes, and we'll use these tools to develop optimized routes," Ilyes said. "Optimization typically reduces miles and driver hours worked. We then develop an optimal schedule with the number of drivers needed to run those routes and the number of tractors and trailers."
If companies have multiple stops per route, such as five or more, Penske will review the optimal sequence of those stops. "We have a simulation of the events that occur on the route, and we know when we need to make the deliveries and where the slack time in the route occurs. It is a puzzle. As you shift around the routes, you can reduce the number of resources," Ilyes said.
Business rules also contribute to efficiency. "If a customer is open to changing some of their business rules, then generally we can find savings as well," Ilyes said.
For example, in the retail industry, stores may have a limited window in which they accept deliveries. "If the customer decided to widen that and allow a longer time period to make the deliveries, we usually can come up with more efficient routes and maximize resources," Ilyes said.
Another option could be moving to larger equipment. "It may be that right now you have 48-foot trailers, and maybe there is an opportunity to go to 53-foot trailers. Usually, to be more efficient, we go bigger," Ilyes said, adding that with the shortage of drivers, some customers have asked for routing designs using straight trucks so they can hire Class B drivers. "In that case, you might be less efficient, but you have an underlying issue that forces you to consider it."
There is also an ongoing desire to fill empty miles. "We have a lot of freight that we manage besides our dedicated operations, and we have a backhaul solution to help fill miles. Usually, when we're putting together any design, we look at backhaul as a cost savings for the shipper," Ilyes said.
Optimizing Inventory Location
Another cost savings opportunity is ensuring inventory is in the right place, so shippers aren't adding miles. "You don't want to be shipping an order from California to a customer on the East Coast when there is a distribution center in the East," Ilyes said, adding that Penske can work with customers on long-term network design. "We can create a five-year outlook and help shippers design a strategic plan."
Supply chains have experienced significant challenges over the past two years, and many companies have had to forgo long- and even short-term planning projects as they focus on the day-to-day challenges of securing capacity and keeping up with shifting consumer demands.
However, according to the 2022 Annual Third-Party Logistics Study, a valuable component of the recovery process will be the assessment of opportunities for innovation and improvement to create value for the end-user customers and consumers. Ilyes said it is beneficial for companies to uncover efficiencies where they can, and this is the ideal time to optimize a network to help minimize current challenges and create a long-term strategy.
However, a valuable component of the recovery process will be the assessment of opportunities for innovation and improvement to create value for the end-user customers and consumers.