Improve Information Flow in the Supply Chain
ClearChain gives visibility to your data so can make the right choices and keep the supply chain moving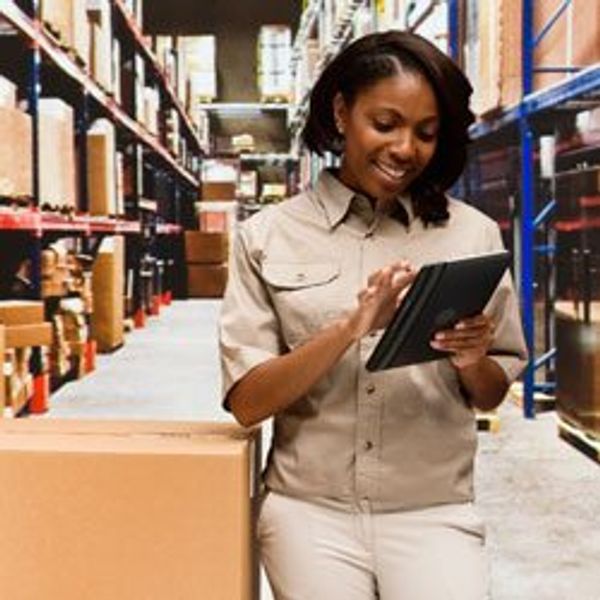 You have probably invested a lot of time, effort and money in developing the technology powering your supply chain. Warehouse Management Systems, Transportation Management Systems, Enterprise Resource Planning (ERP) platforms and a myriad of other puzzle pieces collect the data that flows through your network every day. Yet somehow, like a man dying of thirst in the ocean, you may find yourself surrounded by a sea of data you can't use to answer your questions. The pieces are too scattered to give you the complete picture you truly need.
---
"A lot of times, customers have supply chain information flowing all over the place like a big ball of yarn and in different colors. People are operating in silos, and they don't know what they have."
—Dave Topp, strategic sales executive, Penske Logistics
It's challenging to connect all the systems in a way that makes it easy to share and receive the data you need – at the level of resolution you want – with all the parties involved in the supply chain. Yet meeting this challenge gives you the opportunity for more rapid and efficient decision making.
Get a Clear Data Picture
Facilitating the flow of information and consolidating where data lives will allow you to find the best solutions at the right time. To help make this happen, Penske Logistics has ClearChain® – a suite of customized applications built on industry-leading platforms that bring information together and make it accessible, providing the visibility that improves supply chain optimization and efficiency.
The amount of data that companies have can be overwhelming for them. Information is coming at them from everywhere. ClearChain takes that information and organizes it so they can model it all they want. The information is there, is organized and comprehensive and allows for strategic planning.
Enjoy Real-time Access to Data
Not only does a real-time, comprehensive view of the network improve day-to-day operations, it also allows companies to model "what-if" scenarios for strategic decisions like achieving optimal fleet utilization, and selecting the number and placement of distribution centers. The ClearChain technology suite is scalable and fast, and that makes your data more valuable.
"The more data we put in these applications, the more opportunities come out of it."
—Andy Moses, senior vice president of sales and solutions for Penske Logistics
Enhance Your Ability to Share Data
An effective supply chain touches virtually every team, which is why Penske Logistics has created ClearChain applications that can bring data to and from a number of different parties both outside (carriers, suppliers, vendors, customers) and inside (sales, finance, operations, IT, customer service, sourcing) of an operation.
Refine Your Access to Data from Different Sources
For many shippers, their different technologies represent a variety of automation levels, from manual systems, Excel spreadsheets and homespun databases all the way to tier-one platforms at the ERP level. Many shippers also experience frustration when they are limited by the capabilities of an outside party's systems, such as a carrier that cannot provide real-time updates. It can appear daunting to make all these systems work together, but there are ways to bring these disparate levels of sophistication together.
ClearChain gives Penske a variety of methods to connect and exchange data with our customers and carriers, and the technology has a very robust integration toolkit that facilitates that data exchange based on our customers' and carriers' integration capabilities and requirements.
Through its data exchange application, ClearChain can access data from customer systems as well as carrier systems, connecting in the simplest and most complex systems, and everything in between.
Penske processes 350 million transactions a year with customers, carriers and other trading partners. Electronic data exchange allows systems to communicate with each other, increasing productivity and revenue.
"In the past you were waiting for data, or the data had holes in it. The structure of ClearChain provides reliability and trust from the data. That in turn allows you to make informed decisions driven by real-time data from the tools and applications."
—Andy Moses, senior vice president of sales and solutions for Penske Logistics
In addition to direct connections, supply chain partners can enter data via a transportation portal. It allows for an initial, quick startup, so instead of two technology teams getting together to figure out how information can move, you can get started right away.
Penske Logistics also has developed a simple short-message service (SMS text) to be able to send and receive route information with trucks drivers via their mobile phones.
Building a network of technologies that enables the seamless push and pull of necessary information can take time, but the efficiency gains unlocked by doing so warrant the effort for many shippers.
It's common for customers to have incomplete data initially. Often there is no central repository. Even if customers don't have the level of detail Penske Logistics needs to be the most effective, we can build that over time.
Using the Information
The benefits shippers can realize from enabling greater visibility are often dictated by their own definition of success. For many, the initial benefit is cost savings, and they realize opportunities to reduce inventory levels held in place to cover a lack of visibility.
When you don't know what's going to be arriving, or when, you can overstock material to prevent manufacturing disruptions or shorting your customers. ClearChain has helped Penske customers reduce their on-hand inventory levels from weeks to days, or even hours, as they become more confident in their visibility to stocking levels.
For other shippers, the visibility provides a more holistic view of their supply chain, and more easily identified opportunities to improve. With ClearChain, you can look at the network and see if it is healthy or unhealthy. Connecting the data allows you to do that and find areas for improvement.
And for some shippers, these enhancements improve the relationships they hold with their trading partners. Moses says the best-performing supply chains successfully link constituents inside and outside of the customer's organization.
"The less friction there is between the parties, the better the productivity for all," Moses says. "Visibility becomes the key to understanding your network – the financial side of your network, any potential hiccups that could occur and any potential shutdown items that could happen. You can make a wrong decision if you're missing key elements of what is going on out in the world."
A shutdown of your production line for even the smallest length of time could have devastating effects. By having visibility to all your data through ClearChain, you'll have the information you need to make the right choices and keep the supply chain moving.