Benefits of Returnable Containers
Years of experience managing the flow of car parts helped drive innovation for the dairy industry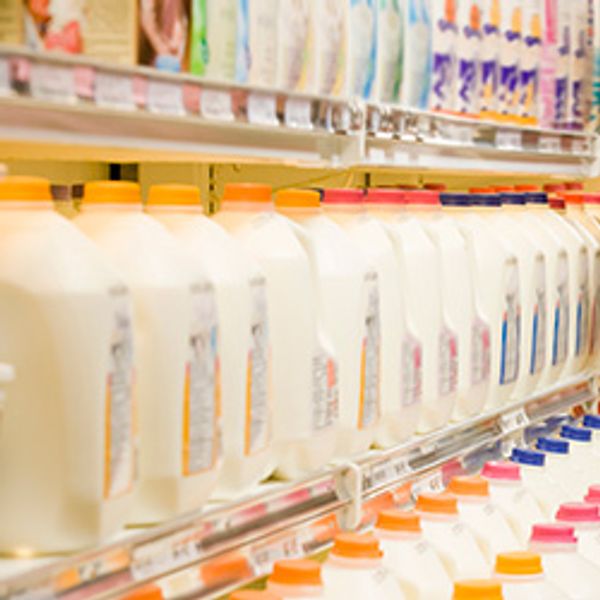 Reusable containers have a number of benefits. Not only are they built specifically to protect the products they hold, but they also cut costs and reduce waste, helping to promote sustainability. Some businesses, including those in the food and beverage, particularly dairy, and automotive industries, rely on reusable containers, but the benefits are only achieved when the containers are used properly.
---
The Challenge of Managing Reusable Containers
Managing the inbound and outbound flow of reusable containers can be a challenge, and getting containers back where they're needed requires robust processes and a supply chain that is operating exactly as designed.
"If all pieces of the reusable container supply chain aren't running in tandem at all times, the system can get imbalanced relatively quickly," said Andy Moses, senior vice president of sales and solutions for Penske Logistics.
The reusable container supply chain involves four key areas: containers in use for finished goods being produced; containers holding products that are in use at the customer's location; empty containers being sorted, processed and cleaned for return; and those in the return loop. "Large quantities of containers can be associated with each of the supply chain areas," Moses said. "Any anomalies can throw the system out of sync."
How the Automotive Industry Drove the Adoption of the Process
Reusable containers were originally pursued in the automotive vertical to standardize the pack sizes and drive consistency. "By having the same thing coming in every time and eliminating variances in the packaging, we were able to get more on the trailer," Moses said. "In the automotive industry, the majority of shipping containers are reusable, which also adds up to significant cost savings when compared to purchasing throw-away packaging."
Moses said tracking technology for containers was first used in the automotive industry as well, and that experience helped Penske Logistics understand the strict parameters of tracking, which can be applied to any industry. "The more granular you can be – down to the serial number – the better off you are in terms of safety, quality control, visibility and backup," he said.
Understanding how many reusable containers are needed to make a day's worth of production as well as where those containers are in the supply chain – in use with finished goods, holding products at the customer's location, in the sorting process or in the return loop – allows Penske Logistics to ensure customers will have the amount they need when and where they need it.
Automotive Expertise Helps with the Complexities of the Dairy Industry
Expertise gained in the automotive industry translated well to the dairy industry. The production of milk is dependent on having enough crates to transport and store the product, so the supply of crates must be closely monitored. Complicating the crate supply chain is the fact that production and deliveries aren't always even. Cows' production isn't always predictable. Neither are customers' purchasing habits. "One day a driver may pick up 300 crates, but may only be delivering 150 crates," Moses said.
Understanding the "crux" – the set inventory of crates needed to hold a day's worth of production — aids in the supply chain. "Say a dairy needs 11,000 crates for a day's crux. They have 7,000 crates now, have another 2,000 coming; then they'll need 2,000 more, which they can rely on getting by the end of the day."
How Technology Helps
Accurately tracking containers throughout the supply chain is a key component to keeping the process running smoothly. Penske uses a variety of technologies from our ClearChain®Technology Suite, including RFID and barcode technology, scanning deliveries on the outbound side, keying in pick-up quantities and monitoring inventory levels in the warehouse.
Once drivers enter the number of reusable containers that have been picked up into their smartphones, the system transmits the information electronically to the customer and sends a report every two hours. The information automatically ties to the trailer number, so the customer knows how many containers are available and their exact location.
Managing the Flow
Shippers want a continuous flow of containers, but don't want to be overflowing with them, which makes the timing in the supply chain crucial. "If they have too many containers on hand, customers have to store them. If they are too lean, they are waiting on the empty containers to arrive so they can fill them," Moses said.
If a slowdown occurs in the dairy industry, it can have a significant impact on costs, productivity and service. "If they don't have crates, they can't bottle," Moses said. "You have people standing around because they can't work and it means the milk won't be hitting the store shelf. When stores lose milk sales, their other sales go down."
What's more, if a milk production line at a dairy is completely shut down due to a lack of crates, production must remain stopped until the equipment is cleaned, which can be time-consuming and costly.
Other Fresh Foods
The same strategies apply to a number of food-related storage containers, such as bread trays used to transport baked goods and flip-top totes used to transport pre-made sandwiches and grab-and-go foods, such as fruit cups and salads.
"The most unique thing in the food vertical is that you have to have the container to get that product out, and it is typically stored in that same container in the customer's storeroom. It is a much more difficult supply chain to support without the exact required container," Moses said.
Penske Logistics works closely with its customers to understand the quantity of containers required to support a healthy supply chain. "We like to know the peak times; identifying them through analysis. Typically we're looking at volume files, year-over-year numbers or anomalies," Moses said. That level of understanding keeps the flow of containers balanced and ensures production isn't stalled while waiting for a container.