Creating a "Smart" Food Supply Chain
Penske technology helps food shippers manage complexity within the supply chain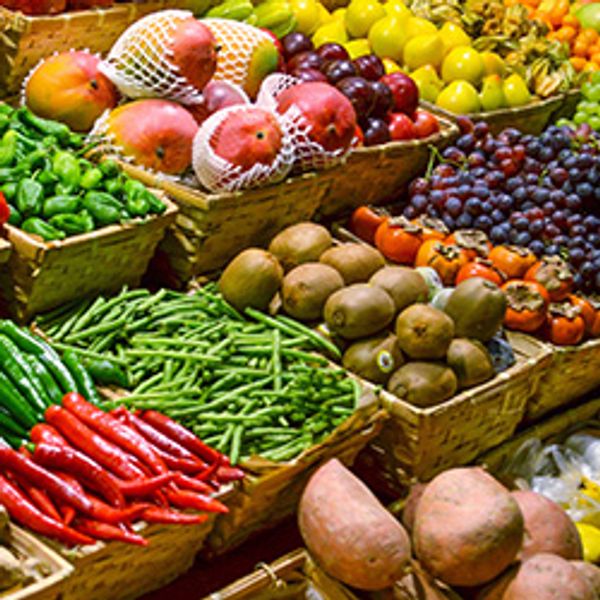 Supply chain operations are always complex with each individual link in the chain having to operate precisely as planned to avoid disruptions. The food supply chain can bring even more intricacies that must be managed for overall success. Some leading chain grocers have begun implementing penalties for delayed deliveries and missed shipments. So, on-time delivery and visibility of shipments is increasingly important.
---
Further, strict temperature parameters must be maintained, equipment must be sanitized between loads, and some food products can't always travel together, such as fruits and vegetables that release ethylene and those that are sensitive to it. What's more, due to regulations under the Food Safety Modernization Act (FMSA), some shippers and private fleets must document their activities to prove regulatory compliance.
While the parameters of each load are dictated by the shipper, Penske Logistics uses its technology to create, document and track shipments and meet shippers' specifications. Penske has created its ClearChain® technology suite, which increases connectivity and enables it to improve visibility on several fronts.
Advanced Load Planning
The ability to communicate and collaborate increases 3PLs' and shippers' ability to plan and execute the movement of goods. Through ClearChain, transportation management systems and warehouse management systems can communicate with each other, giving companies the ability to accurately build loads. That can aid in the process if certain items must be separated from each other.
Checks and Balances
Having a series of checks and balances in place can be particularly useful in the food supply chain. ClearChain allows data to flow between applications, which allows Penske associates and their customers to drive accuracy.
Track and Trace
Since some products must be segregated within the food supply chain, the ability to monitor, track and trace products to prevent cross contamination is crucial. ClearChain technology allows Penske and shippers to pinpoint products' locations throughout the supply chain, including in the warehouse and on the truck.
Within the food supply chain, a food recall can be extremely complex. To ensure appropriate safety measures have been taken and to protect their brands, food suppliers need to be able to pull products off of the shelf quickly when necessary. The ability to track products from farm to fork throughout the supply chain enables food distribution companies to call back only the items that are actually affected.
Load and Product Consistency
The consistency with which a product is delivered is incredibly important to food distribution companies, and it is becoming a greater challenge as those in the food and beverage sector move toward fresher and fast consumable products. Penske Logistics helps shippers, grocers and convenience stores on several fronts.
To accelerate freshness, some companies are creating separate supply chains for the different segments within a store. As a result, they are pulling highly perishable items out of traditional distribution channels and putting them in more rapid-replenishment distribution channels. Delivering smaller quantities shifts both warehouse and transportation practices, placing new demands on slotting, equipment and the labor force, which Penske can address.
Utilizing different types of equipment, such as box trucks, can make rapid replenishment feasible, speed deliveries and improve utilization. While traditional grocery items, such as milk and frozen foods, can travel on 53-foot trailers, rapid replenishment items and prepared grab-and-go foods can go on smaller, more agile trucks.
Temperature Monitoring
The monitoring of temperatures in trailers and cargo to ensure they meet customer and regulatory specifications and requirements improves food safety as well as its quality and shelf life.
Monitoring temperatures not only ensures products don't spoil; it may also prolong the shelf life, appealing to the desire for freshness. Even the slightest variations in degrees matter. For example, raising the temperature of bagged salad from 34 to 42 degrees Fahrenheit during a shipment makes bagged salad go bad five days faster even though the product will be delivered perfectly intact.
Penske Logistics has invested in temperature tracking technology that monitors temperature fluctuations throughout the length of the trailer. The monitoring provides early notification if a problem occurs, which allows Penske to address any temperature fluctuations before they become an issue.
Documentation
Documentation and visibility, required by FMSA, are also critical elements essential to the success of a supply chain. As a result of ClearChain, each movement within the supply chain can be documented, and Penske maintains those records. Customers are able to easily pull up information if it is needed by shippers or regulatory agencies.
Equipment Cleaning
When equipment needs to be sanitized, Penske Logistics uses detergent and water at a specific temperature to clean between loads and also documents all sanitizing. All sanitizing records are available for audit at any time. "Basically, we are responsible for chain of custody and to provide evidence of what was done when," said Tom Scollard, vice president, of dedicated contract carriage for Penske Logistics.
Supply Chain Fluctuations
Within the grocery segment, volumes often spike during certain times of the year, such as during seasonal promotions, the holidays or ahead of severe weather. The ability to scale up quickly enables grocers to keep their shelves stocked, generating consumer loyalty. In addition to traditional spikes, the food and beverage industry can see shifts in sourcing locations due to changes in weather or agricultural conditions. That means shippers' transportation needs can shift quickly as can available capacity. Having contingency plans in place can keep products moving.