Seven Ways Penske Logistics Helps Manufacturers Achieve Supply Chain Agility
Facing ever-increasing complexity, disruption and competition, manufacturers can look to 3PLs for help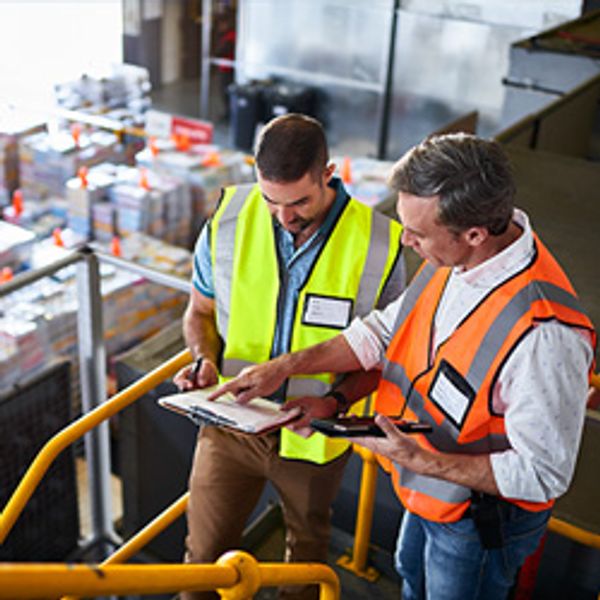 To stay relevant, manufacturers must focus on continuous innovation and improvement. They have to find new ways to drive out costs while improving customer service. With decades of experience optimizing supply chains for market-leading manufacturers, Penske Logistics uses its processes and people to help customers increase efficiency, reduce costs and optimize operations. As a result, many are able to free up resources to grow their businesses.
---
Here are seven ways Penske Logistics helps manufacturers achieve supply chain agility:
1. Create Synergies to Increase Agility
By looking at drivers, equipment and transportation routes from a high-level and granular view, Penske can create synergies that improve efficiencies and reduce costs. What's more, the data and analysis Penske provides enable customers to view these metrics in several different ways, such as cost per mile or trailer utilization. Driving continuous improvement in transportation creates value and empowers shippers to re-invest their resources and strengthen relationships with customers.

2. Optimize Distribution Networks and Reduce Delivery Costs
Within today's supply chain, products are moving from the manufacturer to the customer faster than ever. Optimizing the distribution network enables Penske Logistics' customers to make more deliveries in less time, which may allow them to increase their quantity of deliveries. It can also improve customer satisfaction and consequently, retention. In the past, Penske has worked with its customers to identify more strategic routes, enhance communications between branches, the corporate office and the sales team, and streamline warehouse operations.

Penske collects shipper data in a central repository and provides a detailed analysis based on the figures. Visibility into the cost of delivery enables Penske's supply chain customers to make smarter decisions on when they should be taking deliveries, which deliveries fit best within the overall network and where they could be reducing expenses.
3. Increase Inventory Accuracy and Reduce Shrink
Improperly managed inventory is expensive for shippers. It strands cash and can limit reinvestment in important new projects such as new product development, factory improvement efforts and customer satisfaction. Penske recently worked with one global component manufacturer to provide greater insight into the amount of days-on-hand inventory they retained, streamlined inventory counts and how they managed the flow of products. This inventory management improvement effort ultimately improved inventory accuracy, freed up cash and reduced costs since the company no longer had to keep as much inventory as a buffer.

Additionally, Penske introduced improved inventory visibility and process management that has helped companies reduce shrinkage and prevent theft. This results in customers receiving their product orders on-time; a reduced need to restock lost product and ultimately, increased time and money that can be invested in growing the business.
4. Improve Picking
Penske's supply chain engineers can examine customer data to create slotting algorithms that identify ideal locations for products to be positioned and stored. SKUs that are "high runners" are slotted to forward pick locations, but because customer demand can shift quickly, information is continuously analyzed. Slotting patterns vary based on seasonality, promotions or ahead of known supply chain disruptions.

Through its business relationship with a leading tier-one supplier to automotive manufacturers, Penske was able to help reevaluate how the manufacturer's current system managed the inventory and made suggestions to improve the picking process. The result was an improved and more-efficient picking strategy. Even minor changes can make it easier for warehousing employees to pick the right freight items in a certain order, which can reduce errors, save time and improve customer satisfaction.
5. React to Change Rapidly
Things change quickly. And more than half of chief executive officers – 60 percent – said they see disruption as an opportunity rather than a threat, according to the 2017 U.S. CEO Outlook published by KPMG. This is especially true if you have an agile supply chain. Having the ability to switch suppliers on the fly or quickly reconfigure your distribution network can give you a strategic advantage over your competition. Time-sensitive deliveries, lean supply chains and shorter product lifecycles all necessitate the ability to react quickly when change arises. Penske Logistics can work closely with shippers to scale up or down quickly based on demand, outline potential disruptions and take waste out of the current network.

Additionally, increasing freight levels and new federal regulations have tightened the amount of available capacity and securing dedicated transportation space in today's market can be difficult. Shippers are increasingly contracting with third-party logistics providers to navigate the unstable and tight freight market to shore up costs and capacity. A dedicated contract carriage solution from Penske is one way to lock in rates as well as space. As a 3PL provider, Penske operates its own fleet in addition to contracting with thousands of carriers, ensuring shippers can secure on-highway transportation at a competitive rate.
6. Enhance IT Supply Chain Capabilities
For many manufacturers, managing the information technology that supports an efficient supply chain is not a core strength. Your IT team is likely focused on solutions that help with manufacturing your product. Penske Logistics has years of technical experience running supply chains. We use advanced technology systems like our ClearChain technology suite based on the needs of some of the most complex supply chains and logistics operations. We leverage our technologies and experience to accelerate your ability to adapt to rapidly changing business environments.

7. Drive Innovation
Penske Logistics is in a unique position when it comes to driving innovation within the supply chain. Since we have decades of experience across many manufacturing and distribution-intensive industries including food, automotive – the most sensitive and complex – we can bring proven solutions and adapt them to new environments. This innovative problem-solving drives new thinking that helps you enter new markets and grow your business.

At the end of the day, manufacturers face a world of ever-increasing complexity, disruption and competition. Having the experience and expertise of a supply chain partner like Penske Logistics behind you helps you reduce costs, increase efficiency and grow your business.